First, the coronavirus took her job, and then breast cancer threatened to take her mother. In less than a month, Naomi Jaramillo's entire world changed.
The eyebrow stylist spent February traveling from New Mexico to New York for fashion week and then visiting Washington state to help open a brow bar outside Seattle. Shortly after returning to her native Las Cruces, the 31-year-old visited her brother and her sister in Austin, Texas.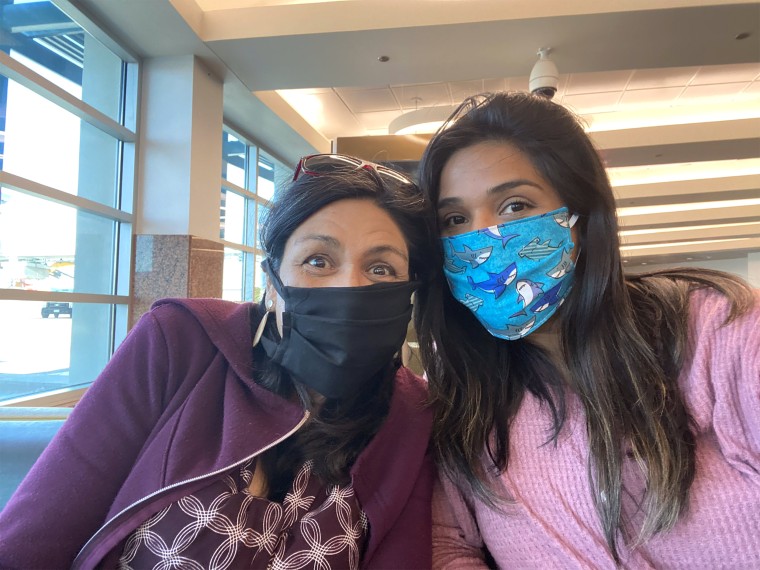 While Jaramillo was crisscrossing the Southwest, the coronavirus was shutting down states and infecting thousands of people. Businesses were being forced to close, including the brow bar where she worked.
The bad news didn't stop there. Her 57-year-old mother was diagnosed with stage 2 breast cancer in March.
"It was really hard to hear it," she said. "My mom is my everything."
With Jaramillo out of work, life is now divided between taking care of her mother and figuring out how to pay her own bills. She is just one of 30 million Americans who have found themselves suddenly unemployed because of the COVID-19 pandemic.
National stay-at-home orders abruptly shut down entire segments of the economy. Gig and hospitality workers were especially hard hit as life's little luxuries — like going to a restaurant or getting your eyebrows shaped — were deemed expendable amid the public health crisis.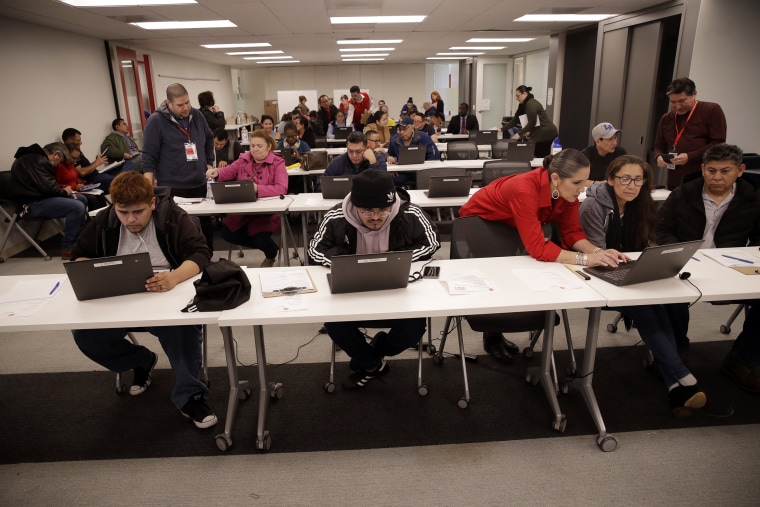 Jaramillo hasn't worked since the end of February. With a degree in hospitality services, she decided to apply for jobs in Austin to be closer to her siblings. No one was hiring. She also applied to a job in Waco. Her interview was canceled.
"I have this experience, I have this education, but I'm still not able to find a job in New Mexico or Texas because of COVID," she said.
Hundreds of miles away in Fresno, Anthony Sean Vang, 32, spends most of his days navigating California's unemployment website. It's a daunting task that takes up more hours than he can count.
Full coverage of the coronavirus outbreak
"It's like a job in and of itself," said Vang, who had been driving for Uber and Lyft until March 18.
He enjoyed driving. It gave him flexibility and enough money to make his mortgage payment plus pay for health care. The latter is particularly important for Vang and his 26-year-old wife, who has an elevated white blood cell count and regularly sees an oncologist.
Vang suffers from asthma and other respiratory problems and uses a continuous positive airway pressure, or CPAP, sleep machine. He intended to continue driving as the outbreak unfolded, but felt increasingly exposed when strangers got into his car. Some insisted on sitting in the front seat or not wearing a mask. It made him nervous.
Because both he and his wife are in high risk categories, Vang said he had no choice but to stop driving until the coronavirus threat lessened.
"It just didn't seem worth it to jeopardize my life," he said.
The couple has some savings and a stimulus check to fall back on. But Vang's wife is a tutor and her income is not enough to float them much longer.
Vang first attempted to apply for unemployment on March 28, one day after President Donald Trump signed a $2 trillion coronavirus economic stimulus bill known as the Coronavirus Aid, Relief and Economic Security, or CARES, Act. Like many gig workers in the Golden State, Vang received a letter from the California Employment Development Department saying he was entitled to zero dollars.
For years, California gig workers have existed in a legal limbo that left them without many benefits including unemployment. Labor activists have long argued that these workers should be reclassified as contractors, entitling them to unemployment insurance. The debate over how to handle freelance and self-employed workers became a sticking point during CARES Act negotiations and eventually gig workers were included in the package. However, they had to wait until this week to submit their Pandemic Unemployment Assistance, or PUA, applications.
"Every week that goes by, there's another bill I have to pay," Vang said.
For nearly a month, he spent entire days glued to his computer and phone trying to get guidance on his unemployment claim and found that he wasn't alone.
Diane Letulier, 57, a bookkeeper who lives in Southern California, created a Facebook group to help other self-employed Californians navigate the state's PUA portal. She got the idea after seeing a similar group with more than 24,000 members dedicated to helping state residents apply for traditional unemployment benefits.
Letulier's work dried up when the coronavirus outbreak hit. Her clients canceled appointments and told her they couldn't pay invoices. With a mortgage and an adult daughter living at home, Letulier immediately looked into whether she was eligible to apply for unemployment. But like Vang, she is considered self-employed and had to wait until the state started processing PUA claims.
In the meantime, she learned every inch of the unemployment department's website. Using what she already knew about benefits from her bookkeeping experience, she spent her days helping other Californians navigate the confusing world of unemployment benefits.
"Nothing was made clear," she said. "There was a lot of contradictory information online."
On April 28, when the state's pandemic assistance portal went live, she woke up at 2 a.m. to check the website. Nothing. She checked again at 5 a.m. and saw that claims could be processed. She filled out her application and alerted her Facebook group. Vang said he woke up around 5:30 a.m. to a notification from Letulier telling him to hurry up and jump online.
He did and his application went through, he said. Others weren't so lucky.
According to new data from the Labor Department, California paid only 1 in 8 claims in March. Numbers are not yet available for the state's PUA claims.
California Labor Secretary Julie Su told NBC News that the state is paying about $1 billion a day in unemployment insurance. It paid more in just four weeks more than it did in all of 2019, Su said.
California is far from the only state drowning in unemployment claims. In Michigan, jobless claims have increased by 2,200 percent since the COVID-19 outbreak and at the end of March, the state's unemployment site was down for several hours.
Stephanie Chisnell, from the city of Burton, a suburb of Flint, said she was denied unemployment because she didn't earn enough in the last three quarters to qualify. She also did not receive a stimulus check because her parents claim her as a dependent. But at 34 years old, Chisnell has $170,000 in student debt after receiving three associate degrees. She is currently finishing a bachelor's degree in fine arts, she said.
Neither of her parents work and instead live on a fixed income through Social Security.
Before the pandemic, Chisnell had been applying to office jobs. She hoped to maybe work at a bank or as a cashier. Recently, the economy had started to turn around in Burton, which she said is home to a GM plant and not much else.
"There is no work," she said. "There are jobs around [Burton], but it's like a dying cancer in the center."
Chisnell is now wondering whether she should leave the area with her boyfriend. They talk about moving somewhere that might be more expensive but would offer better employment opportunities.
"It's a trade-off," she said. "There is nothing in this area."
Still, Chisnell said she would rather remain unemployed than exposed to a virus that has no cure.
"I'm thankful for the restrictions," she said. "I don't want this illness."
Download the NBC News app for full coverage of the coronavirus outbreak
In New Mexico, Jaramillo is also waiting out the pandemic. She calls this time a "blessing in disguise" because she is able to care for her mother. She does all the grocery shopping for her parents and takes her mom to chemotherapy appointments. Jaramillo receives unemployment benefits but gives the money to her siblings, who are also unemployed and have more expensive mortgages.
To get by, Jaramillo continues seeing longtime eyebrow clients despite New Mexico's stay-at-home order. She enters their homes wearing goggles, a mask and gloves and asks her clients to also protect themselves. When she gets home, Jaramillo showers and washes her clothes immediately. She lets them air dry to save money on utilities.
"I can't be angry and I can't be bitter," she said. "There are so many people who are really suffering."
But, Jaramillo added, "I can't live in fear. I refuse to live in it."