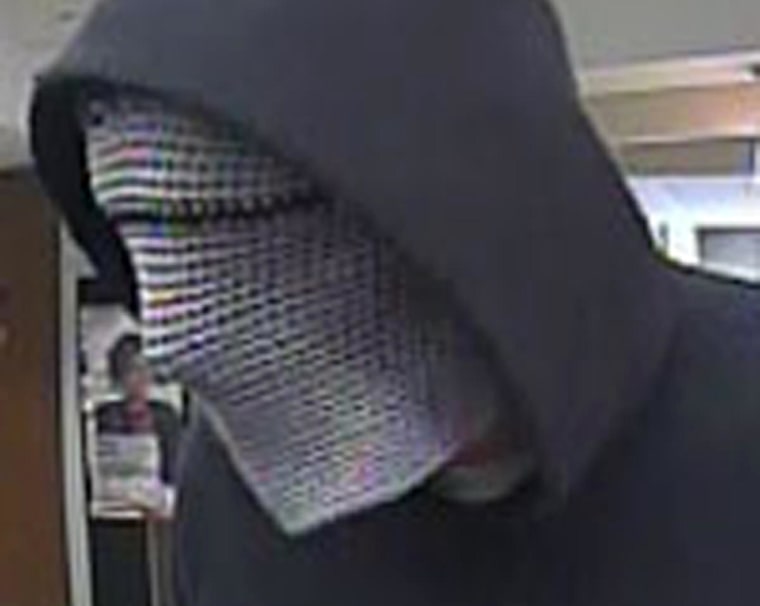 A suspect in 30 bank robberies linked to the so-called "Cyborg Bandit" and "Elephant Man Bandit" was arrested in Seattle, authorities said Wednesday.
The 44-year-old resident of Everett, Washington, was taken into custody as he was leaving a Key Bank branch in north Seattle after a holdup late on Tuesday afternoon, the FBI and local police said.
Because he has not yet been formally charged, authorities did not release his name. Bail was set at $750,000.
Authorities believe the suspect wore two disguises in carrying out his heists - one entailing a piece of cloth worn over his head with eye holes cut out, and one consisting of a tight-fitting metallic-looking mask.
Initially, investigators thought the robberies were the work of two individuals, dubbing them the "Elephant Man Bandit" and "Cyborg Bandit."
But similarities led them to consider that one person was behind all the heists, according to FBI spokeswoman Ayn Sandalo Dietrich.
The suspect always wore latex gloves, he never brandished a weapon and he hit banks in a two-county area.
"It took a lot of tiny pieces of information that came from the different robberies," Sandalo Dietrich added. "Pulling them all together is what enabled us to build the investigation."
- Reuters