Cyntoia Brown-Long hopes that sharing her story can prevent what happened to her from happening to other young women.
In her first television interview since she was released from prison, Brown-Long told "NBC Nightly News" anchor Lester Holt that despite the hardships she's endured, she feels like she's been given a "great opportunity."
"It's an honor that God has put me in this position. I feel like it's a great opportunity," Brown-Long said.
"I fully intend to step into that and to share my experiences as often as I can, with whoever I can, in the hopes that it can bring about more understanding about what goes on in the system with young girls who find themselves in the situation that I did."
"There's nothing special about me. There's, I can't tell you how many Cyntoia Browns still in prison," she said. "The women who helped me get to this point, they're still in prison for 51 years and up with ridiculous sentences. And they don't have hope right now."
Brown-Long, 31, spent 15 years in prison after she was convicted of first-degree murder of Johnny Allen, a 43-year-old real estate agent, in 2004.
At the time, she was just 16 years old and says a victim of sex-trafficking. She said her pimp raped her and forced her into prostitution, repeatedly raped by different men for weeks. At the time, she said she did not see herself as a trafficking victim.
"You meet these young girls who are in these situations. And they don't view themselves as being pimped. They don't view their trafficker as their trafficker. They think, 'This is my boyfriend.' And that's exactly what I thought with Kut. I thought, 'This is my boyfriend. I'm in a relationship. I'm his Bonnie, he's my Clyde,'" Brown-Long said.
In August of 2004, Brown-Long went home with Johnny Allen, a decision that would leave him dead and her facing a murder charge.
According to court documents, Brown-Long said Allen allegedly picked her up for sex, first stopping for food, and then drove her to his home. She said, while in bed together, she thought Allen reached for what she believed was a gun and shot him with her handgun, which she claimed was in self-defense.
Allen's family said he was trying to help her that night. Cyntoia admitted to NBC News that it could have been any other man that night.
"I think back on the past few weeks, the previous weeks. And always feeling like, you know, violence was around the corner. Always feeling like I had to defend myself," Brown-Long said. "Expecting, you know, for men to be violent towards me. And, you know, there's times I wonder, like, was I really, like, in real life in danger? Or was that just in my head?"
In 2006, she was tried as an adult, convicted of first-degree murder and aggravated robbery. She was 18 when she was sentenced to life. She would have had to serve 51 years, or until 2055, before she would be eligible for parole.
While at the Tennessee Prison for Women, she earned both her associate's and bachelor's degrees through Lipscomb University's LIFE program, where she studied side by side with the university's students.
One of her professors, Preston Shipp, was a former state prosecutor who fought against Brown-Long's first appeal, arguing she was properly convicted. They would soon find out this connection later in the semester. "I believe in Cyntoia, that I support her release. Because that's the opposite of what I said in 2008, before I had gotten to know Cyntoia. Which is a dangerous position for any person to be in, to be making a statement about the fate of someone that you haven't taken the time to know. And that's the position that I was in," he said.
Shipp said Brown-Long has "experienced a remarkable transformation." He spoke in support of her at her clemency hearing in 2018.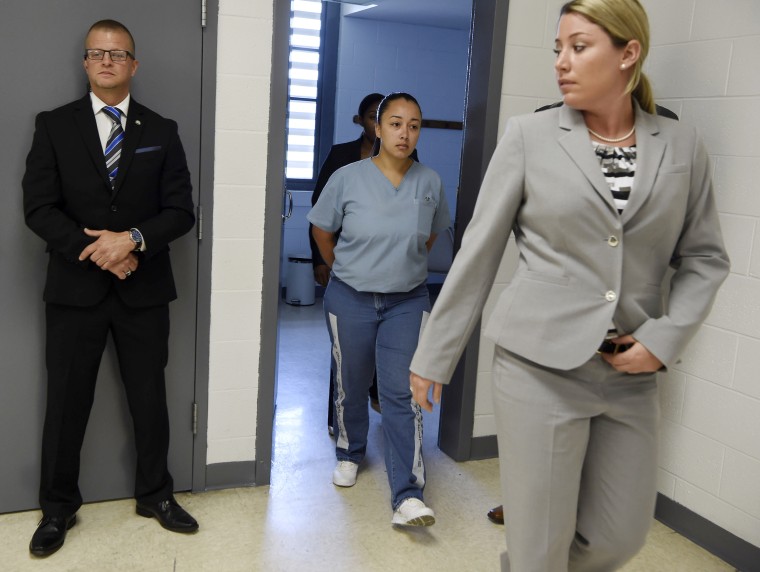 "What I hope people will take away from Cyntoia's case is that, you know, she got out. But she's just one person," said Shipp. "There's a lot of other people who deserve a meaningful opportunity to have their sentence reviewed, who have experienced the same kind of rehabilitation and transformation as Cyntoia." He now serves as Senior Policy Counsel at The Campaign for the Fair Sentencing of Youth.
Late last year, the Tennessee Supreme Court ruled she must serve 51 years before she would be eligible for parole. This sparked a celebrity-driven campaign from Kim Kardashian West, LeBron James, Meek Mill and Rihanna, who brought national attention to her case. Brown-Long said to Holt the celebrity attention made her nervous.
"I was like, I don't want the governor to think that, like, I've done this, like, to try to kinda, like, you know, push his hand. Like, that could backfire. That can look really bad," she said.
In January, then Tennessee Governor Bill Haslam commuted her sentence, writing "imposing a life sentence on a juvenile that would require her to serve at least 51 years before even being eligible for parole consideration is too harsh, especially in light of the extraordinary steps Ms. Brown has taken to rebuild her life."
At the time of her release in August, the victim's family wrote in a statement to NBC News, "We are at a loss for words. I know we feel like the judicial system has failed again for victims everywhere." The Allen family also wrote that "our hearts are broken because we feel like Johnny never got to defend himself."
Brown-Long said she takes responsibility for the death and recognizes the family's grief.
"He is a victim, you know? He was, he was, his family's a victim. You know, his friends, the people that knew him, the people that loved him. Like, they had someone snatched away from them. And I did that," she said.
Her first few moments of freedom at 3:14 a.m. was something she did not expect. "They hand me my release papers, my identification. And they say, 'Okay, there's been a change of plans.' I'm, like, 'What's that?'" Brown-Long said.
Brown-Long said she was put into a tactical vehicle and then driven onto the highway.
"Then all of a sudden, two more vehicles come, one in front of us, one behind us," she said. "And I'm like, like they've just completely did a whole operation behind this. And finally, we pulled up to the old state prison. And I got to get in the vehicle with my husband. And we went home."
Brown-Long found love in prison, to a man whose letters touched her. She and Jaime Long wed earlier this year. In his first letter to Cyntoia, Jaime wrote, "I believe the more that your story gets heard, the more people will start praying for your freedom."
"I want them to see that I'm so much more than the worst thing that I've done. You know, I'm so much more than that moment," she told Holt.
Brown-Long will be on parole until 2029.
Her new book, "Free Cyntoia: My Search for Redemption in the American Prison System" will be released on October 15.
CORRECTION (Tuesday, Oct. 15, 2019, 11:43 a.m. ET): An earlier version of this article misstated Cyntoia Brown-Long's age at the time she was sentenced. She was 18, not 16.