Police have released the identity of a North Carolina police officer who shot and killed a drug suspect during a foot chase Monday.
Raleigh officer D.C. Twiddy, 29, who has been with the city's police department for six years, was placed on administrative duty as the state investigates the deadly shooting, police said.
Twiddy had been pursuing a man wanted on a felony drug charge on Monday afternoon when he fired at the suspect and killed him, police said in a statement. A gun was found "in close proximity" to the suspect, Chief of Police Cassandra Deck-Brown said Monday.
The deceased has not yet been identified by authorities — but a Raleigh woman, Rolanda Byrd, told NBC News that she believes it was her 24-year-old son, Akiel Denkins.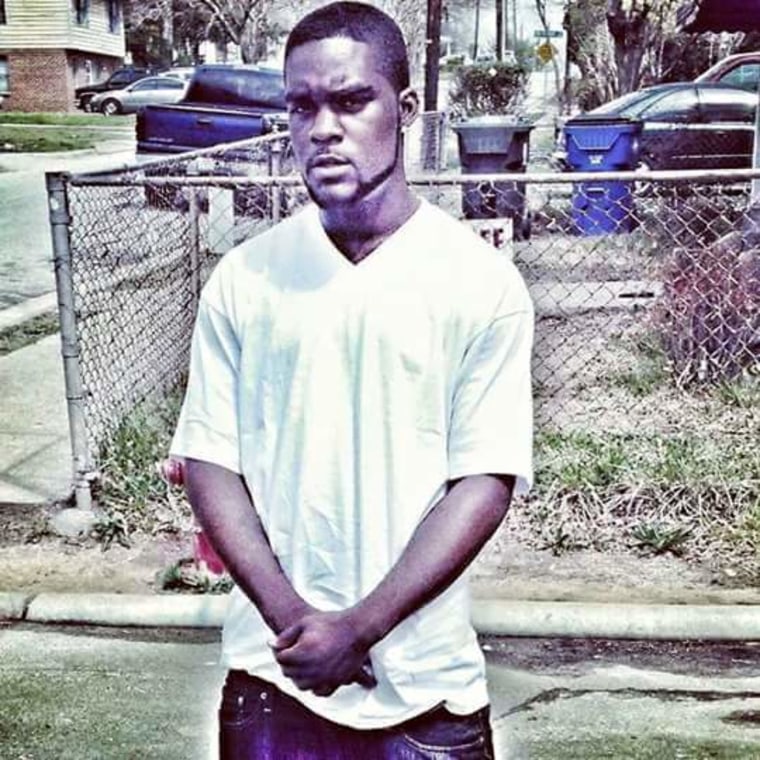 Byrd said on Tuesday morning that police had not notified her that her son was dead, but witnesses told her it was Denkins who was shot while running from the officer.
"Nobody from the police department has told me that it was actually my son that was killed, even at this point in the morning," Byrd said. "I'm hoping it's not. I'm praying it's not."
Byrd said that if her son was shot, she doesn't believe the officer had a reason. She said her son would have fled because he knew there was a warrant out for his arrest for failing to appear in court. She said the neighborhood, south of downtown Raleigh, was a "drug-populated area," but she said her son didn't own a gun and witnesses told her they didn't see him with one during the foot chase.
"Nobody saw him with a gun," Byrd said. "They are saying that a gun was found nearby. Who knows where that gun came from?"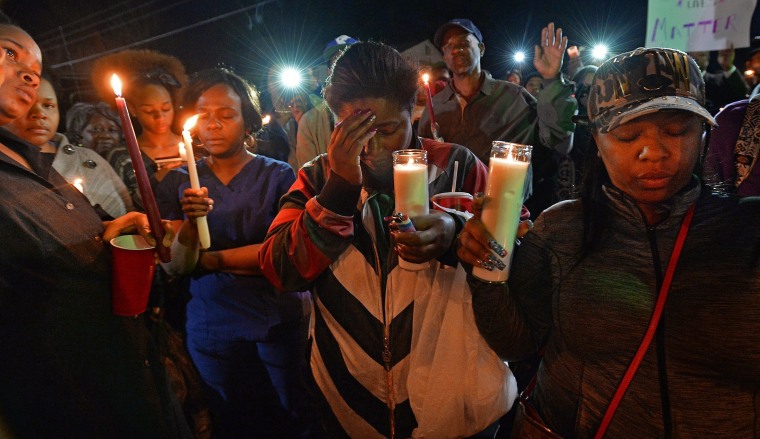 She said her son was a goodhearted father of two young boys who worked for a moving company.
"Everybody loved him, and he was just trying to make a life for himself," she said.
"A warrant or an arrest record is not a license to kill," the Rev. William Barber, an NAACP board member, said at a news conference with Byrd on Tuesday.
"We are aware of the historical tension that exists between the African American community and the police. This tension is present in most cities and Raleigh is no exception to that history," Barber said.
He urged authorities to allow Byrd to identify her son's body "to bring closure to that part of this tragic experience," he said.
"We understand the need for information. We are committed to ensuring that information is shared as it becomes available," Raleigh Mayor Nancy McFarlane said on Tuesday. In a statement, she asked for "calm, prayer and patience."
After the shooting Monday, people gathered at a makeshift memorial near the scene of the shooting. They yelled and chanted, and one person held a banner that read: "F--- the police." The gathering, overall, was peaceful.
"You can see from the people of the community that he was loved, he was cared for, he didn't hurt anybody," Byrd said. "And I appreciate everybody being out here to stand with me against this tragedy."