Dads should be considered primary caretakers of their children and get just as much parental leave as moms, argues a new sex discrimination complaint filed Thursday against financial giant JPMorgan Chase & Company.
The complaint was filed on behalf of Derek Rotondo, a fraud investigator at a JPMorgan Chase office in Ohio who said he discovered his employer only provided him with two weeks of parental leave while "primary caregivers" were eligible for 16 weeks of leave.
Rotondo's complaint, filed with the Equal Employment Opportunity Commission with the help of the ACLU and employment law firm Outten & Golden, seeks changes on behalf of all fathers subject to the company's policy — which he called "something out of the 1950's."
Related: Betsy DeVos Non-Committal on Private School LGBTQ Discrimination
"Just because I'm a father, not a mother, it shouldn't prevent me from being the primary caregiver for my baby," Rotondo said in a statement. "I hope that J.P. Morgan will change this policy and show its support for all parents who work for the company."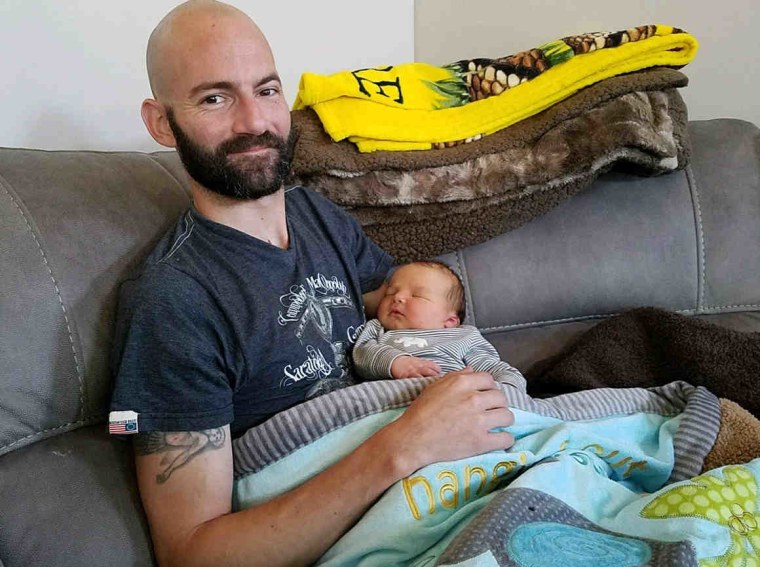 The EEOC complaint alleges JPMorgan Chase discriminates against dads based on sex stereotypes. Not only are fathers offered significantly less leave at the company, Rotondo alleges, but dads are only allowed to be considered primary caregivers if they can prove their spouse or domestic partner "has returned to work... [or] is medically incapable of any care of the child."
JPMorgan Chase confirmed that its parental leave policy offers 16 weeks of paid parental leave for a "primary caregiver" and two weeks of paid leave for "non-primary" parents. The company would not comment on the complaint or on whether mothers in heterosexual relationships were automatically classified as the primary caregiver.
However, a company spokesperson did say that in gay couples where both spouses are male, a man could be considered the primary parent.
While JPMorgan Chase's policy would be considered generous to the many U.S. workers who have no family leave at all, Rotondo said the way it's structured enforces stereotypes and leaves moms having to do most of the parenting work.
Related: LGBT Job Discrimination Is Prohibited by Civil Rights Law, Federal Appeals Court Rules
Rotondo is married, and he and his wife have two children. The couple's youngest child was born on June 6. His wife, a teacher who has summers off, and his son are healthy. According to his employer's policy, Rotondo said, he would have to return to work while his baby is just two weeks old. In 2015, when his first child was born, Rotondo said the company only offered fathers one week of leave.
"J.P. Morgan's parental leave policy is outdated and discriminates against both moms and dads by reinforcing the stereotype that raising children is women's work, and that men's work is to be the breadwinner," said Galen Sherwin, senior staff attorney with the ACLU's Women's Rights Project. "J.P. Morgan needs to make its family leave policy reflect the realities of modern families working in America today."
There is no federal law mandating paid parental leave in the U.S. As a result, many American workers have to go without pay in order to have and care for children.
A May report from the non-profit Paid Leave in the United States found that a stunning 94 percent of low-wage workers in the U.S. have no access to paid family leave. Among workers of all strata, one-quarter of new moms returned to work within just 10 days of giving birth.
Related: Equal Pay Day: Women Rally Against Wage Gap, Workplace Discrimination
But if the prospect of family leave is low for women, it's much lower for men — and dads are starting to fight back.
In 2015, former CNN correspondent Josh Levs settled a discrimination charge against CNN and Turner Broadcasting over a policy similar to JPMorgan Chase's. When his daughter was born prematurely in 2013, Levs discovered that while mothers were offered 10 weeks of paid leave, dads could only get two weeks.
As a result, that company changed its policy. Now, all new parents at Turner Broadcasting properties get six weeks of paid leave regardless of gender. And birth moms get an additional six weeks on top of that.
Peter Romer-Friedman, an Outten & Golden civil rights attorney, represented Levs and is now working on Rotondo's case.
"It is long past the time that American companies implement parental leave policies that comply with federal law and treat men and women equally," said Romer-Friedman in a statement. "All parents, regardless of their sex, deserve fair paid leave so they can bond with their babies."