The father of one of the high-flying acrobats injured in a Ringling Brothers circus accident in Rhode Island said it's a miracle they all survived the terrifying 35-foot plunge.
"The accident was very, very horrible," Roiter Neves told NBC News in a phone interview from Brazil shortly after his 24-year-old daughter, Widny Neves, emerged from surgery on her badly broken arm.
The dad, a veteran circus performer himself, said he saw a video of the mishap in which a circular metal platform suddenly fell from the rigging while his daughter and other troupe members were suspended from it by their hair.
"The first thing in my mind is nobody can survive. It's too high and too heavy, too many girls. But no one is dead from this accident."
"Maybe God put his hand down and just put the girls on soft wings."
"Obviously something happened that shouldn't have happened"
In addition to a broken arm, his daughter suffered minor fractures to her back and neck and will need months of physical therapy to recover.
But he had no doubt she would return to big top and its most daring acts.
"All circus acts are dangerous jobs," he said. "If you work in that field, you accept the risk."
Investigators have not yet determined the cause of the accident during Sunday's 10:30 a.m.show at the Dunkin' Donuts Center in Providence, where stunned parents and confused children watched as medics tended to the injured below them.
"Everyone was freaking out," said Sydney Bragg, 14. "We heard this huge clatter and then we just heard the girls scream."
Police and fire officials, along with the Occupational Safety and Health Administration, were working with circus employees to figure out what went wrong and how to fix it.
"Obviously something happened that shouldn't have happened," Providence Public Safety Commissioner Steven Pare said at a Sunday evening briefing.
Feld Entertainment, the parent company of Ringling Bros. & Barnum and Bailey, canceled two later performances on Sunday and one slated for Monday morning.
It was unclear if the 7 p.m. show will go on, but officials said all aerial acts would be grounded until investigators were certain it was safe.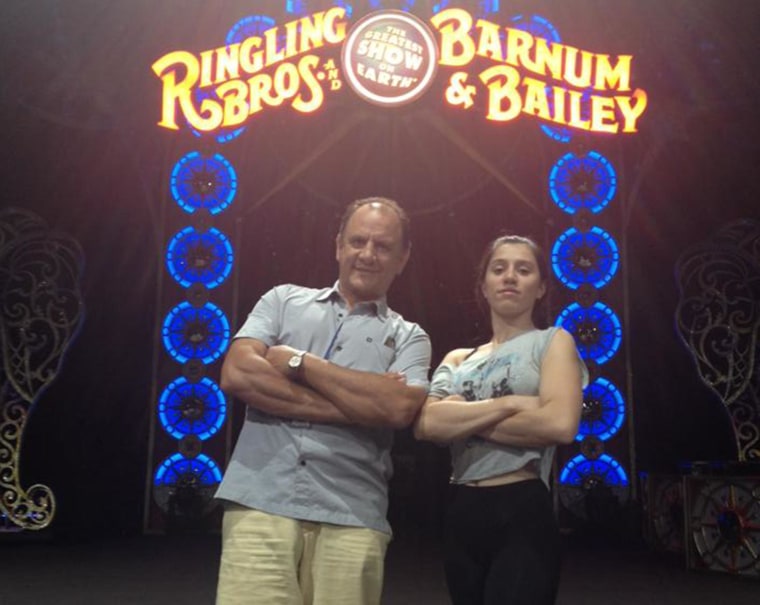 Eight of the injured were part of the Medeiros' Troupe's daredevil hair-hanging act; the ninth, a man, was on the ground when the platform crashed down.
The male dancer was released with minor cuts. One woman was in critical condition with internal bleeding, while all others suffered broken bones, circus sources said.
The injured include Viktoriya Medeiros, who created the "hairialist" act with her husband, Andre.
A description on the Ringling website notes that "it is Andre's attention to every detail, even welding the three different rigs that the girls hang from, that keeps his troupe safe and sound each and every time the act is presented."
It was Andre Medeiros who phoned Roiter Neves right after the collapse on Sunday and told him what happened. At the hospital, he called back and put Widny on the phone.
"She said she got hurt but she was OK," he recalled.
He said his daughter grew up in the circus, but he hoped she would choose another career.
"I worry all the time," he said. "I pray to God to take care of her."
He said he knows the risks all too well because he plummeted 35 feet during a flying-trapeze performance in 1989 and broke both of his legs. Eight months later, he was back in the air.
"She'll come back again, too," he said of Widny. "She is my daughter."
NBC News' Ziad Jaber contributed to this report.