Miami authorities are searching for a 1-week-old baby who was possibly abducted by his father from a home where three dead women were found.
Miami-Dade police asked the public late Tuesday for help in finding Ernesto Caballeiro, 49, and his newborn son, Andrew, "out of concern for their welfare." An adult male matching the description of Caballeiro was found dead Wednesday, according to the Pasco County Sheriff's Office.
A baby was not found.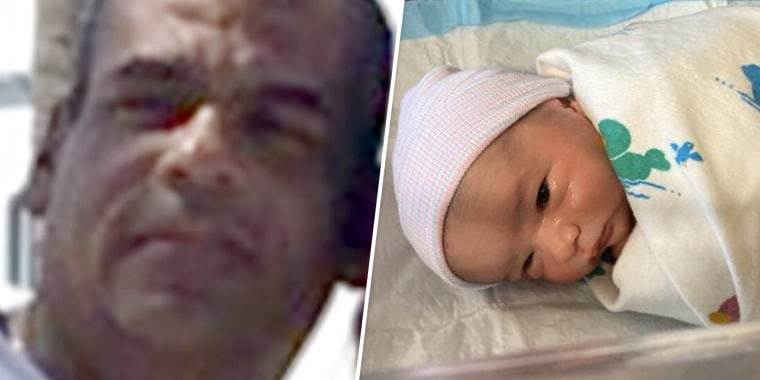 Miami-Dade police responded to a triple homicide at a home on Tuesday. NBC Miami reported that three women were found dead with apparent gunshot wounds at the residence.
An Amber Alert for Andrew Caballeiro shared Wednesday by the Florida Department of Law Enforcement said he and his father were last seen at the home on Southwest 187th Avenue. Ernesto Caballeiro is listed in the Amber Alert as the abductor of the child.
A family member called police after going to the house to check on everyone and finding the women's bodies. That family member also told police that a newborn baby and his father were missing from the home.
Caballeiro and the baby may be traveling in a white passenger van with a decal that says "Nesty School Services."
Deputies found the dead man after someone reported a suspicious vehicle matching the one described in an Amber Alert in a rural area outside Tampa Bay, the sheriff's office said.
"About 50 yards from the vehicle in the wooded area they discovered the deceased individual with one round, appeared to be one round self-inflicted wound from a rifle," Pasco County Sheriff Chris Nocco said Wednesday.
Nocco told reporters that bloodhounds searched the area for Andrew based on a pacifier found in the van but had yet to find anything, though searches were ongoing.
A key piece of evidence being investigated was whether a blond woman was in the vehicle with Caballeiro, based on a police interview with an unnamed individual.
"I sit here and pray to God that is true and that she has the baby," Nocco said. "If that is a true fact and that woman is out there, please come forward. I promise you all we care about is that little Andrew is OK."