A judge on Thursday ruled that there is no criminal case at this time against the father who went to work last week at a Bronx hospital and left his nearly 1-year-old twins to die in his car on a hot summer day.
Juan Rodriguez appeared in court on Thursday to answer charges of criminally negligent homicide and manslaughter.
The Bronx district attorney decided not to put the case before a grand jury at this time, pending further investigation. This means the criminal case is still active, but the prosecution has been paused, the district attorney's office told NBC News.
Rodriguez waived his right to a speedy trial, giving Bronx District Attorney Darcel Clark more time to decide whether to present evidence to a grand jury. Rodriguez is due in court again on Aug. 27.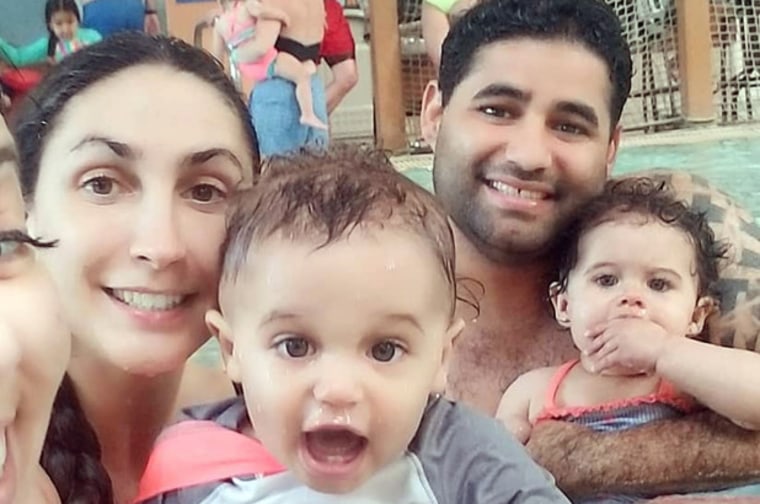 Outside the courthouse, after his appearance, Rodriguez declined to speak as he held his 4-year-old son. He was joined by his wife and two older children from a previous marriage. His attorney, Joey Jackson, addressed reporters.
"Mr. Rodriguez consented to a full search of his phone, of his car," Jackson said. "He has nothing at all to harbor and hide, other than to feel misery and sorrow about what happened."
Jackson implored the district attorney to do "what we believe is the right thing, and that is, to dismiss these charges."
He also said Rodriguez is advocating the passage of a bill that would require an audible warning if a person or pet is in the back seat of a car after the engine is turned off.
On Friday, Rodriguez, a 22-year veteran of the National Guard, left his children in the car while he went to his job as a social worker at the James J. Peters V.A. Medical Center.
The 39-year-old father told police he arrived at work in the Bronx at 8 a.m., worked a full shift and had already started driving home at 4 p.m. when he discovered the twins, Luna and Phoenix, still strapped in their rear-facing car seats. Neither was breathing. He got out of the car and screamed, "I blanked out. I killed my babies," according to the criminal complaint.
The children were found by the medical examiner to have had a body temperature of 108 degrees when they died.
On an 86-degree day, as on Friday, it takes only about 20 minutes for the temperature inside a car to rise 20 degrees.
Rodriguez said he left his house in Rockland County on Friday morning with the twins and their 4-year-old brother in the car. He told police he took his son to his day care, but then forgot to drop off the twins.
Rodriguez pleaded not guilty to the charges over the weekend and said he did not act intentionally. He was released on bail.
His wife, Marissa Rodriguez, has said she supports her husband and that their twins' deaths was a horrific accident.
"Though I am hurting more than I ever imagined possible, I still love my husband," Marissa Rodriguez said in a statement Sunday. "He is a good person and great father and I know he would've never done anything to hurt our children intentionally. I will never get over this loss and I know he will never forgive himself for this mistake."
Funeral services for the twins are scheduled for Friday.