NASCAR legend Dale Earnhardt Jr., his wife and their 1-year-old daughter have all been discharged from the hospital after the private plane they were on Thursday crashed and burst into flames at a Tennessee airport.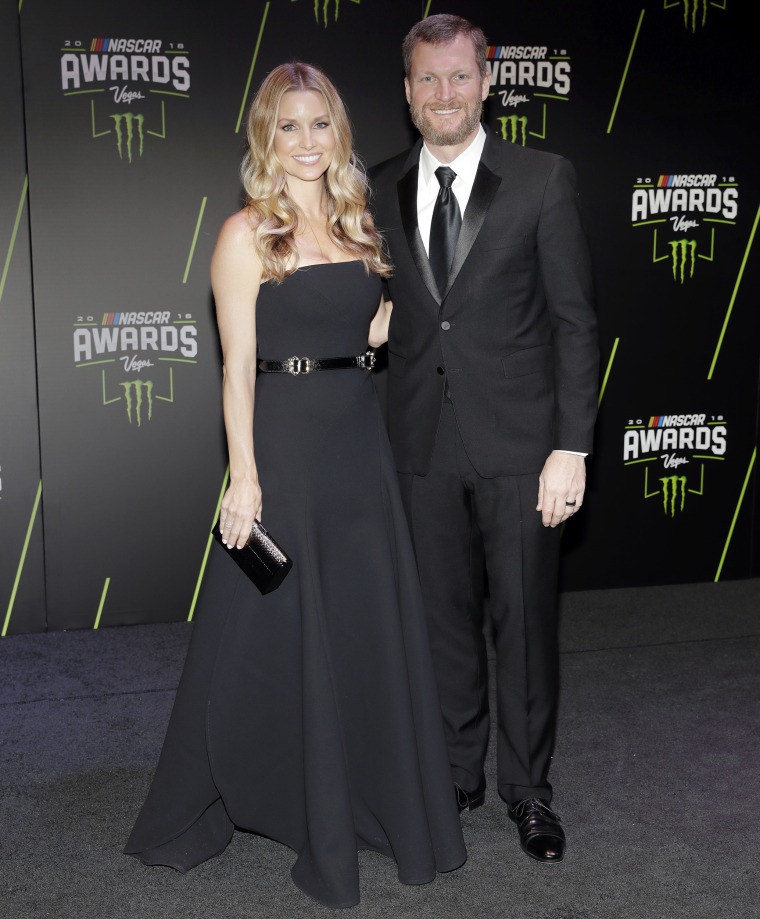 The Carter County Sheriff's Office confirmed to NBC affiliate WCYB of Bristol that the family and two pilots were on a plane that crashed at Elizabethton Municipal Airport. The Federal Aviation Administration said a Cessna Citation rolled off the end of a runway and caught fire after landing around 3:40 p.m.
Kelley Earnhardt Miller confirmed on Twitter that her brother, his wife, Amy Reimann, and their 1-year-old daughter, Isla, were on board.
"Everyone is safe and has been taken to the hospital for further evaluation," said Earnhardt Miller, a co-owner of Earnhardt's racing team, JR Motorsports. "We have no further information at this time. Thank you for your understanding."
The entire family has since been discharged from the hospital, according to NBC Sports, where Earnhardt works as a NASCAR analyst and commentator.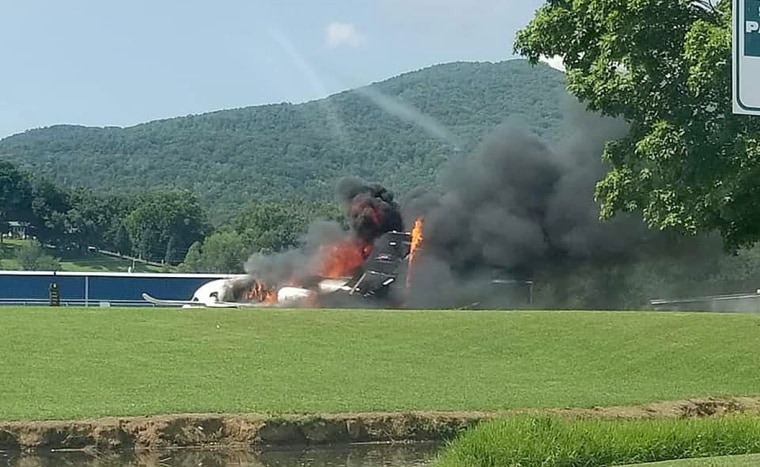 No injuries to the two pilots were reported to the FAA, and Elizabethton Fire Chief Barry Carrier told WCYB that everyone survived.
Carrier said at a news conference that the five people on board the plane, which was "pretty much destroyed," were "very lucky" that exit door wasn't blocked after the Cessna hit a fence when it skidded off the runway.
"The fence wrapped around the airplane, and there's a section there that the fence is wrapped around the plane," Carrier said. "If that would have been where the door was, there would have been a lot more difficult for them to get the door open. So it looks like everything worked in their favor instead of against them."
The FAA and the National Transportation Safety Board are investigating.
Earnhardt announced in 2017 that he'd step away from full-time racing. The third-generation driver followed in the footsteps of his father, Dale Earnhardt Sr., a seven-time NASCAR Cup Series champion, and his grandfather Ralph Earnhardt, the 1956 NASCAR Sportsman champion.
The Elizabethton airport serves the town of Bristol, home to Bristol Motor Speedway, one of NASCAR's marquee raceways. Earnhardt was scheduled to be a member of the announcing crew at the speedway for Saturday's races, but NBC Sports said in a statement he will no longer participate in light of the accident.
"We're incredibly grateful that Dale, his wife Amy, daughter Isla, and the two pilots are safe following today's accident," an NBC Sports spokesperson said. "After being discharged from the hospital, we communicated with Dale and his team, and we're all in agreement that he should take this weekend off to be with his family."
Download the NBC News app for breaking news and politics
Carter County Sheriff Dexter Lunceford said Thursday that Earnhardt was "totally conscious and alert" when Lunceford arrived on scene.
"When I got close to the airplane, the first person that I came in contact with was Mr. Earnhardt," Luceford said. "He was laying on his back, but as far as his injuries, the family and their staff will be taking care of that."
NASCAR said it is "extremely relieved" to hear Earnhardt and his family are safe in a statement Thursday evening. "We look forward to seeing Dale back at the race track very soon," the organization said.
Earnhardt, the winner of 26 NASCAR Cup series races, is a member of one of the sport's royal families. His father, the Hall of Fame driver Dale Earnhardt Sr., won 76 Cup races and a record-tying seven Cup series championships; his grandfather Ralph Earnhardt, also a Hall of Fame driver, was named on NASCAR's list of its 50 greatest drivers in 1998.
Earnhardt Sr. was killed in a crash on the final lap at the Daytona 500 in Florida in 2001. His son won the Daytona title at the same speedway just three years later in one of the most storied races in the series' history.
JR Motorsports, the racing team Earnhardt co-owns with his sister and the racing legend Rick Hendrick, has also been highly successful, having won 47 races and three Xfinity Series championships since it was founded 18 years ago.