The Dallas police chief who helped steer the city through the killings of five officers during a July protest march said Thursday he's retiring.
David Brown, a 33-year veteran of the force, said in a statement that the decision was "difficult," but didn't say why he was stepping down.
Instead, Brown recalled the 1980s crack cocaine epidemic that inspired him to become a police officer "to be part of the solution." And he urged the public to remember the five officers shot to death by a gunman on July 7.
Related: Dallas Police Chief David Brown Faces Toughest Challenge of Difficult Career
"I know the people of Dallas will never forget the ultimate sacrifice they made on the streets of our city that awful night," Brown said in a statement.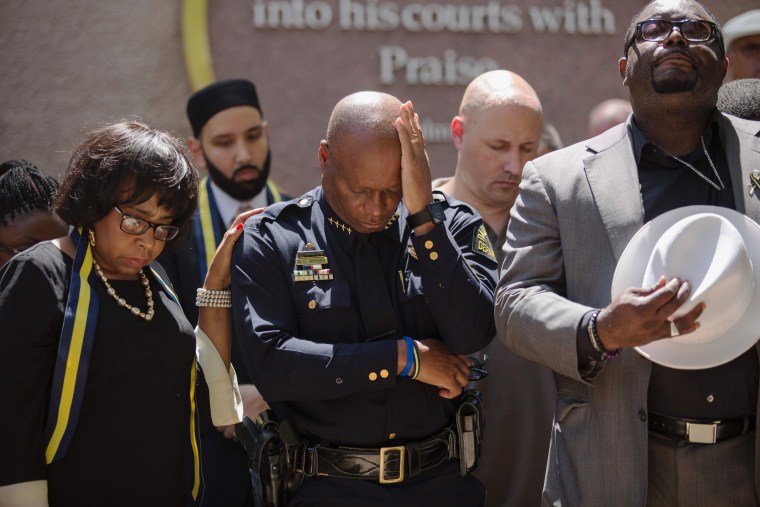 Brown was on vacation on Thursday, and so Mayor Mike Rawlings addressed reporters at a news conference. Rawlings said the chief had been talking to city officials about leaving before the shootings.
"July 7 happened, and we kind of forgot about it," Rawlings said.
The mayor said Brown told him he began to think and pray about it again after the shootings, and decided a fall departure would be best.
"He's a man of notoriety and he has options, but he told me he just wants to sit and do nothing," Rawlings said.
Brown's retirement, to be effective Oct. 22, will end a tumultuous six years at the top of the Dallas force. Seven weeks after he was sworn in, his son shot and killed a suburban Dallas cop before getting killed himself by the police.
Known for being a stern and intensely private man, Brown got right back to work, steering the department with an emphasis on community policing for which Dallas became a national model. But he also ran afoul of many officers and union leaders, who tried unsuccessfully to get him fired. Under Brown, crime rates fell to historic lows, officials said.
Related: Dallas Police Made Reform Efforts in Recent Years
That made the July massacre, by a gunman angered by the killings of civilians by police in other cities, seemed cruelly ironic; the officers died providing security for a march against police brutality.
The attack put Brown — and his decision to kill the gunman with a bomb-carrying robot — under heavy scrutiny.
In the aftermath, he cracked down on protesters, demanding they end marches through downtown because they posed a threat to officers, The Associated Press reported.
That included the arrest of one of the police department's loudest critics, a young preacher with a criminal history, for unpaid parking tickets, along with attempts to revoke his probation related to a 2009 crime, according to the AP.
Officials said Assistant Chief David Pughes will be acting chief until a permanent replacement for Brown is found.