The Dallas Police Department on Monday fired an officer who barged into the wrong apartment in her building and killed a man who was inside.
The dismissal of Amber Guyger was announced by Dallas Police Chief Reneé Hall on Twitter.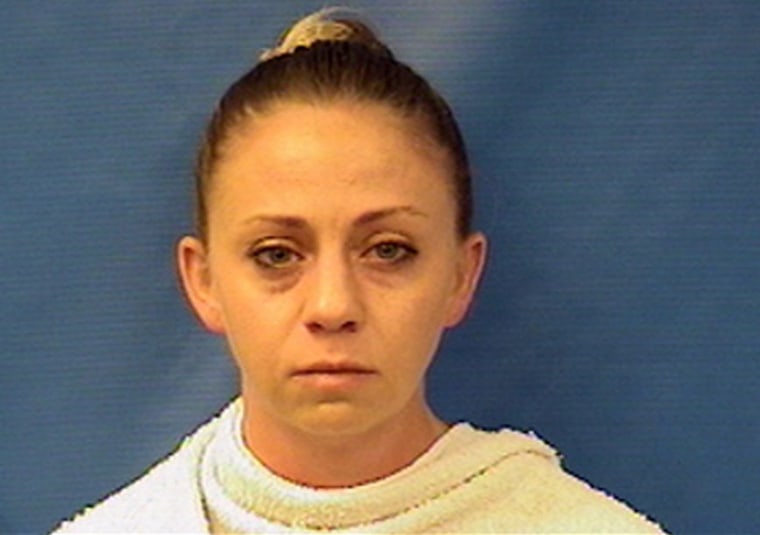 Guyger, who was hired in November 2013, was fired after an Internal Affairs investigation concluded that the officer "engaged in adverse conduct when she was arrested for Manslaughter," the chief's Tweet read.
Hall's tweet shed no new light on the death of Botham Jean, a 26-year-old native of the Caribbean island of St. Lucia. But it came on the same day that family and friends gathered at a church in his homeland to bid farewell to, as one mourner put it, "a young man cut down in his prime."
It remains unclear why Guyger opened fire or what she may have been doing before she returned to her building after working a full shift. But Hall said earlier that a blood sample was drawn at her request to test the officer's drug and alcohol levels.
Guyger, 30, was arrested three days after the Sept. 6 fatal shooting on suspicion of manslaughter. She has been free on bond and has been on administrative leave since then.
According to her arrest warrant, Guyger somehow ended up on the wrong floor of the building and entered the apartment directly below hers, which belonged to Jean.
The Dallas Police Association declined comment on the firing, citing the ongoing investigation that is being done by the Texas Rangers. The Dallas County District Attorney's office is also conducting its own probe of the fatal shooting.
Dallas Mayor Mike Rawlings said firing Guyger was the "right decision."
"The swift termination of any officer who engages in misconduct that leads to the loss of innocent life is essential is the Dallas Police Department is to gain and maintain the public trust," Rawlngs said in a statement.
Jean's death outraged the Caribbean community in Dallas and the question of whether Guyger should be fired became an issue in the hotly-contested U.S. Senate race between Republican incumbent Ted Cruz and his Democratic challenger, Rep. Beto O'Rourke.
"This officer was clearly acting in the line of duty when she shot Botham and we only believe the right thing to do was to fire this office," Botham family attorney Lee Merritt said. "I think (this) sends a strong message out to the community that the Dallas Police Department has not taken a step in the right direction."
An attorney for Guyger, Robert L. Rogers, said in a statement that the decision to fire the officer was too hasty, and that Hall "bowed to pressure from anti-police groups and took action before all of the facts had been gathered and due process was afforded."
"That's not the way our system of justice should work," Rogers said. "It is important for all parties and the integrity of the justice system that a full and fair investigation be allowed to reach its conclusion before decisions such as this are made."
Earlier, Merritt accused the police of trying to besmirch Jean by searching his home for drugs and other illegal items after he was dead. Investigators later said in a court document that they found 10.4 grams of marijuana.
Jean worked in risk assurance at PricewaterhouseCoopers and was a graduate of a private Christian university.
Rogers said that "what happened on September 6th was a tragic mistake and words can never express our sorrow for the pain being suffered by those who knew and loved Botham Jean."
"Amber Guyger is completely devastated by what happened," Rogers said.