An online toy drive fundraiser created by Buffalo Bills safety Damar Hamlin has been flooded with donations after he collapsed during a game Monday night.
Hamlin, 24, suffered cardiac arrest during the game against the Cincinnati Bengals and was administered CPR on the field before he was transported to hospital, where he remains in critical condition, the Bills said in a statement early Tuesday.
In the wake of the incident, fans flocked to a GoFundMe campaign Hamlin set up in 2020 when he was entering the league.
The effort, which aims to raise money to buy toys for children affected by the Covid-19 pandemic, had an initial fundraising goal of $2,500.
That was eclipsed in the hours after Hamlin collapsed, and by 5 a.m. ET it had passed $3 million with more than 123,000 donations.
Many fans included messages of support and wishes for Hamlin's good health alongside their donations.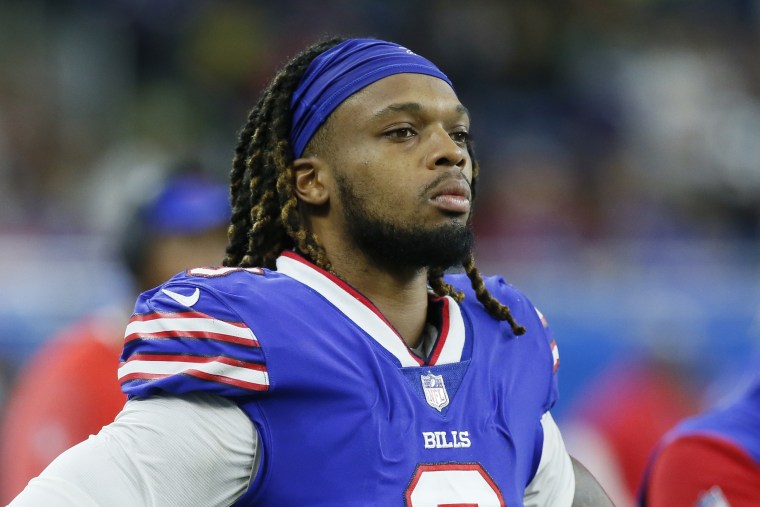 GoFundMe shared a link to the page and said, "Following his injury on the field tonight, fans across the country are showing their support for him and his family by donating to his fundraiser."
Hamlin, a University of Pittsburgh alum, created the charitable foundation and toy drive as his college career was coming to an end in 2020.
"As I embark on my journey to the NFL, I will never forget where I come from and I am committed to using my platform to positively impact the community that raised me," Hamlin wrote on the fund's page at the time.
"This campaign gives you the opportunity to contribute to our first initiative and positively impact children who have been hardest hit by the pandemic," he added.
Pitt's football program changed its Twitter profile's header late Monday to a picture of Hamlin in his No. 3 Panthers jersey and said: "Damar Hamlin is the best of us. We love you, 3. Praying for you."
Cincinnati was leading 7-3 when Hamlin tackled Bengals wide receiver Tee Higgins, stood up and then fell over on his back.
In a game in which players do sometimes suffer serious injuries, the apparent gravity of the situation was described as unprecedented on Monday's broadcast.
The game was suspended with 5:58 minutes left in the first quarter. The NFL officially postponed the contest about an hour later, shortly after 10 p.m. ET.
Hamlin is a native of McKees Rocks, Pennsylvania, which is near Pittsburgh, and he was drafted in the sixth round of the 2021 NFL draft.
NFL players joined in rallying around Hamlin as emotional fans gathered outside the hospital with candles.
The Bills tweeted, "Bills Mafia is with you, @HamlinIsland," referring to the player and a name for Bills fans. The Bengals were among the teams that responded with an emoji of hands in prayer. Bills quarterback Josh Allen wrote: "Please pray for our brother."
New York Mayor Eric Adams said: "I'm asking all New Yorkers to join me in praying for Damar Hamlin, his family, his teammates and our brothers and sisters in Buffalo."