Buffalo Bills safety Damar Hamlin was discharged from the hospital Wednesday after tests showed he was fit enough to rehab at home, the team announced.
Hamlin left Buffalo General Medical Center after he "went through a comprehensive medical evaluation as well as a series of cardiac, neurological and vascular testing on Tuesday," the Bills said.
Dr. Jamie Nadler said in a statement released through the team, "We have completed a series of tests and evaluations and in consultation with the team physicians, we are confident that Damar can be safely discharged to continue his rehabilitation at home and with the Bills."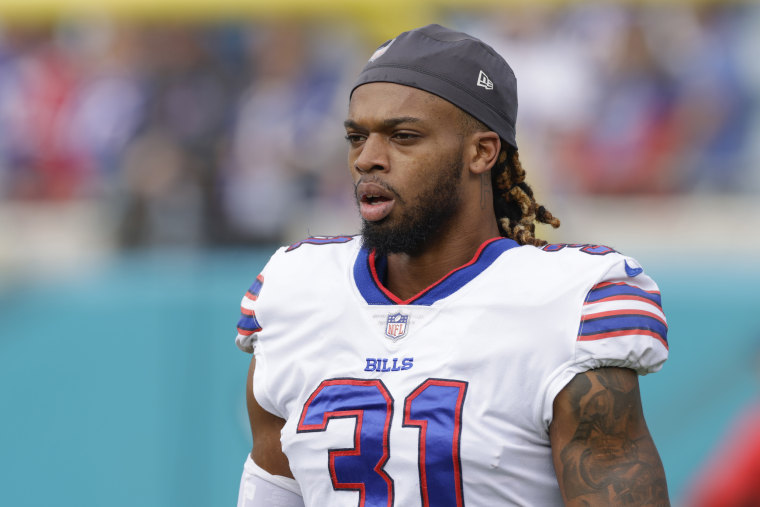 Hamlin, 24, a second-year safety, suffered cardiac arrest and collapsed on the field Jan. 2 during the first quarter of Buffalo's game against the Bengals at Cincinnati's Paycor Stadium.
He had made what appeared to be a routine tackle of Bengals receiver Tee Higgins when he went limp and fell backward to the ground.
It's still unclear how the simple play contributed to Hamlin's cardiac arrest.
Doctors last week speculated that Hamlin might have experienced commotio cordis, a rare phenomenon in which blunt force to the chest can cause a healthy heart to stop beating during a narrow window of the cardiac cycle.
Ever since the scary incident, Hamlin has been the recipient of unwavering backing from football fans who have shown their support at stadiums across the NFL.
The Bills-Bengals game was canceled, which might have cost Buffalo the No. 1 AFC seed in the playoffs. The Bills finished 13-3, a half-game behind the Kansas City Chiefs (14-3) for the conference's top spot and a first-round playoff bye.
Instead, the Bills ended with the No. 2 seed and will play host to the Miami Dolphins on Sunday in a wild card game.