Buffalo Bills safety Damar Hamlin, whose on-the-field collapse sent shockwaves throughout the sport, will play professional football again, a physician close to the player said Wednesday.
Dr. Thom Mayer, medical director for the NFL Players Association, told SiriusXM's show "Heart to Heart" that he has no doubts Hamlin will lace up his cleats and be back on the gridiron.
"I don't want to get into HIPAA issues, but I guarantee you, I guarantee you ... that Damar Hamlin will play professional football again," Mayer told the show.
A representative for Hamlin could not be immediately reached for comment Wednesday, and Hamlin has not publicly addressed a return to the field since he went into cardiac arrest and was resuscitated on the field last month.
Hamlin and the Bills were playing at Cincinnati on "Monday Night Football" on Jan. 2 when he appeared to make a routine tackle.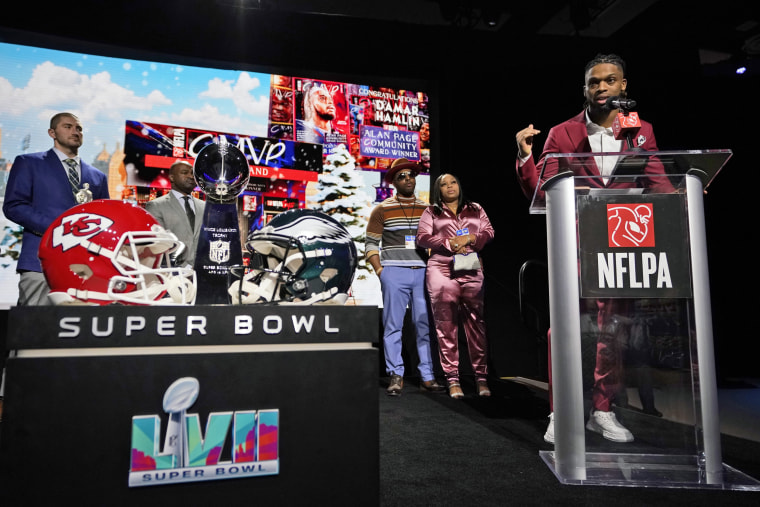 Hamlin, a econd-year defensive back from Pitt, got up from the tackle and then appeared to go limp and fall backward.
Hamlin might have experienced commotio cordis, a rare phenomenon in which blunt force to the chest can cause a healthy heart to stop beating during a narrow window of the cardiac cycle.
Hamlin was released from University of Cincinnati Medical Center on Jan. 9 to be treated closer to home at Buffalo General Medical Center before he was discharged from there on Jan. 11.
He attended the Bills' final game of the season, a playoff loss on Jan. 22 to the Bengals.
On Wednesday, he accepted an award in Phoenix, site of Sunday's year's Super Bowl game, to recognize his service to his community.
"One of my favorite quotes: It's a blessing to be a blessing," Hamlin said while accepting the NFLPA's Alan Page Community Award with his parents by his side. "With that being said, I plan to never take this position for granted and always have an urgent approach to making a difference in the community where I come from and also communities across the world."
Hamlin had a toy drive fundraiser that people poured donations to after his on-field collapse. Chasing M's has since raised more than $9 million.