Escaped convict Danelo Cavalcante was shot at Monday night by a homeowner who found him in his garage stealing a rifle, Pennsylvania authorities said.
The homeowner called police at 10:10 p.m. ET to say a short Hispanic man wearing no shirt and dark pants had entered the garage while the homeowner was in it and grabbed a .22-caliber rifle leaning in the corner, State Police Lt. Col. George Bivens said at a news briefing Tuesday morning.
The homeowner opened fire at the man, who the police said was Cavalcante, several times as he "fled with the rifle."
Police responded to the home on Coventryville Road within minutes, but Cavalcante was gone. Bivens said he believed Cavalcante, 34, who has been on the run since Aug. 31, was unharmed.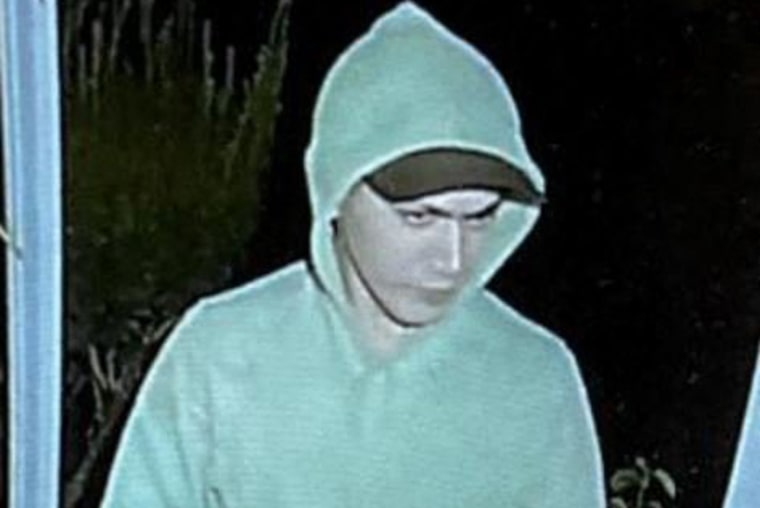 A green sweatshirt and a white T-shirt believed to belong to Cavalcante were found near the edge of the home's driveway, and the search perimeter was expanded to include that area.
The encounter with the homeowner was one of several "significant developments" in the manhunt, Bivens said.
Earlier in the evening, at 8 p.m. Monday, a motorist reported seeing a male crouched in the wood line along the south side of Fairview Road west of Route 100. The driver turned her car around to verify seeing the man, but when she did he was gone.
A large number of troopers and a Border Patrol tactical team were already in the area and flocked to the scene. They found footprints and some mud, "which were identical to the prison shoes worn by Cavalcante," Bivens said. Shortly after, officials found his prison shoes.
Officials also received information from a resident in the area that a pair of work boots had been stolen from the home's porch before the call about the shooting.
"Cavalcante is considered armed and extremely dangerous. He is now armed with a .22-caliber rifle with a scope and flashlight mounted on it," Bivens warned.
Searches went on overnight by multiple agencies, including the state police, the FBI and U.S. marshals, and aviation assets, K-9 teams and mounted patrols have been mobilized. More than 500 officers worked to secure the perimeter, officials said Tuesday.
The current perimeter, covering 8 to 10 square miles, stretches from PA 23 to the north to PA 100 to the east, Fairview to the south and County Park Road to the west. 
"We ask residents in and around this facility to secure homes, outbuildings and vehicles," Bivens said, noting reverse 911 messages were sent to residents in the area to lock down their homes.
State police said earlier that they were pursuing Cavalcante in South Coventry Township, Chester County, northwest of Philadelphia.
Police urged the public not to approach him, to stay inside and to lock all windows and doors.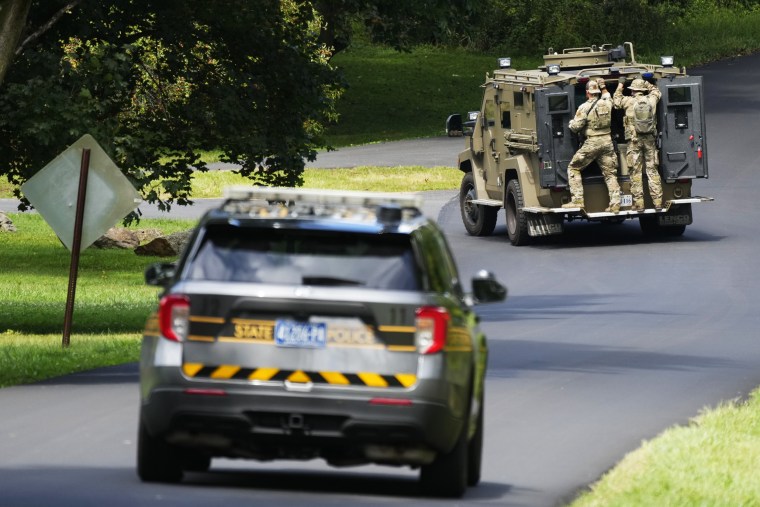 Matt Bauer said Tuesday that his mother burst into his room Monday evening asking whether he heard any gunshots. Soon after, their street was swarmed by armed officers and flashing lights.
"Then the adrenaline starts going, and we were hard-wired and were kind of running through the house making sure everything's locked," he said. "Last night I was very anxious."
Tuesday, officers in fatigues have been patrolling the street and searched the woods near his family's home. He said helicopters have also been flying overhead since Monday night. 
In addition, checkpoints have been set up in the search perimeter area. 
"The street that I live on, there's uniformed and armed officers probably about every 100 yards standing along the guardrail looking at the woods," Bauer said.
"I got stopped at least twice on the way to the gym at multiple checkpoints, and on the way home I got stopped two or three times," he said. "My car was searched multiple times, because they're worried he could be in a car and could be escaping somehow. They're being very thorough. They're not letting anyone pass the perimeter that doesn't have proof of address somewhere to get in the area."
He said the shots were fired most likely within a mile of his home, describing the area as difficult to search as it's sparsely populated, it has abandoned buildings and it is full of woods and open fields.
Cavalcante was spotted Sunday in nearby Phoenixville, having changed his appearance.
Cavalcante was sentenced to life in prison without the possibility of parole last month, having been convicted of fatally stabbing his former girlfriend.
Police have said he has tried to contact former colleagues in search of support.
"I believe at this point he is beyond assistance, and we will actively hunt until we find him," Bivens said Tuesday.
Cavalcante's escape from the Chester County Prison in Pocopson Township on Aug. 31 was captured on surveillance video, which showed him stretching himself across an exercise yard wall before climbing onto the roof.
Police said Monday that the hunt had entered the "long game" after they searched an area where he had abandoned a stolen van.
He had initially been hiding in woodlands, police said, but moved into a more heavily populated area.
"While he was playing that tactical hide-and-seek in the woods, now I believe it's advantage law enforcement, because he's in an urban setting," Deputy U.S. Marshal Robert Clark said Monday. "That's what our investigators do best."
CORRECTION (Sept. 12, 2023, 5:50 p.m. ET): A previous version of this article misspelled the last name of a Pennsylvania State Police lieutenant colonel. He is George Bivens, not Bivins.