LOS ANGELES — "That '70s Show" star Danny Masterson was convicted on two counts of rape Wednesday at his retrial in Los Angeles.
The seven-woman, five-man jury could not reach a verdict on a third count, which alleged Masterson raped a former girlfriend, after having deliberated for over a week, The Associated Press reported.
Masterson, 47, was led from the courtroom in handcuffs while his wife, the actor and model Bijou Phillips, wept. His family and friends sat in stunned silence.
He faces up to 30 years in prison at his sentencing, set for Aug. 4.
The verdict came some six months after Masterson's first trial, at which he also faced charges of raping three women he met through the Church of Scientology, ended in a mistrial, with jurors leaning toward acquittal.
He was charged with raping the three women — identified at trial as Jane Doe #1, Jane Doe #2 and Jane Doe #3 — at his Hollywood Hills home from 2001 to 2003.
All three accusers are former members of the Church of Scientology, to which Masterson still belongs.
"I am experiencing a complex array of emotions — relief, exhaustion, strength, sadness — knowing that my abuser, Danny Masterson, will face accountability for his criminal behavior," Jane Doe #2 said after the verdict was handed down. "I am disappointed that he was not convicted on all counts, but take great solace in the fact that he, the Church of Scientology, and others, will have to fully account for their abhorrent actions in civil court."
Jane Doe #3, whose count the jury did not convict Masterson on, said she was "devastated that he has dodged criminal accountability for his heinous conduct against me. "
"Despite my disappointment in this outcome, I remain determined to secure justice, including in civil court, where I, along with my co-plaintiffs, will shine a light on how Scientology and other conspirators enabled and sought to cover up Masterson's monstrous behavior," she said.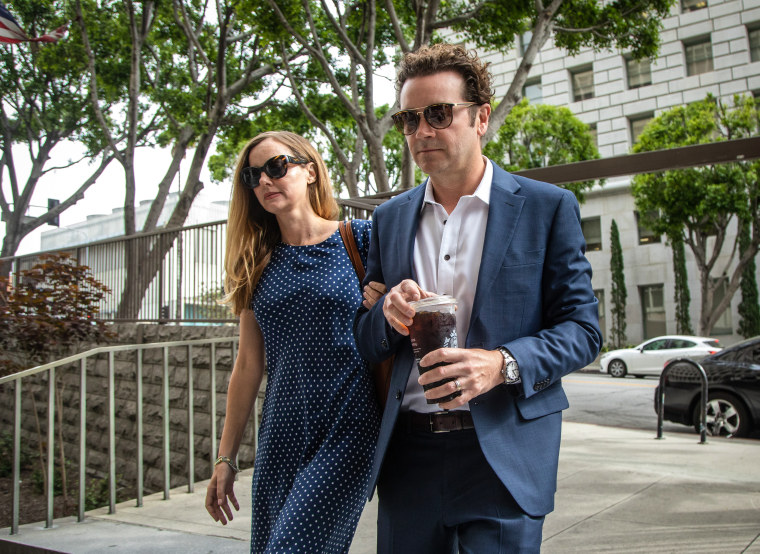 Los Angeles County District Attorney George Gascón thanked all of the women who came forward.
"Their courage and strength have been an inspiration to us all," Gascón said in a release after the verdict. "While we are disappointed that the jury did not convict on all counts, we respect their decision. The verdicts handed down by the jury in this case were undoubtedly a difficult one to reach and we thank the jurors for their service."
Just as in his first trial, Masterson did not take the stand. And his defense attorneys declined to call any witnesses.
Masterson, who has been free on bail since his June 2020 arrest by the Los Angeles Police Department's Robbery-Homicide Division, has steadfastly denied all of the allegations.
He has also denied assaulting a fourth woman, identified as Jane Doe #4, who told the court at his first trial he had raped her, too.
Los Angeles County Superior Court Judge Charlaine Olmedo initially denied the prosecution's request to put Jane Doe #4 on the stand in the first trial, but she changed her mind after prosecutors argued that Masterson's lawyer opened the door by suggesting that his three other accusers colluded against him. Masterson was not charged with raping the fourth woman.
Deputy District Attorney Reinhold Mueller put Jane Doe #4 on the stand again at Masterson's retrial along with a fifth woman, who testified that Masterson raped her in 2000 after a cast party in Toronto, Deadline reported. The fifth woman did not testify in the first trial. Unlike Masterson and the three Jane Does he was charged with raping, the additional witnesses are not Scientologists. 
Both trials focused a lot of unwanted attention on the Church of Scientology, which the Jane Does have accused of trying to cover up the allegations.
At the retrial, Olmedo made it clear once again that Scientology was not a defendant. But she again allowed witnesses to testify that church officials pressured them not to talk to police about the rape allegations.
Scientology spokeswoman Karin Pouw has denied those allegations and insisted, repeatedly, that church doctrine requires members to "abide by all the laws of the land."
Diana Dasrath reported from Los Angeles and Corky Siemaszko from New York City.
CORRECTION (May 31, 2023, 10:30 p.m. ET): A previous version of this article misidentified Reinhold Mueller. He is a deputy Los Angeles County district attorney, not the district attorney.