An officer was among multiple people thought to have opened fire in Philadelphia's bustling South Street entertainment district, where three people were killed and 12 others were injured late Saturday, police said.
It wasn't clear whether the gunman targeted by the officer was struck or whether anyone else was hit by police rounds, and the target fled without having been identified, police said in a statement Sunday afternoon.
Police said they think at least five people opened fire in an attack precipitated by a street fight. Two guns were recovered, they said Sunday.
A person of interest was later apprehended, the mayor's office said in a statement Monday. Details about the person's identity and possible connection with the shooting will be released "upon formal charging by the DA's office," it said.
"We are also in discussions to engage the impacted community members and businesses in the area to discuss safety and security moving forward for this key commercial corridor for residents and visitors," the statement said.
The shooting officer, one of two on foot patrol nearby who were responding to the sound of gunfire, saw at least one gunman fire into a crowd near South Street's intersection with South American Street at 11:31 p.m. Saturday, the department said.
It was the second consecutive weekend of multiple mass shootings in the U.S. In Chattanooga, Tennessee, early Sunday, three people were killed in chaos and gunfire that injured 14 others.
In Philadelphia, the police estimate for number of injured fluctuated from 13 early Sunday to 11 late in the morning to 12 by Sunday afternoon. The worst of the wounded was a 23-year-old man shot multiple times and said to be in critical condition, according to the statement Sunday afternoon.
Police Commissioner Danielle Outlaw said at a news conference earlier Sunday that the officer's use of his service weapon was being investigated internally.
The unidentified officer, described as a sworn employee with more than three years' experience, was placed on administrative duty, the police department said.
The incident began when gunfire rang out on the 400 block of South Street in one of the city's nightlife districts, where hundreds of people were gathered, Outlaw said.
"Yesterday was a dark day for Philadelphia," Outlaw said. "We are absolutely devastated, devastated by this incident. And we mourn the lives lost and the dozens and dozens of lives affected by this tragedy."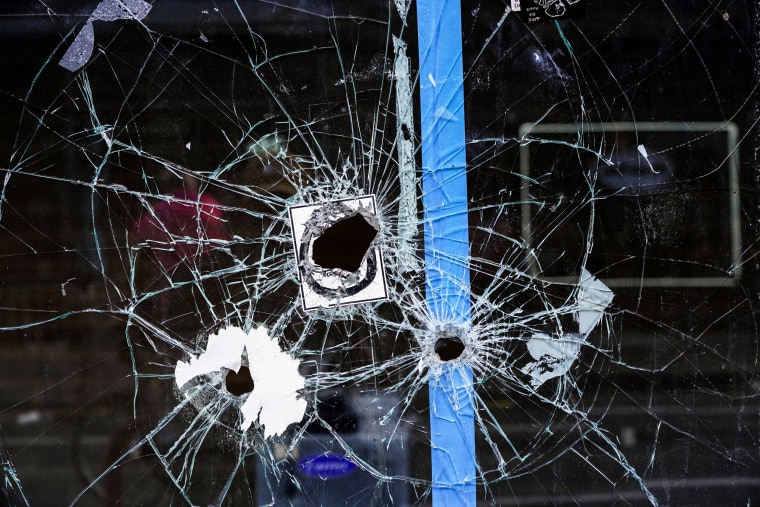 Outlaw said the wounded were ages 17 to 69. Several of them were "innocent bystanders," she said.
Police on Sunday afternoon identified two of the dead as Gregory Jackson, 34, and Alexis Quinn, 27.
The third fatal victim was identified as Kristopher Minners by Girard College, a local boarding school that serves first through 12th grades where he worked as a residential adviser.
"An innocent bystander, Kris had just turned 22 and was celebrating with family and friends," Girard College interim President James D. Turner said in a statement Sunday. "He attended Girard College until 9th grade and since January 2022 has worked in the residential program advising 6th and 2nd grade boys.
"Our hearts are broken for Kristopher and his family, and our thoughts are with everyone who was impacted by this appalling act of violence. I visited with Kris' parents this morning and the College will continue to offer them every support," he added.
The shooting may have been sparked by a physical fight between two males, one of whom died in the shooting, while the other was wounded, Outlaw said.
After the gunfire erupted, a responding officer saw a gunman fire into the crowd about a half-block from where multiple victims were struck, she said.
"The officer drew his weapon and fired several times in the direction of the unknown male," Outlaw said.
She initially said police believed the gunman was hit, but police later said that wasn't clear.
Outlaw pleaded for witnesses to come forward and tell investigators what they saw and heard. A $20,000 reward was being offered for information that leads to an arrest, Outlaw said.
"It's important that we bring justice to the victims, their families and our community," she said.
Philadelphia Police Inspector D.F. Pace said at a media briefing earlier Sunday that investigators recovered two semi-automatic handguns from the scene "one with an extended magazine."
He added that they found "multiple casings throughout this area."