Three psychology professors at Dartmouth College are the subjects of a criminal investigation following reports of alleged sexual misconduct, authorities said Tuesday.
New Hampshire Attorney General Gordon MacDonald said his office will launch a joint investigation in response to a report in the student newspaper last week that the Ivy League school was looking into "allegations of serious misconduct."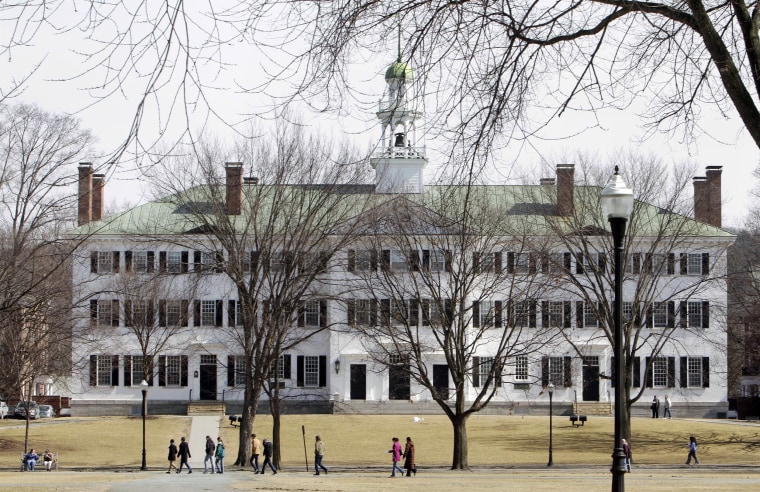 "The Office has engaged in a dialogue with Dartmouth College and we have learned from the College that it has received allegations of sexual misconduct," MacDonald said in a press release. "Dartmouth College has pledged to work with this investigation to ensure the safety and well-being of all members of their community."
In a statement posted to the university's website Tuesday, the college confirmed that professors Todd Heatherton, Bill Kelley, and Paul Whalen were under investigation. All three teach in the college's Department of Psychology and Brain Sciences. The professors have been put on paid leave with restricted access to Dartmouth property, the school said.
Last week, the student-run newspaper "The Dartmouth," reported that posters had been placed around campus asking, "Where is Prof. Paul Whalen?" and "Where is Prof. Bill Kelley?"
When reporters questioned university officials, they were informed that all three men had been placed on leave pending the outcome of a university investigation.
Related: Kevin Spacey Lambasted for Coming Out Amid Sexual Abuse Allegations
On Tuesday, Dartmouth College President Phil Hanlon told students in an email that the school was taking the allegations seriously.
"I want to say in the most emphatic way possible that sexual misconduct and harassment are unacceptable and have no place at Dartmouth," Hanlon said according to "The Dartmouth." "Such acts harm us as individuals and as members of the community."
"It is important to remember that investigations are ongoing, with no official findings yet produced. However, we take these allegations very seriously and are pursuing our own independent investigations in coordination with law enforcement officials," he wrote.
The investigation places MacDonald, who graduated from Dartmouth in 1983, at the head of a criminal investigation into his alma mater.
Related: N.H. Officials Investigating Attack on Boy as Possible Hate Crime
Heatherton is the director for the Dartmouth Center for Social Brain Sciences and conducts research into social neuroscience, as well as addiction. Kelley's research focus is on memory and self-regulation, while Whalen studies emotion and facial expressions.
NBC reached out to all three professors for comment, but did not hear back at the time of publication. An automatic response from Heatherton's university email account says he's "on sabbatical" and will not be monitoring the account "until September 2018."