Seven women filed a $70 million lawsuit against Dartmouth College on Thursday, claiming the Ivy League school turned a blind eye to its "21st Century Animal House" culture and didn't do enough to protect them from sexually predatory professors.
The plaintiffs also include any other "Jane Doe" victims who were "treated as sex objects" by three now-former professors at Dartmouth's elite Department of Psychology and Brain Sciences, according to the civil lawsuit filed in Concord, New Hampshire, federal court.
"Dartmouth College has knowingly permitted three of its prominent (and well-funded) professors to turn a human behavior research department into a 21st Century Animal House," according to the lawsuit.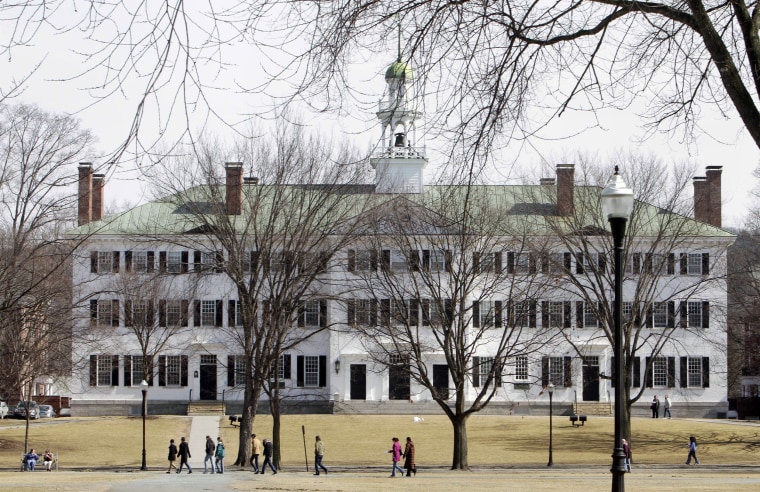 "For well over a decade, female students in Dartmouth's Department of Psychology and Brain Sciences have been treated as sex objects by tenured professors."
Professors were part of an "alcohol-saturated party culture" and conducted "professional lab meetings at bars, invited students to late night 'hot tub parties' in their personal homes and invited undergraduate students to use real cocaine during classes related to addiction as part of a 'demonstration,'" according to the lawsuit.
Kristina Rapuano, a cognitive neuroscience Ph.D. grad, is one of the women suing. She says she was raped by one of her professors in 2015 while attending a conference.
"I have no memory of that night," she told NBC News. "We had sexual intercourse, which I now believe to be sexual assault," she said.
Dartmouth trustees are named as defendants, but not the three professors accused of "Animal House" behavior. All three of the professors — Todd Heatherton, William Kelley and Paul Whalen — have left the school since allegations first surfaced last year.
While the lawsuit cites alleged bad behavior going back to 2002, the most of the acts connected to the seven plaintiffs happened between 2015 and 2017.
Kelley and Whalen could not be reached for comment on Thursday.
Heatherton, through his lawyer, admitted to at least one instance of drunken behavior and improper touching that were "accidental" and a "poor attempt at humor."
"Professor Heatherton categorically denies playing any role in creating a toxic environment at Dartmouth College," according to his lawyer's statement.
The plaintiffs include two current doctoral Dartmouth students, one former graduate student who left without her degree, three who recently earned their doctorates from the Ivy League school and one who just graduated with her bachelor's degree.
The "Animal House" mention was a reference to the iconic 1978 movie, which glorified a heavy-drinking, over-sexed fraternity.
The fictional Delta House of Faber College has a loose connection to the famed New Hampshire school. One of the movie's screenwriters, Chris Miller, is a Dartmouth alum and a member of the Alpha Delta fraternity.
"These professors leered at, groped, sexted, intoxicated and even raped female students," according to the lawsuit.
None of the three professors mentioned in the lawsuit have been criminally charged.
Dartmouth, in a statement on Thursday, thanked the students for going public with their allegations last year.
"As a result of the misconduct we found earlier this year by the three PBS faculty members, we took unprecedented steps toward revoking their tenure and terminating their employment," according to the school. "They are no longer at Dartmouth and remain banned from our campus and from attending all Dartmouth-sponsored events, no matter where the events are held."
But the school insisted it did its best to protect students.
"However, we respectfully, but strongly, disagree with the characterizations of Dartmouth's actions in the complaint and will respond through our own court filings," the school statement said.
Sasha Brietzke, another of the women suing, told NBC News that "what Dartmouth did was too little, too late."
She said that Heatherton showed up a social event at a bar in 2016 when she was attending a conference and groped her and put her on his lap, something she described as humiliating. Brietzke said that she participated in an investigation by the school, but felt that not enough had been done.
"Unfortunately, the conversation hasn't been had. Darthmouth's refused to address our concerns and so we feel that we have to pursue litigation," Brietzke said. "I'm hoping to inspire change at the institutional level," she said.
Steven Kelly, a lawyer for the women suing, said that they felt pressured by the professor's unwanted sexual advances and feared punishment in their careers.
"These professors had absolute power over these women," he said. "It's absolutely true that these professors had the power to make or break the careers of these women."