President Donald Trump's controversial pick for U.S. ambassador to Israel said Thursday he regretted calling former President Barack Obama an anti-Semite and making other inflammatory remarks about the State Department and liberal Jewish groups.
"Some of the language that I used during the highly charged presidential campaign that ended last November has come in for criticism and rightfully so," David Friedman, an attorney, said during an appearance before skeptical lawmakers on the Senate Foreign Relations Committee. "While I maintain profound differences of opinion with some of my critics, I regret the use of such language."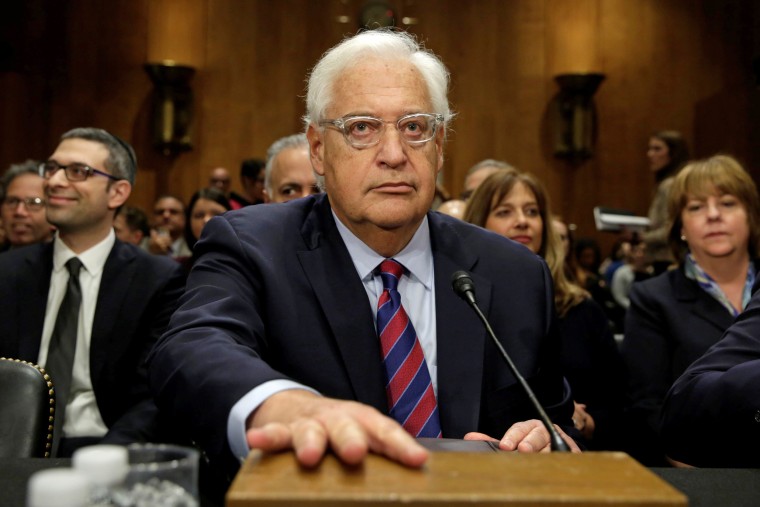 Friedman said he understands "the critical difference between the partisan rhetoric of a political contest and a diplomatic mission."
"Partisan rhetoric is not appropriate in achieving diplomatic progress, especially in a sensitive and strife-torn region like the Middle East," he said. "I have reached out over the last few months to a number of people who have been hurt by the things I have said."
While Friedman did not specify who received an apology from him, he has been criticized for accusing Obama and the entire State Department of anti-Semitism and for deriding the liberal Jewish group J Street as "kapos," which were Jewish prisoners who helped the Nazis kill other Jews in the concentration camps.
Asked point blank by Sen. Cory Booker, D-New Jersey, if Friedman believes Obama is an anti-Semite, he replied, "Not at all. I don't believe that for a second."
Sen. Tom Udall, D-New Mexico, said Friedman has frequently accused politicians he disagrees with of being anti-Semitic.
"We need a steady hand in the Middle East, not a bomb thrower," he said at a hearing that was interrupted several times by protesters.
Friedman went before the panel a day after Trump, during a press conference with Israeli Prime Minister Benjamin Netanyahu, refused to explicitly back the two-state solution that has been U.S. policy since 2002 — but also asked Netanyahu "to hold back on the settlements a bit."
Trump was referring to the Jewish settlements being built on Palestinian territory in the West Bank in defiance of the U.S. and much of the rest of the world — but which Friedman supports.
Sen. Bob Corker, R-Tennessee, told Friedman he found it "fairly extraordinary" to hear him "recant every strongly held belief that you had." Then he asked him why he is willing to do so.
"The opportunity to serve my country as Israel's ambassador would be the fulfillment of a life's work," Friedman replied. "This is something I really want to do because I think I can do it well. There's nothing more important to me than strengthening the bonds between the United States and Israel."
Friedman was also asked by Sen. Jeanne Shaheen, D-New Hampshire, what he thought of Trump's controversial executive order that would bar people from seven mostly Muslim countries from entering the US — and which has been blocked by a federal appeals court.
"I accept the president's representation that it was a temporary ban aimed at making the country safe," he answered.
J Street president Jeremy Ben-Ami was not swayed by Friedman's professed contrition.
"Friedman gave many restrained and careful answers to difficult questions from Senators, and expressed regret for many of his past statements and writings," Ben-Ami said in a statement. "But he cannot change or walk back the deeply held ideological convictions he has held and the actions that he has taken over the course of decades."
Even before Friedman appeared, his nomination was opposed by five former U.S. ambassadors to Israel who declared his stated opposition to Palestinian statehood make him "unqualified for the position."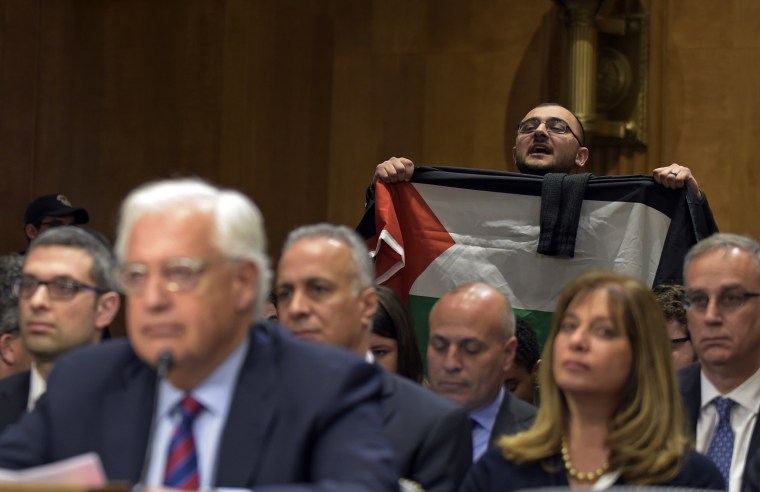 "The American ambassador must be dedicated to advancing our country's longstanding bipartisan goals in the region: strengthening the security of the United States and our ally Israel, and advancing the prospects for peace between Israel and its neighbors, in particular the Palestinians. If Israel is to carry on as a democratic, Jewish nation, respected internationally, we see no alternative to a two-state solution," they wrote in a letter to the committee.
The ambassadors, who had served both Democratic and Republican presidents, wrote that Friedman has been "active in supporting and financing the settler movement." It was signed Thomas Pickering, William Harrop, Edward Walker, Daniel Kurtzer and James Cunningham.
The son of an Orthodox rabbi, Friedman's nomination is backed by hardline groups like the Zionist Organization of America and Christians United for Israel.