The protest is called 'A Day Without a Woman,' but on Wednesday, feminists made their presence known with strikes, rallies, and marches around the globe.
In more than 50 countries and over 400 cities worldwide, people celebrated International Women's Day by encouraging women to go on strike — exercising their labor and consumer power by momentarily dropping out as workers and shoppers.
In the U.S., large rallies took place in major cities like New York, Chicago, Los Angeles, and Washington, D.C. in addition to hundreds of smaller gatherings across the country.
At a gathering near New York's Central Park, the leaders of the January 21st Women's March helmed a stage full of speakers before marching to nearby Trump Tower. Outside of Trump Tower, 13 of the Women's March organizers were arrested. Their charges were pending.
Before she was arrested and led into a NYPD van, organizer Linda Sarsour spoke to the crowd about critics who accused striking women of being "privileged" and said such comments came from "a lack of understanding of history."
"We honor the women who striked in the Montgomery bus boycott," said Sarsour. "Are those privileged women? What about the farmworkers that said 'we will not pick this produce without worker's protections?' Were those people privileged?"
Sarsour told the crowd, "The movements that we are all a part of have always been led by those who have the most to lose. Social justice movements are not convenient."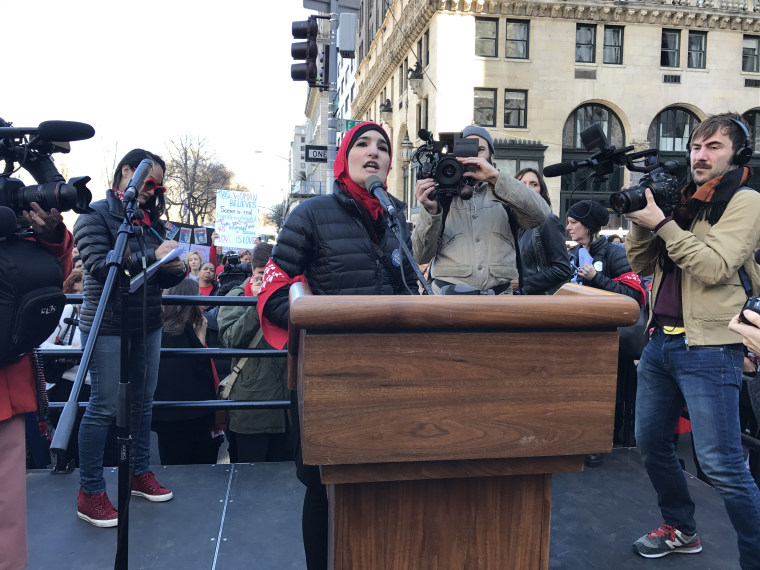 PHOTOS: Women March Around the World
A number of activists from local groups took the stage at the Central Park rally, including speakers from the Alliance for Quality Education, Working Families Party, and others.
"My struggle for freedom is not greater than your struggle for freedom," Erica Ford, founder of youth violence prevention nonprofit Life Camp, told the crowd. "And because I am a black woman in America does not make anyone better than me."
The activists were joined by hip-hop radio host and musician Angie Martinez, who said she and fellow radio host Laura Stylez took the day off from work to participate.
"We are all striking for the same reason. We just want the basics, man," said Martinez. "We want to be able to choose what we do with our bodies. We want our kids to be able to afford school. We want to be paid the same thing the men are paid doing the same thing we're doing."
In the crowd, women of all backgrounds and ages were joined by male allies — and some parents brought their kids along too.
Rosie, 10, and her sister Beatrice, 8, told NBC News they did not get to march in January and begged their mom to let them skip school for the strike.
"I know as a fact that for every dollar a man makes, a girl makes 75 cents," Rosie told NBC News while pointing to a sign she had made for the protest. "So I said 'no way' on my poster, because I don't like that fact."
Beatrice agreed, saying "I don't want women to feel bad because they don't get the same exact pay as men."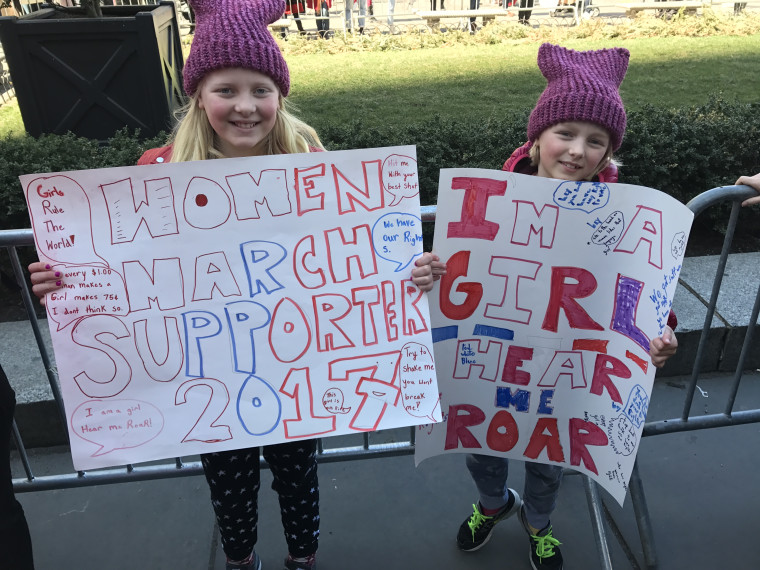 The girls' mom, Daniela Lundberg, told NBC News that a friend had knitted pink "pussy hats" for the Connecticut-based family, like the ones worn at the Women's March on Washington.
Not everyone was able to skip work or school to attend Wednesday's events, and some had more complicated reasons for staying home. Brooklyn resident Blaine Benson carried a sign that read "I march for my disabled wife," and explained that her multiple sclerosis made protesting too difficult. She sent her husband, said Benson, in her stead.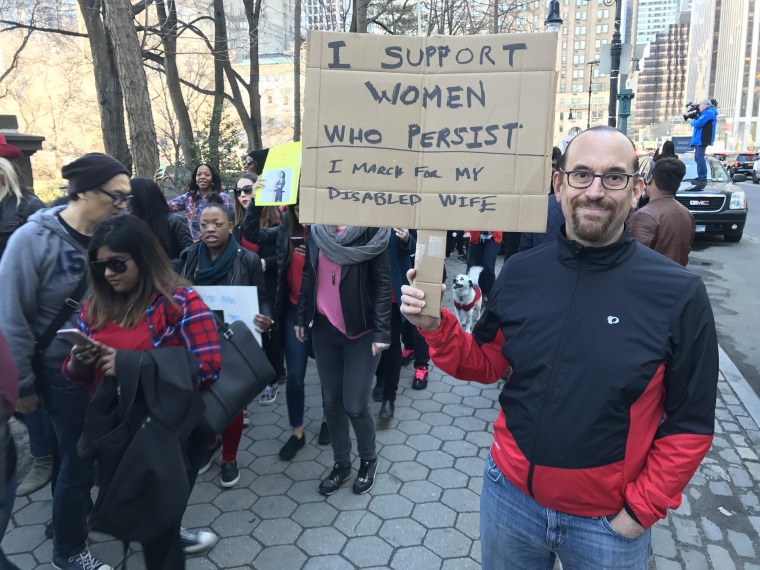 "I'm here to represent her along with all the other strong and persistent women in my life who really have made such a dramatic impact on our society, and I support them," Benson said. He added that President Trump's relationship with the disabled community was "atrocious" and "so offensive."
"It's one of the largest minority groups in this country," said Benson. "They're not treated with respect. It's a huge problem."
In other cities, rallies and marches flooded the streets. Several school districts around the country were forced to close after teachers took the day off, and some businesses took part — offering free drinks, discounted food, and other perks to female customers.
At the nation's capitol, an event dubbed Women Workers Rising took place on the steps of the U.S. Department of Labor, with speakers from labor unions demanding an end to the wage gap among other issues.
Abortion rights advocates marched in DC as well, heading to the White House on Wednesday morning to protest President Trump's signing of the Reagan-era 'Global Gag Rule,' which forbids healthcare providers from discussing abortion if they receive U.S. funding.
A number of events took place in Chicago, including a rally for women workers at the Chicago Transit Authority headquarters. Outside the city's gleaming Trump Tower, the women's rights advocacy group Ultraviolet parked a van with a billboard reading, "We stand with the women striking, not the sexist in the White House."
Numerous other events were scheduled to take place in the evening on Wednesday across the Midwest, West Coast, and the southern states.
Internationally, women marched throughout South America, Europe, Asia, Australia and parts of Africa. Photos and videos shared to social media using hashtags like #8M and #MujeresEnHuelga.