DAYTON, Ohio — As investigators attempt to piece together why a 24-year-old man opened fire outside a popular Dayton bar, people from his past point to hit lists, violent threats and a fascination with shootings that they now say were clearly red flags.
Connor Betts, who was clad in body armor and was carrying ammunition magazines, killed his sister and eight others, with dozens more injured in the rampage early Sunday before he was fatally shot by officers.
"He would have known that his actions were deplorable," Adelia Johnson, 24, said about the man she dated earlier this year.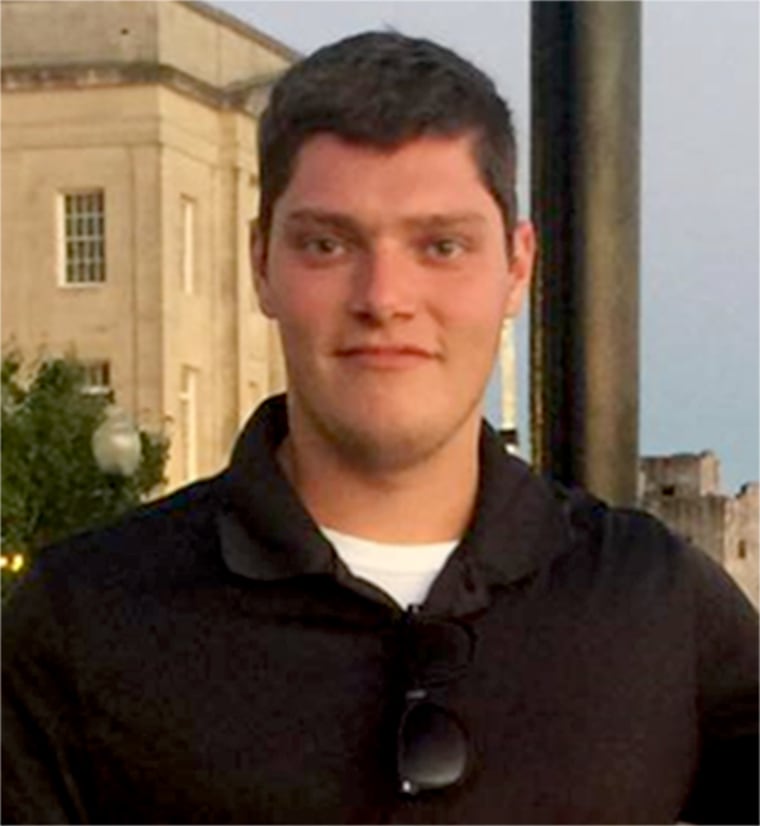 The pair met in a psychology class at Sinclair Community College in Dayton and bonded over their shared struggle with mental illness, she said.
They began dating this spring — a brief relationship punctuated by peculiar moments that at first Johnson shrugged off.
On one date, he took her to shoot a rifle. He often brought up mass murders when they spent time together, Johnson told "Today."
Johnson said that he performed with an extreme heavy metal band known for sexually violent lyrics.
On their first date, she said, he showed her body camera video from a mass shooting at a synagogue. Another time, he asked her to accompany him as he tried to drop off an anonymous letter to an ex-girlfriend. The letter's message — "You can't escape your past" — unnerved her, she said.
His fixation on the ex, Johnson said, "was the final red flag."
"All of the other ones," she said, "those could be written off as something else."
She ended the relationship through a text message and said she told friends she was scared by his actions.
Although they split in May, Johnson said she was initially stunned to learn it was the same person whom police identified as the gunman outside the crowded bar in Dayton's entertainment district only 13 hours after a mass shooting in El Paso, Texas, that killed 22 people.
Officers fatally shot the shooter, a resident of the Dayton suburb of Bellbrook, within a minute of the first bullets being fired at 1:05 a.m. Police say the shooter fired at least 41 shots.
Authorities have not yet established a motive, and investigators said Monday they do not know whether his 22-year-old sister, Megan Betts, who was among the fatalities, was targeted intentionally.
Betts' family has not commented publicly since the shooting spree.
The gunman had been active on Twitter, where he described himself as an "anime fan," a "metalhead" and a "leftist." The social media company suspended his account after the shooting.
In his tweets, he promoted atheism and gun ownership. He sometimes retweeted prominent accounts associated with the political left, replying with expressions that seemed to support the anti-fascist movement and politicians such as Sen. Elizabeth Warren, D-Mass., and Sen. Bernie Sanders, I-Vt.
There was no indication that his political views had any connection with the killings.
Melissa Appel, who said she dated him last summer until earlier this year, described him as a "quiet" and "respectful" person and someone with whom she discussed anime and music. He was "never aggressive" and did not demonstrate any warning signs as far as she could see, she said.
Appel, 30, was at work when authorities identified him as the gunman.
"When I saw the article and saw his name, I had a panic attack because ... it was hard for me to believe that the person I knew could do something like this," Appel said.
She added that Betts, who once took her to a shooting range, occasionally talked about guns. But she did not know that he owned any firearms.
Appel's experience is at odds with those of other people who suggested the man was socially alienated.
He was "kind of a loner, a bit of an outcast," said Theo Gainey, a neighbor, who added that "a lot of people saw kind of a dark side in him."
Gainey, who described Betts as a "bad dude," said his neighbor demonstrated "violent tendencies," but did not elaborate.
In interviews with The Associated Press, two former high school classmates claimed the shooter was once suspended for compiling a "hit list" of those he wanted to kill and a "rape list" of girls he wanted to sexually assault.
NBC News has not independently verified their accounts, which came to light after police said there was nothing in the gunman's background that would have kept him from buying the .223-caliber rifle used in the shooting.
The former classmates, who spoke to the AP on the condition of anonymity out of concern they might face harassment, claimed Betts was suspended during his junior year at Bellbrook High School after the "hit list" was found scrawled in a campus bathroom.
The discovery purportedly came after an earlier suspension over a "rape list" that he brought to school, according to the classmates, a man and a woman now both 24.
"There was a kill list and a rape list, and my name was on the rape list," the female classmate told the AP.
On the day the "hit list" came out in 2012, roughly a third of the students at Bellbrook High School skipped school out of fear of being targeted, according to the Dayton Daily News.
A 24-year-old woman told NBC News she was friends with Betts in middle school until he made a violent, sexual threat against her.
The woman, who asked to remain anonymous, claimed that he spoke of his desire to harm girls and said he was afraid of his own thoughts. She added that he showed her poems he had written about killing people and that she urged him to get counseling.
"He had really dark fantasies, a lot of them mixed death with sex," she said.
Eventually, the woman cut off contact with Betts. "He threatened me, so I stopped being friends with him," she said, adding that when she was 14, she alerted her parents to the threat and they went to the police to give a statement about him.
She said she knew of the gunman's disturbing lists.
"When I heard he was the shooter, I wasn't surprised at all," she said. "These are all the things that everyone tried to warn the police and the school about 10 years ago. Everyone knew who he was."
Dayton Police Chief Richard Biehl said Monday he was aware of Betts' high school record, but warned against connecting the killer's high school threats with the Sunday massacre.
"I'm a little bit reluctant ... to interpret it 10 years later as somehow this is indicative of what happened yesterday," Biehl said at a news conference.
"By taking pieces of evidence and coming to conclusions about its significance creates mistakes — large mistakes at times," he added.
Johnson said she believes Betts' mental illness was never treated, although she doesn't think that was the root cause of the violence. She's still trying to reconcile the man she cared for with the misery and mayhem he left behind.
"This isn't about race. This isn't about religion. It's none of those things," she told NBC News. "This is a man who was in pain and didn't get the help that he needed."
Gabe Gutierrez and Erik Ortiz reported from Dayton, Daniel Arkin and Ben Kesslen from New York. Brandy Zadrozny contributed reporting from New York.