It was a weapon equipped for war: a semi-automatic with 100-round double-drum magazines. "An orchestra of metal and hellfire built by calloused hands," says a chest-thumping video ad for the AM-15 made by Anderson Manufacturing.
Connor Betts used the high-powered .223-caliber firearm to kill nine people and wound 14 others in a 30-second spasm of violence in Dayton, Ohio, authorities said. The mass shooting ended when the 24-year-old gunman, clad in body armor, was killed by a police bullet.
Dayton police said Betts obtained his weapon legally, ordering it online from Texas and picking it up at a local gun shop. But questions still remain over whether it was a legal weapon — and what Betts might have done to enhance its lethality.
If the gun was purchased legally, "then the question is did he do anything from the period of purchasing it to using it to make it illegal," said David Chipman, a retired agent with the Bureau of Alcohol, Tobacco, Firearms and Explosives.
"And we don't know."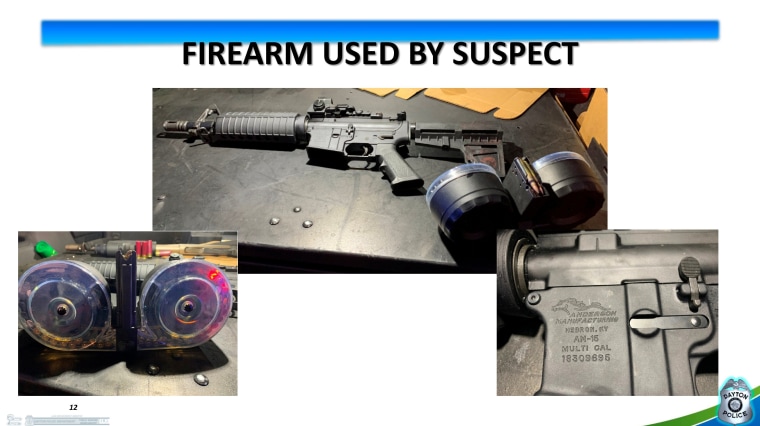 The weapon was unique for reasons that go beyond the massive magazines, according to four former ATF agents. It featured a short barrel and a pistol brace, also known as a blade, which attaches to the backs of handguns to allow users to strap them under their arms to provide more control.
Kentucky-based Anderson Manufacturing confirmed that it sold the lower receiver, the part of the gun that houses the trigger, that was used in the Dayton shooting. But it remains unclear how the weapon reached its final form.
Was it purchased as a rifle and modified to have a shorter barrel? That would be illegal.
Was it purchased as a receiver and built to resemble a rifle? That would be legal.
For Chipman, it's largely a distinction without a difference. However it came to be, and whatever you call it, the firearm should be subject to stricter regulation, he said.
"It's a semi-automatic rifle or pistol that has the same lethality or a greater lethality than a Thompson machine gun, that we heavily regulated because it is a machine gun," Chipman, who now works for the Giffords gun control group, said.
"This is part of the gun industry's logic," he added, "to make these determinations so chaotic that it really renders the law largely meaningless. We need a clear law, and a law that regulates particularly lethal weapons, the same that I carried at ATF, differently than a gun that you would use to hunt."
An Anderson Manufacturing representative declined to answer specific questions but released a statement that said in part: "Anderson has always and continues to manufacture and sell to licensed dealers and customers in accordance with all applicable laws, regulations and rules."
Most pistols and rifles, including those brokered over the internet and sent to gun shops for final sale, can be purchased in a matter of seconds or minutes after a licensed firearm dealer runs a background check on the buyer.
Some of the former ATF agents interviewed by NBC News criticized their former employer for the way it has classified firearms like the Dayton gun, allowing them to be sold more widely and purchased more easily than short-barreled rifles.
Unlike standard pistols, rifles and shotguns, short-barreled rifles fall under the National Firearms Act. That means they can only be purchased after buyers pass a more comprehensive background check performed by the ATF, pay $200 and wait a period of months.
But the ATF classifies weapons like the one used in Dayton as a pistol, the former ATF agents said, which they say is erroneous because pistols are designed to be fired with one hand. Federal guidelines call for any weapon that can be concealed (less than 26 inches in overall length) and fires a cartridge, not including pistols or revolvers, to be subject to the restrictions under the National Firearms Act.
"It should have been classified according to the actual definitions in the National Firearms Act," said Dan O'Kelly, a retired ATF agent who now works as the director of the International Firearm Specialist Academy in Lake Dallas, Texas.
"That would have resulted in it taking months instead of minutes to purchase."
"I say that against my own firearm interests," O'Kelly added. "I'm not anti-gun, but if that's what the definition says, then it should be followed."
In a statement, the ATF said it adheres to the "statutory language and intent" of Congress when making its determinations.
"Generally, an AR pistol is not a short-barreled 'rifle' under the statutory definition in the National Firearms Act ... because it does not have a shoulder stock, and is not designed and intended to be fired from the shoulder," the ATF said. "Rather, it is a 'pistol' ...because it is made with a pistol grip and designed to be gripped and fired when held in one hand."
A Dayton police spokeswoman said the suspect modified his weapon by adding a brace.
Dayton Police Chief Richard Biehl, speaking at a Monday morning news conference, pulled no punches in offering his thoughts on the gun.
"It's fundamentally problematic to have that level of weaponry in the civilian environment," Biehl said.
"It was modified in essence to function as a rifle, and to avoid any legal prohibitions."