WASHINGTON — The acting head of the Drug Enforcement Administration is resigning, he said in an email Tuesday, a few weeks after he complained that President Donald Trump appeared to have "condoned police misconduct."
In the email to DEA staffers, Chuck Rosenberg, who became acting administrator in 2015, gave no reason for his departure, which takes effect on Sunday.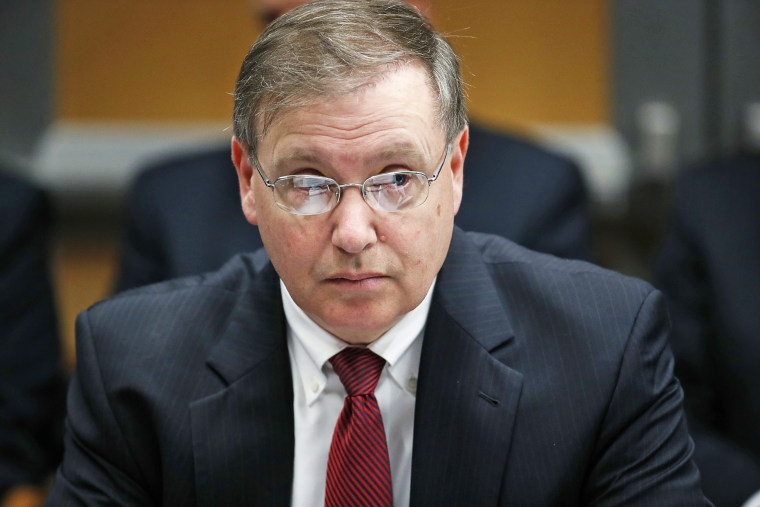 A spokesperson for the DEA confirmed Rosenberg's resignation but wouldn't comment on a report in The New York Times, which quoted law enforcement officials as saying Rosenberg had become convinced that Trump "had little respect for the law."
Rosenberg, 57, was kept on by Trump, but his future with the administration came into doubt after Trump fired FBI Director James Comey — a close associate whom Rosenberg had served as chief of staff.
But Rosenberg has already publicly criticized the president, saying in a memo to the agency's employees on July 29 that Trump's remarks in a speech to law enforcement officers "condoned police misconduct."
Rosenberg sent the memo a day after Trump appeared to encourage law enforcement officers not to take care to protect suspects in custody.
"When you see these thugs being thrown into the back of a paddy wagon — you just see them thrown in, rough," Trump said July 28 in an address in Selden, New York. "I said, 'Please don't be too nice.'"
Rosenberg said in the memo: "We have an obligation to speak out when something is wrong." He listed "core values" that he said were fundamental to the agency: "Rule of Law, Respect and Compassion, Service, Devotion, Integrity, [and] Accountability."
"This is how we conduct ourselves. This is how we treat those whom we encounter in our work: victims, witnesses, subjects, and defendants. This is who we are."
Attorney General Jeff Sessions sent a similar message to police on Aug. 1, saying in a speech before the National Organization of Black Law Enforcement Executives that officers should conduct themselves "in a lawful way" and promising to prosecute officers who violate use-of-force laws.
White House Press Secretary Sarah Huckabee Sanders said at the time that Trump's remarks had been blown out of proportion, telling reporters, "It was a joke."
Kristin Donnelly reported from Washington. Alex Johnson reported from Los Angeles.