WASHINGTON — The acting administrator of the Drug Enforcement Administration said in a memo to his agency's 10,000-plus employees that President Trump's remarks about the treatment of suspects "condoned police misconduct."
In a July 29 email to the DEA workforce obtained by NBC News, Acting Administrator Chuck Rosenberg said he was writing because "we have an obligation to speak out when something is wrong."
Trump, during a speech Friday before law enforcement officers on New York's Long Island, appeared to encourage officers to treat suspects roughly.
"When you guys put somebody in the car and you're protecting their head, you know, the way you put their hand over?" Trump said. "Like, don't hit their head, and they just killed somebody — don't hit their head, I said, you can take the hand away, okay?"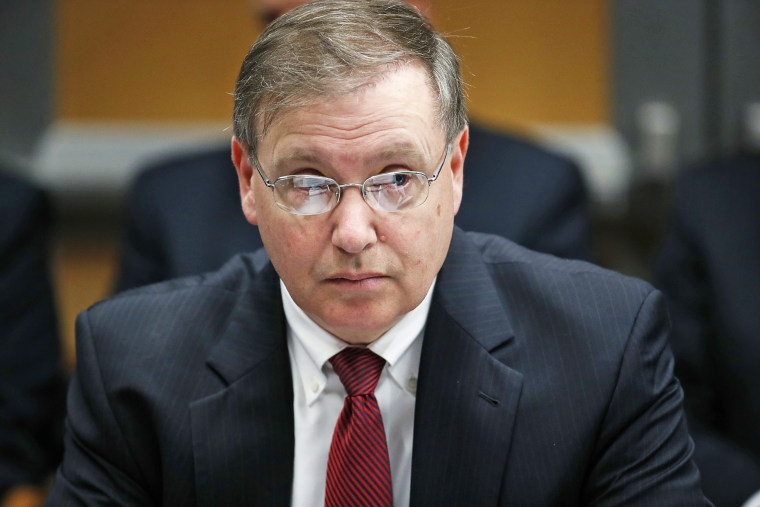 Rosenberg, a former federal prosecutor who worked as chief of staff to fired FBI director James Comey, said he wrote the memo with "no political, partisan, or personal agenda," but instead "to offer a strong reaffirmation of the operating principles to which we, as law enforcement professionals, adhere."
He then listed "core values" that he said were "clear and applicable," including "Rule of Law, Respect and Compassion, Service, Devotion, Integrity, [and] Accountability."
Related: After Trump's Use of Force Quip, Sessions Tells Police to Be Lawful
"This is how we conduct ourselves. This is how we treat those whom we encounter in our work: victims, witnesses, subjects, and defendants. This is who we are."
He added, "We must earn and keep the public trust and continue to hold ourselves to the very highest standards. Ours is an honorable profession and, so, we will always act honorably."
White House spokeswoman Sarah Huckabee Sanders told reporters Tuesday that Trump was "making a joke" when he made the remarks, and was trying to express his support for police.
Police officials in major cities across the country criticized the president's words and expressed worries they could encourage inappropriate use of force.