LOS ANGELES — Andrew Getty, the 47-year-old grandson of the oil tycoon J. Paul Getty, was found dead at his Hollywood Hills home, his family said Tuesday night.
A woman who was in the home was being questioned and was being cooperative, said Cmdr. Andy Smith, a Los Angeles police spokesman.
"At first glance, it does not appear to be a criminal type of act. But that could change," Smith said.
Getty's death appeared to be "natural or an accident," Los Angeles County Coroner's Assistant Chief Ed Winter told reporters.
The oil fortune heir had been feeling ill in recent months and was supposed to see a doctor Wednesday, Winter said.
Sources familiar with the investigation told NBC News that there was trauma to Getty's body but that its cause wasn't immediately unidentifiable.
As camera crews from around the world gathered outside the home, police told NBC News that a call came in from an unidentified woman at 2:18 p.m. (5:18 p.m. ET) who reported there was someone dead in the bathroom.
Winter said Getty's body was found lying on his side between a hallway and a bathroom.
"He had some medication that we recovered and don't know if he had taken the medication or what his medical history is, we do have a doctor's name that we're also going to follow up," Winter said.
Getty was the son of Ann Getty and Gordon Getty, whom Forbes lists as the 869th richest person in the world. The Gettys said they would have no further comment and asked for privacy "during this extremely difficult time."
The Los Angeles Times reported that Getty had sought a restraining order against a woman two weeks ago, citing court records, but the report could not immediately be confirmed by NBC News.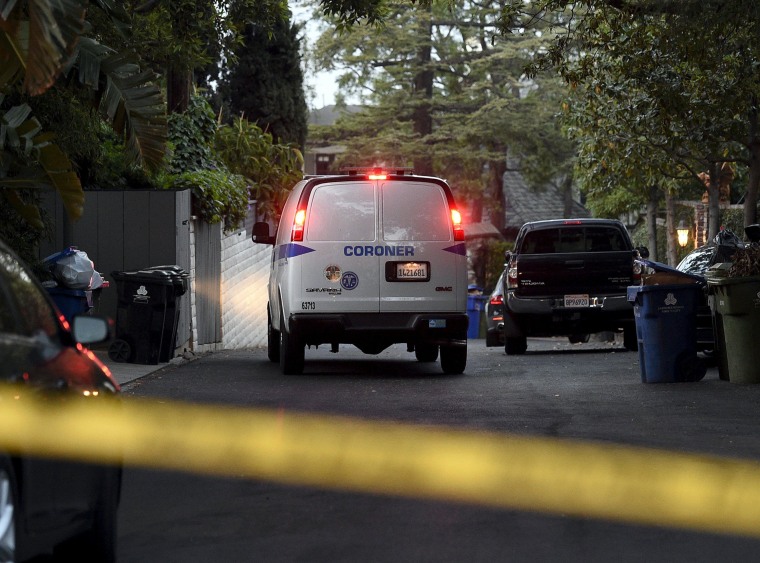 SOCIAL