Almost a quarter of the terror suspects prosecuted by the feds in recent years were influenced by Anwar al-Awlaki, the American-born radical recruiter who was killed by a U.S. drone in in 2011 but who lives on in recordings on the Internet.
That's the finding of Fordham Law School's Center on National Security, which surveyed 287 jihadist cases since 2007 at the request of NBC News and found some tie to al-Awlaki or his rhetoric in 65 of them, according to government documents or media reports.
Just this week, it was revealed that Mohammad Youssef Abdulazeez, the gunman who killed four Marines and a Navy sailor in Chattanooga last Thursday, had downloaded audio recordings of al-Awlaki and had CDs of his sermons.
"The takeaway on Awlaki is that he is involved with a large swath of the terrorism cases that attracted public attention, including several aborted plots and several high-profile sting operations," said Karen Greenberg, director of the Fordham center.
"Starting with al Qaeda, he essentially schooled the next generation in how to take the message of violent jihad forward.
"His influence is laced through these cases in a way that is more powerful in the aggregate than is readily apparent in individual cases and that has enabled his influence to last way beyond his death, which was four years ago."
"Starting with al Qaeda, he essentially schooled the next generation in how to take the message of violent jihad forward."
Al-Awlaki, who was born in New Mexico, was killed with three other suspected Al Qaeda leaders when Hellfire missiles fired from a Predator drone struck his car in Yemen.
His presence in terrorism cases has been "constant" since 2007, when he was identified as an influence in a planned terrorist attack on Ft. Dix in New Jersey and has extended well after his death, Greenberg said. In fact, U.S. officials say, his influence has grown since his death.
The study broke down his influence into four categories:
General Influence: These are suspects who were swayed by his ideas through online lectures or Inspire Magazine or who mentioned his importance in evidence seized by investigators. In addition to Abdulazeez, that group includes Najibullah Zazi, architect of a failed 2009 New York subway attack; Faisal Shahzad, who attempted to blow up Times Square in May 2010; the Tsarnaev brothers who bombed the Boston Marathon; and Shannon Conley, 19, who was trying to join ISIS when she was arrested in Denver in 2014.
Direct Email: Those he emailed directly to discuss moral questions such as whether killing is acceptable under Islamic law included Maj. Nidal Malik Hasan, who killed 13 people at Fort Hood, Texas, in 2009.
Personal meeting or training: This group includes Nigerian Lawal Babafemi, accused of using his English skills to recruit Americans for al Qaeda in Yemen, and a Somali, Ahmed Warsame, who was charged with being the liaison between al Qaeda and al Shabab, the Somali terrorist group. Both pleaded guilty to federal charges.
Directing or inciting a specific attack: A 2010 plot to target U.S. cargo planes flying out of Yemen with printer-cartridge bombs was apparently masterminded by al-Awlaki himself. Umar Farouk Abdulmutallab, charged in the Christmas 2009 attempted bombing of a Northwest Airlines flight over Detroit, also fell into this category.
"In his crafting of the jihadist message, he was the likely successor to bin Laden," Greenberg said the cleric. "In his understanding of the potential of social media, his vision of a new personalized form of jihad, and his understanding of the new generation, he provided the bridge from al Qaeda to ISIS.
"As such, his impact lasts in a powerful way."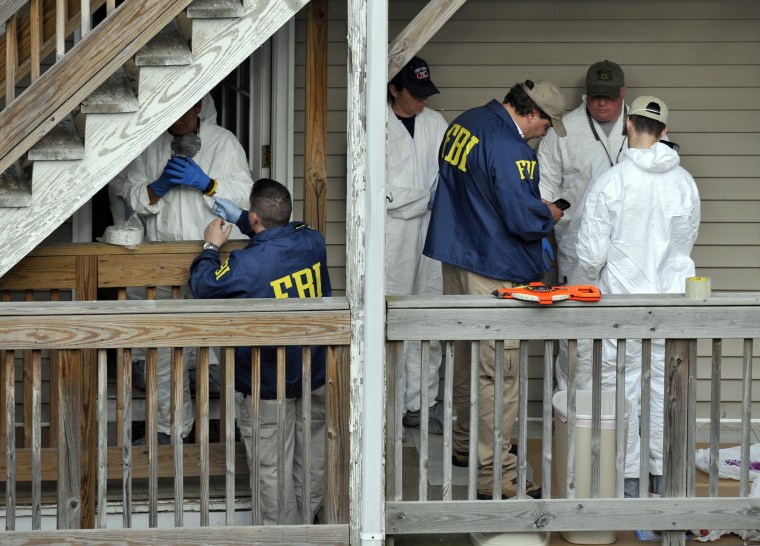 The decision to kill al-Awlaki has been controversial. Critics charged that his death violated his due process as an American citizen and that the U.S. should have tried to capture him for trial in his birthplace.
The Justice Department argued that he posed a continuing and imminent threat of violent attack against the United States and that there was an "infeasible probability of capture."
Robert Windrem is also a fellow at the Center on National Security.