The New Jersey Transit train crash in Hoboken Thursday joins a sobering list of fatal rail crashes in America.
Fatal train crashes are not entirely uncommon: There have been several in the past 25 years in the U.S., according to an NBC News count of National Transportation Safety Board records.
Here's a look at what happened in some of the worst of those incidents:
May 12, 2015: Philadelphia
Eastbound Amtrak passenger train 188 derailed after traveling at a speed of more than 100 mph on a curved stretch of track where the speed limit is 50 mph, killing eight people and injuring more than 200. Federal officials blamed human error and high speed for the crash; engineer Brandon Bostian told investigators after the crash that he could barely remember the moments leading up to it, and instead had a "dream-like" memory of hitting the brakes as he realized the train was going to tip over.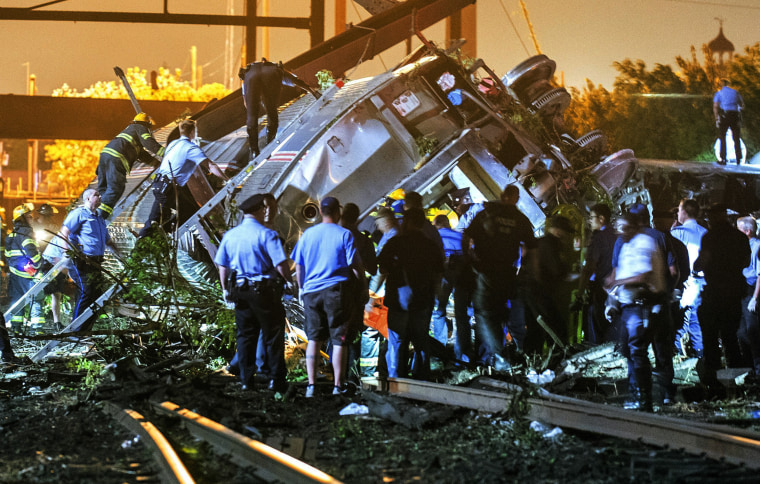 February 3, 2015: Valhalla, New York
Northbound Metro-North Railroad passenger train 659 crashed into an SUV, killing five aboard, plus the SUV driver, and injuring at least 12. The train, which was carrying about 650 people, was traveling at 58 mph, and the engineer honked the horn and the hit the emergency brakes about 300 feet away upon seeing the SUV stopped on the tracks. The collision caused a fire that engulfed the SUV and the lead rail car. The NTSB ultimately failed to point blame at either driver in its investigation.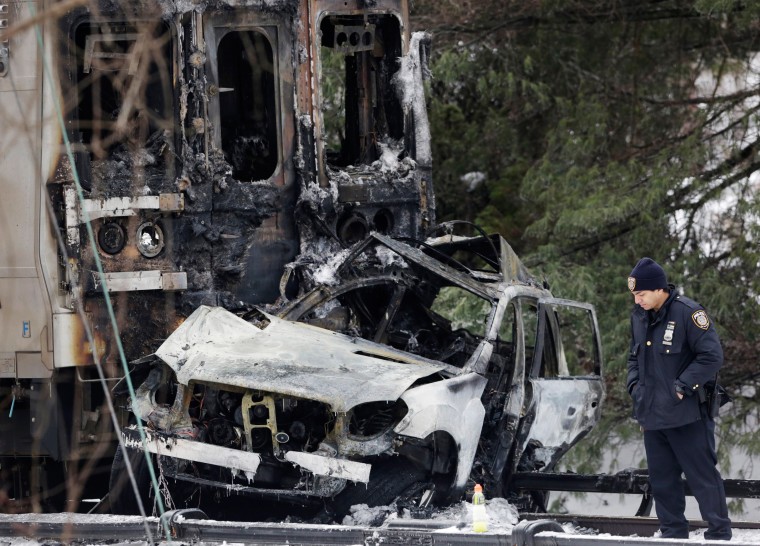 December 1, 2013: Bronx, New York
Southbound Metro-North Railroad passenger train 8808 derailed after going 82 mph on a sharp curve approaching the Spuyten-Duyvil station, where the speed limit switches from 70 mph to 30 mph, killing four people and injuring at least 61. William Rockefeller, the engineer, told investigators he zoned out and came out of "a daze" too late to slow down; the NTSB investigation found he fell asleep "due to undiagnosed severe obstructive sleep apnea exacerbated by a recent circadian rhythm shift required by his work schedule." The accident prompted the Metropolitan Transportation Authority to add an automatic safety braking system on that stretch of tracks.
June 22, 2009: Washington, D.C.
At least six people were killed and 70 others injured when a computer-driven Metrorail train slammed into the back of another train in the deadliest accident in Metrorail's history near the Fort Totten station. The accident, blamed on electronic flaws, shut down computer-driven Metro trains for years.
Sept. 12, 2008: Chatworth, California
A Metrolink passenger train carrying 225 collided with a Union Pacific freight train on a sharp curve, killing 25 people and injuring more than 135 in one of the worst train crashes in Southern California history. investigators blamed the Metrolink engineer, who they said missed a stop signal because he was texting.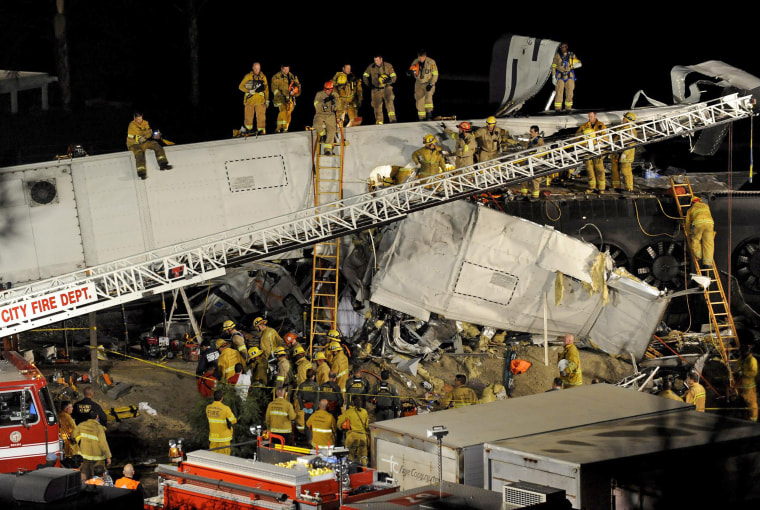 January 25, 2005: Glendale, California
Eleven passengers were killed and 180 injured when a Metrolink train collided with an abandoned SUV, causing the train to derail and slam into a parked freight train locomotive.
April 18, 2002: Crescent City, Florida
Four people were killed and more than 140 injured when an Amtrak Auto Train derailed while traveling at about 56 mph as a result of a heat-induced track buckle that developed because of inadequate track-surfacing operations, the NTSB found.
February 16, 1996: Silver Spring, Maryland
Maryland Rail Commuter (MARC) train 286 collided with Amtrak passenger train 29 after failing to stop at Georgetown Junction, killing 11 and injuring 26. Investigators blamed human error, and said the engineer was distracted by a number of factors.
February 9, 1996: Secaucus, New Jersey
Two New Jersey transit commuter trains collided nearly head-on, killing both engineers and one passenger. The crash was blamed on the engineer of train 1254, the eastbound train, who investigators found wasn't able to perceive a red signal aspect because of diabetic eye disease and resulting color vision deficiency — something he hadn't reported to New Jersey Transit during annual medical examinations.
September 22, 1993: Mobile, Alabama
Amtrak train 2 derailed in a swamp amid foggy conditions, killing 47 people and injuring 103. The accident was blamed on a towboat operator pulling six barges through the Alabama marshes who unknowingly turned into the Big Bayou Canot, an area where barges are prohibited. The barges displaced the railroad bridge, causing the train to derail.