A severe ice storm continues to sweep across parts of the South, causing chaos on roads that has been blamed for at least eight deaths, along with flight cancellations and widespread power outages.
The "long-duration" winter storm that has brought dangerous sleet and freezing rain from Texas to Tennessee is expected to continue through at least early Thursday, the National Weather Service said.
As of Wednesday, at least eight deaths had been connected to the storm.
On Monday, a 45-year-old man was ejected from a vehicle he was driving after he apparently lost control on an ice-covered overpass in Arlington, Texas, police said. He died at a hospital.
That evening, a 49-year-old woman died after the vehicle she was driving struck a tree near Eldorado, Texas, according to the Texas Department of Public Safety. It said the woman, identified as Sherry Lynn Taylor, lost control of the truck on the icy road and skidded.
In Austin, another person died after a weather-related multiple vehicle collision, according to the Austin-Travis County Emergency Medical Services.
Seven of the deaths occurred throughout the state of Texas, but one driver in Benton County, Arkansas, was pronounced dead Monday after a truck slid on an icy spot and hit a pole.
Dangerous roads and flight cancellations
The storm has caused widespread travel chaos both on the roads and at airports this week.
Speaking at a news conference Tuesday, Texas Gov. Greg Abbott urged residents to avoid the roads due to the hazardous icing, adding that about 1,600 roads in the state had been affected.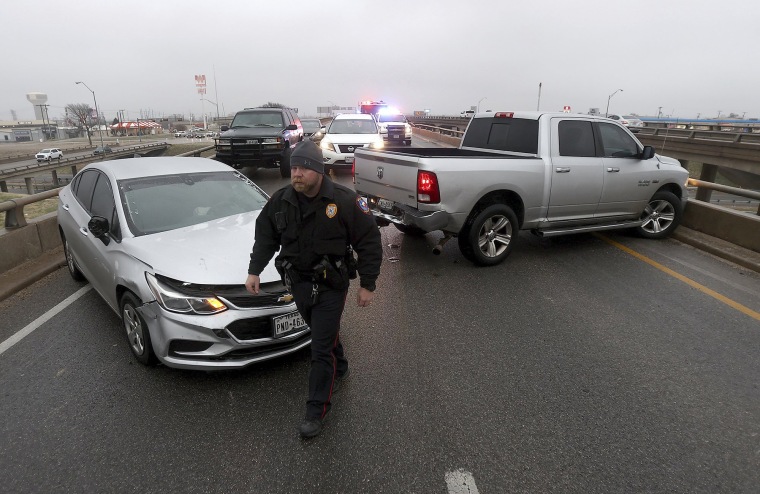 "Because of the icing, many roads in Texas will remain very dangerous for the next 24 to 48 hours," he said. "Be cautious, especially for things like black ice."
The weather service in Fort Worth warned that light to moderate freezing rain moving into central Texas counties early Wednesday would "freeze on contact when it lands and accumulate ice on ALL surfaces!"
"Already slick roads will become even more slick & very dangerous tonight and tomorrow!" it said in a tweet.
The severe weather has also contributed to thousands of flight cancellations and delays so far this week.
On Wednesday, at least 2,403 flights within, to and from the United States were canceled, according to the online flight tracker FlightAware. At least 1,338 of those flight cancellations were at Dallas-Fort Worth International Airport, while nearly 390 were at Dallas Love Field and 345 were listed at Austin-Bergstrom International Airport.
Southwest Airlines and American Airlines, national carriers both based in the region, made up the majority of the cancellations, with Southwest seeing 675 flights canceled Wednesday and American Airlines listing 876 cancellations, according to FlightAware.
The National Basketball Association has cancelled a game between the Washington Wizards and Detroit Pistons for Wednesday night over travel issues.
"Due to severe weather conditions in the Dallas area, the Pistons have been unable to fly back to Detroit after their game on Monday at American Airlines Center," the NBA said.
Sweeping power outages
In Texas, more than 366,000 homes and businesses were without early Thursday, according to outage-tracking website PowerOutage.us.
"Ice and tree limbs are still breaking as our lineworkers are working on restoration," tweeted utility Austin Energy, which had over 163,000 customers without electricity Wednesday.
The utility company said power may be out in some areas until Friday and noted restoration efforts were being hampered by accumulating ice and freezing temperatures.
Almost a half-inch of freezing rain was recorded in parts of the city, the National Weather Service said, which brought down numerous trees and tree limbs.
Utility Oncor had around 125,800 customers out. It said crews were working as fast as possible to restore power.
Speaking at the news conference Tuesday, utility officials said the state's electrical grid and natural gas supply were ready and would remain reliable over the course of the severe weather event.
Public Utility Commission Chairman Peter Lake told Texans to contact their local power providers if winter weather and icing conditions caused local power outages.
Severe weather to continue
Abbott said people in the north, west and central regions of the state should prepare for continued severe weather through Thursday.
He said parts of Texas could even get flash flooding Wednesday and Thursday.
More icy conditions were expected Wednesday from Texas through a majority of the mid-South, the weather service said. Additional ice accumulations up to a half an inch were forecast for much of central and North Texas, as well as for parts of southern Arkansas, it said.
"A quarter inch of ice accretion is possible across a larger area that includes southern Oklahoma, most of Arkansas, and into far western Tennessee," it added, warning that this amount of ice accretion on top of what has already fallen could lead to more "treacherous travel," along with the possibility of tree damage and power outages.
Ice storm warnings, winter storm warnings and winter weather advisories are in effect for hard-hit areas and residents have been urged to check road conditions before traveling and to drive with extreme caution, it said.
Delivery services Grubhub and DoorDash confirmed to NBC News Wednesday that services were suspended in areas impacted by the weather.