A ferocious and deadly storm system hurtled from Texas to the Northeast Thursday, lashing a long arm of the U.S. with buckets of rain and high winds, meteorologists said, as officials in four states postponed trick-or-treating to Friday.
Meteorologists warned people in the Ohio Valley, the lower Mississippi Valley and western Gulf Coast to brace for harsh gusts of wind, hail and even tornadoes — a scary forecast just in time for Halloween revelry.
Trick-or-treating has been pushed to Friday in scores of cities in Indiana, Kentucky, Ohio, and Tennessee — states expected to bear the brunt of the severe storm system, according to Weather.com.
"I think it's a good idea," said Tara Dudzik, a meteorologist for the National Weather Service in Indianapolis. "Winds of up to 60 miles per hour, and lightning - those are the main threats we'd be concerned about." 
And Two men were killed as heavy rains across Central Texas swelled rivers and creeks and triggered flash flooding Thursday, prompting dozens of rescues across a region that's been dealing with a long, punishing drought.
Austin police reported that the body of a man 50 to 60 years old was found Thursday in the city's flooded Onion Creek. The body was found in a pile of flood-strewn debris Thursday afternoon, according to a police report. 
Earlier, thee Caldwell County sheriff's office said a man died Thursday after driving on a low-lying portion of road overtaken by flooding. The victim was swept out of his vehicle in Dale, south of Austin.
No identities have been released for either man.
Some areas surrounding Austin were slammed by as much as 15 inches of rain, according to Austin-Travis County's Emergency Medical Service (EMS). Meanwhile, emergency crews staged 15 water rescues across Austin and Travis counties throughout the early morning, EMS spokesman Warren Hassinger said.
On Thursday morning, an EMS team saved a pregnant woman cut off by two low-water crossings who had gone into labor, according to NBC affiliate KXAN in Austin.
Hassinger said there were reports from neighboring Hays and Comal Counties of people calling for help who were trapped in vehicles or clinging to trees.
The Texas Department for Public Safety said there were no firm numbers yet for the four worst affected counties of Williamson, Hays, Comel and Travis, but that there were at least 20 homes affected in Hutto, a town of more than 18,000 in Williamson County.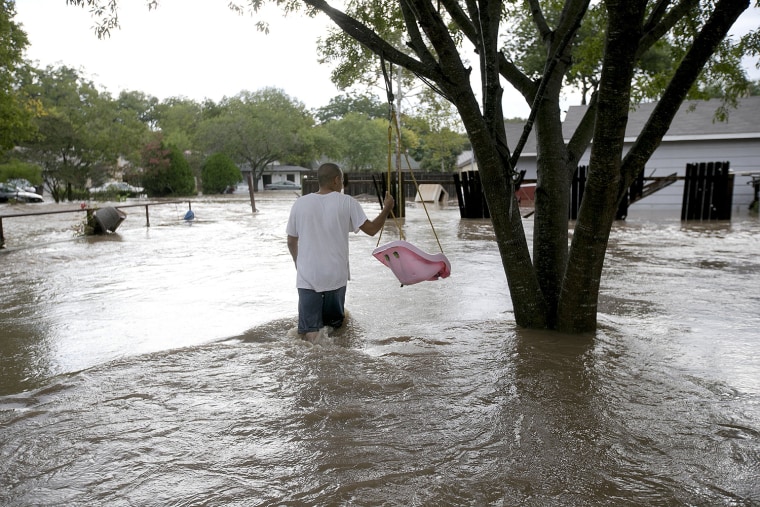 Austin Energy reported upwards of 12,000 customers without electric power Thursday morning, according to the Associated Press, while Wimberley Independent School District called off classes due to "extreme weather conditions," according to its website. Schools in nearby San Marcos and Lockhart also canceled classes amid the nasty weather and snarled traffic, the wire service reported.
The worst of the rain is over for the region, with the storm moving from west to east, according to the department.
As the massive weather system barrels eastward, officials are warning people in the Midwest and Northeast to take precautions ahead of the storm.
The Indianapolis Department of Homeland Security announced Thursday that locals should stay away from big trees and clear their sidewalks so any flooding can cut a clear path.
"You never know what could happen," Gary Coons of Homeland Security told NBC affiliate WTHR in Indianapolis.
Shortly before 4 p.m., the National Weather Service in northern Indiana tweeted that Ft. Wayne and South Bend, Ind., were already having the second wettest Halloween on record for both locations: Ft. Wayne with .61 inches of rain through 3:50 p.m., and South Bend with one inch.
Heavy rain may pound the Northeast on Friday, with high wind watches posted for the Great Lakes as well as areas of southern New England and Long Island, according to the National Weather Service.
Officials have warned coastal residents to brace for possible power outages as well as felled trees and power lines, according to Weather.com.
And the I-95 corridor may be clogged Friday amid hard rain and monster winds from Boston to New York City and Philadelphia.
The storm is partially caused by Hurricane Raymond, which broke up over the Pacific Ocean on Tuesday.