Communities across the East Coast were cleaning up Wednesday after powerful spring storms killed at least five people, cut power to nearly 400,000 customers from Maryland to Maine, and frustrated commuters with train delays and road closures.
Wind gusts of up to 50 to 60 miles per hour toppled trees and downed power lines Tuesday afternoon. In New York City, people reported winds blowing off the top of a water tower and video captured water from a rooftop pool spraying into the air as ominous clouds rolled in.
An 11-year-old girl in Newburgh, New York, was among the victims caught outside in the line of storms. Police said she and her mother were unloading their SUV when a gust of wind knocked a large tree onto the vehicle, killing the girl. The mother suffered minor injuries.
"It kind of gave me a chill when I first saw it," witness Ramon Rodriguez told NBC New York of the accident.
"The mother was in the porch crying, 'My daughter! My daughter!'" he added. Rescuers used the jaws of life to try to free the girl, Rodriguez said, but were unable to save her.
In a separate accident in Newburgh, a woman was killed when a tree fell on her car, according to Orange County authorities.
A man in Connecticut was also killed when a tree fell on his truck, according to Danbury Mayor Mark Boughton. A teenager in town was seriously injured when he was hit by the roof of a dugout on a baseball field, the mayor added.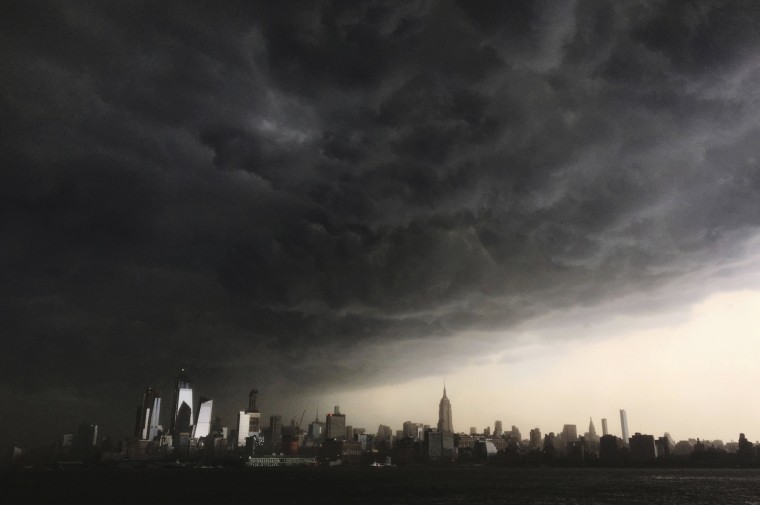 In the nearby town of New Fairfield, a person was killed by a falling tree, police there said.
A fifth death occurred in Monroe County, Pennsylvania, where high winds slammed a tree onto a car, killing the driver, state police said.
Several lightning strikes led to building fires in New Jersey and Massachusetts. Golf ball-size hail was reported from upstate New York to Connecticut. And roads in many towns were impassible and some schools canceled classes on Wednesday due to the damage.
Commuters at normally busy Grand Central Terminal packed the station for the evening rush, but were left stranded when Metro-North shut down all three commuter lines because of the severe weather.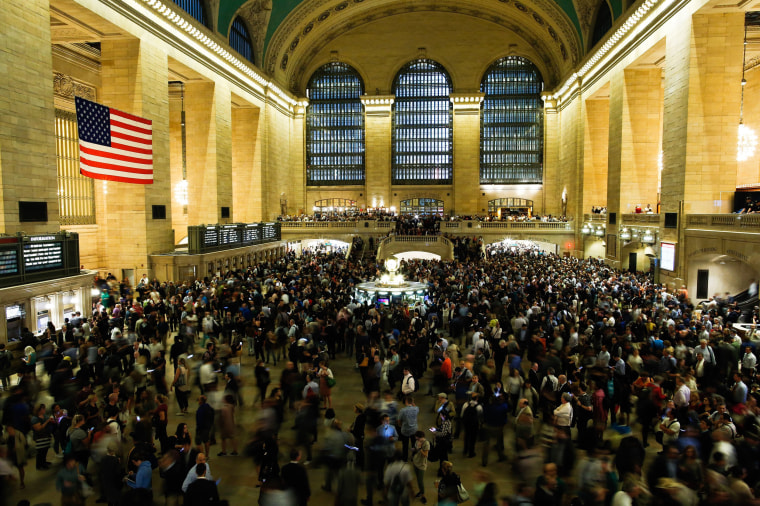 The lines were restored later that night, but with significant delays or some portions still closed. The railroad said some peak trains would remain canceled Wednesday morning.
A Maryland commuter train out of Washington was delayed for about five hours Tuesday night because of the weather, and passengers had to evacuate the first level of the car as a precaution from the rising waters.
New York Gov. Andrew Cuomo said Tuesday night on Twitter that he was declaring a state of emergency in Putnam, Dutchess, Orange and Sullivan counties, and "deploying members of the New York National Guard to assist with recovery operations."
Flooding was still possible from southern New Jersey to Virginia with the threat of more rain Wednesday, forecasters said.