A 2013 fertilizer plant blast in Texas that killed 15 people and wiped out hundreds of homes was caused by a "criminal act," federal officials said Wednesday.
The findings were revealed in a Bureau of Alcohol, Tobacco, Firearms and Explosives investigation into the origin of the deadly fire and explosion at the West Fertilizer Co. on April 17, 2013, in the rural town of West.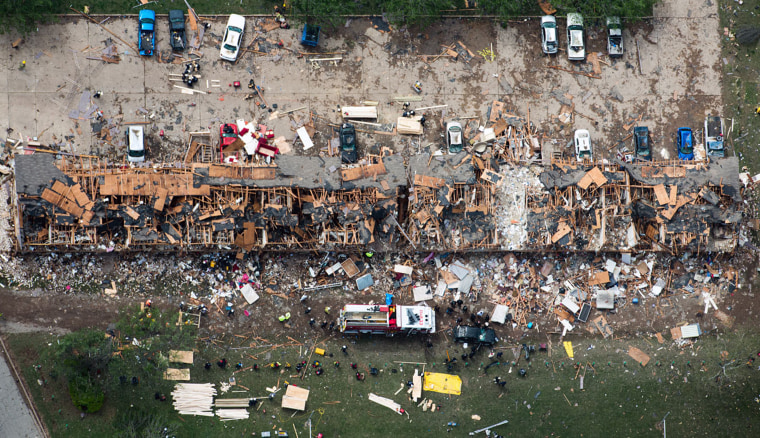 The explosion flattened the farming community of 2,800 people, just north of Waco, turning some 500 homes into rubble as residents tried desperately to flee the horrific scene. Over 200 people were injured.
The force felt was equivalent to that of a magnitude-2.1 earthquake, and a 93-foot-wide crater scarred the site of the fertilizer plant, where dangerous chemicals, including ammonium nitrate, were stored.
Related: West, Texas, Marks One Year Since Devastating Explosion
ATF Special Agent Robert Elder said the agency is offering a $50,000 reward to help find the person who committed the crime, which was determined to be deliberate after "we ruled out all accidental and natural causes." But he could not say why someone would have set the fire.
"I think it's too early to speculate on murder charges," Elder added.
No arrests have been made, but more than 400 interviews have been conducted amid the investigation, Elder said.
Ten first responders and two volunteers were among those killed while fighting the initial blaze before the blast occurred just before 8 p.m. local time.
The event occurred during the same week the nation was gripped by the Boston Marathon bombing.
A memorial service for the victims in West drew then-Texas Gov. Rick Perry and President Barack Obama, who told the survivors, "We're neighbors, too. We're American, too. We stand with you and we do not forget."
In the past three years, the tiny town has bounced back, slowly rebuilding and honoring those who died with annual remembrances.
Litigation also remains ongoing. While some of the lawsuits against the fertilizer company were settled out of court for undisclosed amounts, other residents and businesses have sued. One trial is slated to begin May 16.
The U.S. Chemical Safety and Hazard Investigation Board released its final report earlier this year about the blast. It determined it was "one of the most destructive incidents ever investigated" by the board.