Anthony Avalos was 4 years old when the Los Angeles County Department of Children and Family Services was first called to his family's apartment.
For the next three years — as the agency investigated, removed Anthony temporarily from his home and then returned him — Anthony and three of his siblings were beaten, starved, locked up, whipped with a belt, dangled upside down from the staircase and forced to fight one another, according to court documents. Agency records show that they opened 12 different referrals on Anthony's case, finding evidence for some of the claims but not others — until 2016, when the calls stopped and the agency closed his final referral.
Last month, paramedics found Anthony, 10, not breathing in his family's Lancaster, California, apartment, in full cardiac arrest with a traumatic brain injury. He had bruises and abrasions covering his body, authorities said. He died the next morning in the hospital. Court records detail allegations that Anthony endured five or six days of torture before he died, while his siblings were forced to watch and participate. His mother, Heather Barron, and her boyfriend, Kareem Veila, were charged with murder and torture. They are held in lieu of $2 million dollar bail, and they will enter pleas on August 3.
Anthony's death has left family members and local officials horrified by the alleged abuse and angry that the Department of Children and Family Services appears to have missed opportunities to stop it. The agency's approximately 4,800 social workers provide services to nearly 34,000 children every day. The budget is expanding, but children still slip through the cracks.
"I'm mad, because there was multiple reports done," said Karla Avalos, Anthony's aunt.
"What is wrong with the system?" she asked.
That's a question many are asking — particularly because Anthony's death evokes memories of a similar case five years ago: the death of 8-year-old Gabriel Fernandez, who was abused by his mother and her boyfriend in Palmdale, just 15 minutes away from Anthony's' home. For years, Fernandez was beaten, shot with a BB gun, smothered with pepper spray, made to wear girl's clothes to school, forced to eat his own vomit and locked in a small cabinet with a sock stuffed in his mouth, his brother testified.
Gabriel's mother, Pearl Fernandez, was sentenced to life in prison without the possibility of parole, after pleading guilty to first-degree murder. Her boyfriend, Isauro Aguirre, received the death sentence for first-degree murder involving the infliction of torture.
Both Gabriel and Anthony may have been targeted because the adults in their home believed them to be gay, though Anthony's case is still under investigation. The district attorney stated that Aguirre tortured Gabriel because he was gay.
The Los Angeles DA stated that Aguirre frequently beat Gabriel because he thought the boy was gay. After his death, it emerged that the Department of Children and Family Services had received more than 60 reports from people concerned for his safety. In response, the department hired more social workers, adopted new approaches to case evaluation, increased its budget and revamped training. Philip Browning, the agency's director at the time, said in 2013 that he wanted to ensure that what happened to Fernandez "never happened again."
Now, after Anthony's death, the Department of Children and Family Services faces fresh questions over how the agency could have missed the signs of abuse. The agency declined requests for an interview.
"When Gabriel happened, as horrific as it was and still is, I didn't think something like that could happen again given the public outcry," Kathryn Barger, an elected supervisor within the five-member governing body of Los Angeles County, told the Los Angeles Times.
"And it happened again," Barger continued. "And when you look at the circumstances, you just have to wonder — you have to wonder why."
Years of missed opportunities to save Anthony
The first time the Department of Children and Family Services arrived at Anthony's home in 2013, they were following up on calls that a grandparent had sexually abused Anthony.
The social workers confirmed the abuse, got medical care for Anthony and determined that Anthony's mother could keep him safe in the future. They closed the case, and the relative was never charged, according to Anthony's relatives.
Over the next three years, the department looked at 10 more referrals about Anthony which focused on Barron and Veila, who lived with Barron on-and-off after 2014. But when social workers investigated, they sometimes found reports unsubstantiated or inconclusive, according to the department's statement after Anthony's death.
"Part of the problem is that any time that they would come to my sister's house, they would give her a heads up," said another aunt, Crystal Diuguid, who said she called authorities four or five times out of concern for Anthony's safety. "She was able to clean her house, get groceries in her cupboard and all of that. So, I think that's one thing that needs to change is the pressure. Don't give any notice to show up."
Anthony told representatives from the department in private interviews that he had been beaten, deprived of food and locked up, according to the agency.
He moved to live with a third aunt and uncle, David and Maria Barron, on two separate occasions in September 2015, according to court documents. The second time, Anthony stated that his aunt and uncle were "going to be his Mom and Dad from now on."
David Barron recalls Anthony staying just two weeks. One week after his move, Heather Barron came to visit, he said.
David Barron and Duiguid said Heather Barron took Anthony to Chuck E. Cheese's and Burger King and said "every day would be like this" if he moved back in with her. Diuguid said Heather Barron promised that her boyfriend "would no longer be around, she would be a better mother, and that they would go to the park more."
Almost immediately afterward, Anthony told social workers that his relatives had forced him to make up stories about the abuse, Duiguid said.
In about three days, the Department of Children and Family Services moved Anthony back home with Heather Barron and Veila, David Barron said. Duiguid said Veila didn't move out as Barron had promised, and the couple shut out the relatives who had taken Anthony in.
"No contact at all," said David Barron, who also made several calls to the agency about Anthony' safety. "She even changed the kids' rules so that we wouldn't ... go to see them after school or before school lunches."
The agency received a final call alleging neglect in 2016 but did not find evidence of abuse, officials said.
"Once we leave a case, we don't go back to check on the child unless there is an absolute reason to do so," Bobby Cagle, the agency's director, told the Los Angeles Times.
The investigation into Anthony's death is underway, and it's unclear whether his sexuality played a role. Just weeks before his death, Anthony "said he liked boys," Brandon Nichols, deputy director of the Department of Children and Family Services, said in an interview with the Los Angeles Times. Nichols declined to provide further context.
Several relatives described Barron and Leiva as homophobic, saying Barron called Anthony a gay slur and Leiva said he was uncomfortable being around gay people.
"One of the things that we have heard is that there may have been a motivation on the part of the man in the household regarding to the sexuality of the child, and so we're looking into that in a very deep way," Cagle said to ABC 7. "Of course, that was an alleged factor in the Gabriel Fernandez case, so that concerns us and so we're looking at that angle as well as many others."
The Los Angeles County Sheriff's Department could not confirm a motive in Anthony's death.
The challenge of fixing a child welfare agency
After Gabriel's death in May 2013, the Department of Children and Family Services found itself under immense pressure to make changes.
Four social workers were charged with child abuse and falsifying records — the first time social workers were prosecuted for professional work in Los Angeles, prosecutors noted. The social workers pleaded not guilty; they're set to go to trial on Aug. 15.
Their attorneys pushed back, saying there was "simply not enough evidence to take the boy away from his mother." One attorney accused the court of scapegoating the social workers for the real problem: insufficient staffing to handle a high caseload.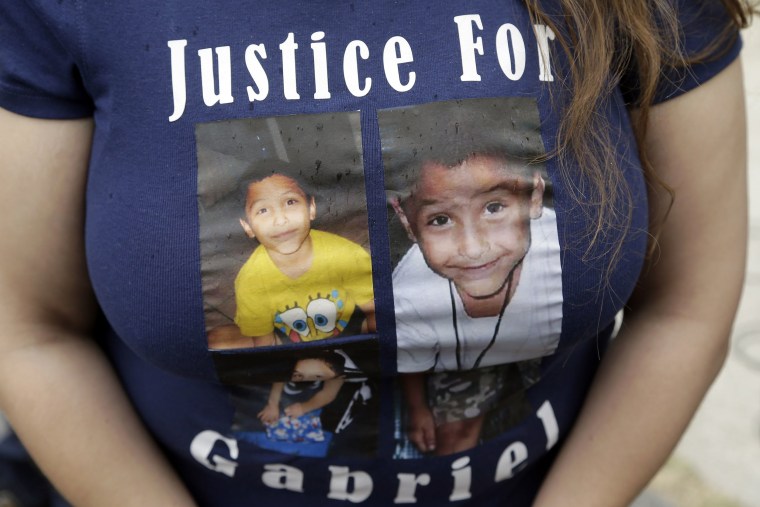 Since August 2013, the agency hired 2,600 more social workers. The department also launched a yearlong training program in which social workers undergo simulations of house visits. Before, it was "eight weeks of PowerPoint presentations" and then into the field, longtime social worker David Green told KNBC.
The efforts may be having an impact. In the three years before Gabriel's death, 64 children in Los Angeles County died in child abuse cases. That figure dropped to 47 in the three years following department's changes. Children are now less than half as likely to die from abuse in Los Angeles compared to California as a whole, the agency found in a 2016 report.
Despite the agency's growth, the number of children in need remains daunting. Over the past five years, about 29,000 children have been the subject of five to nine reports alleging child abuse, Cagle said recently, according to MyNewsLA.
Sheila Kuehl, an elected supervisor in Los Angeles County, said she wanted to note the "heroic efforts" of the agency's social workers in keeping the vast majority of the children in the county safe. Still, she said, "One child death is one too many."
Dr. Gilbert Kliman, medical director of the Children's Psychological Health Center in San Francisco, has worked with hundreds of abused children statewide. He sees many of them as the victims of failed oversight by agencies like the Department of Children and Family Services.
"They fall through the cracks of overworked for a protective service system," he said. "Protective Services is underfunded, understaffed, undertrained, undercompensated and expected to do society's work on a scale which is probably impossible."
The Department of Children and Family Services has begun a 45-day probe into shortcomings that may have led to Anthony's death. One issue that advocates have raised is that LGBTQ children need extra protections in the welfare system.
Anthony's relatives held a press conference on June 29 outside the Department of Children and Family Services, demanding that the agency and the Los Angeles Sheriff's Department release all reports of Anthony's abuse. They were surrounded by community members holding handmade signs reading "The System Failed Anthony" and "Honk for Justice."
"There's definitely a systemic problem," said Brian Claypool, a civil rights attorney retained by David Barron on behalf of Anthony's father, who lives in Mexico. "It's deeply troubling that both Gabriel Fernandez and Anthony Avalos were young Hispanic boys from less privileged families, and they were completely kicked to the curb. Why is that happening?"
The family is considering a lawsuit against the Department of Children and Family Services, Claypool said.
"The system needs to do better," Karla Avalos said, "for Gabriel Fernandez, for Anthony Nolan Avalos and for many of the children that are out there suffering. Our children don't deserve this."