The death of a Black man at a Virginia hospital that led to murder charges against 10 deputies and hospital workers was a homicide that was caused by "asphyxia with restraints," authorities said Monday.
The cause of Irvo Otieno's death March 6 was "positional and mechanical asphyxia with restraints," the state chief medical examiner's office said in a statement. The death of Otieno, 28, was ruled a homicide, the medical examiner's office said.
Video capturing some of the final moments of Otieno's life at Virginia's Central State Hospital shows officers and medical staff members appearing to pile on top of Otieno before he eventually stops moving.
Otieno's family and his attorneys have said he was in a mental health crisis.
His death led to second-degree murder charges against seven sheriff's deputies and three hospital workers.
Prominent civil rights attorney Ben Crump and co-counsel Mark Krudys, who represent the Otieno family, said in a statement Monday that the cause and manner of death are "not surprising to us as it corroborates what the world witnessed in the video."
"In a chilling parallel to George Floyd's killing, Irvo was held down and excessively restrained to death, when he should have been provided medical help and compassion," the statement said. "It is tragic that yet another life has been lost to this malicious and deadly restraint technique."
Surveillance video shows officers dragging Otieno — who appears to be handcuffed and shackled at the ankles — into an admissions room, initially moving him toward a table before they lay him on the ground and restrain him.
As many as 10 sheriff's deputies and medical staff members at the hospital crowd around Otieno on the floor as several others stand nearby. The scene is so crowded that Otieno can hardly be seen at that point, and it is unclear what exactly is happening or how deputies and medical workers are interacting with him.
A Virginia prosecutor last month charged seven Henrico County sheriff's deputies and three staff members at the hospital with second-degree murder. A grand jury indicted them March 21.
It is unclear what was said during the encounter, because the video has no audio. Prosecutors have said state police investigators were told Otieno had become combative during admission.
After Otieno's family and their attorneys were shown video of the encounter, Caroline Ouko said her son was "treated like a dog, worse than a dog."
Four of the deputies who restrained Otieno weighed at least 250 pounds, with the heaviest weighing 320 pounds, according to court documents.
The prosecutor's office has said deputies took Otieno to the hospital at 3:58 p.m. to be admitted. Instead, "he died of asphyxia due to being smothered to death, thanks to having at least seven people ... on top of him and holding him down," Commonwealth's Attorney Ann Cabell Baskervill said at a court hearing last month, according to courtroom video broadcast by NBC affiliate WWBT of Richmond.
Otieno had initially been arrested March 3 after Henrico County police officers responded to a possible burglary call, the police department has said.
Officers placed Otieno under an "emergency custody order," the department said. Virginia law says such orders are used in cases of mental illness.
Officers then took Otieno to Parham Doctors' Hospital, where a crisis receiving center was located, and the police department said he "became physically assaultive towards officers." He was taken to a jail managed by the Henrico County Sheriff's Office, where he was served with several charges, including three counts of assault on a law enforcement officer, disorderly conduct in a hospital and vandalism.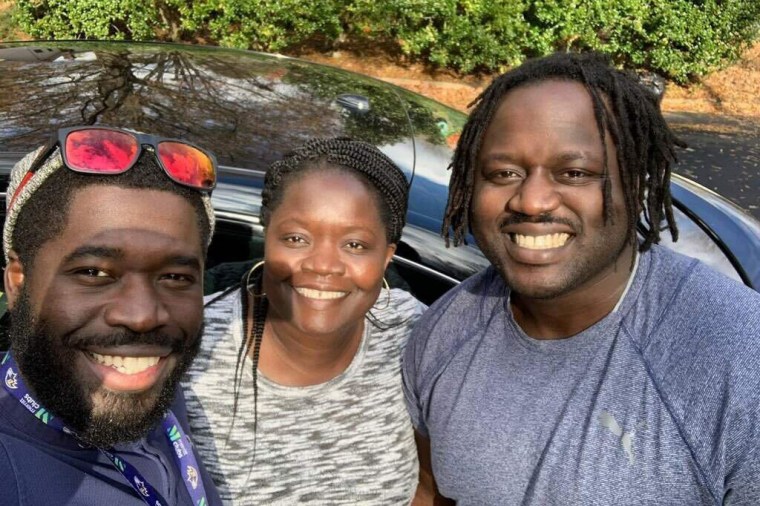 The police department said officers had also responded to another incident the day before, on March 2, for a "reported suspicious situation" in which the complainant said he was concerned about his neighbor's behavior. The neighbor was identified as Otieno, police said. The call was reclassified as a "mental health problem," and no charges were filed, it said.
State police were called to investigate Otieno's death around 7:30 p.m. March 6, days after the initial arrest.
Henrico County Sheriff Alisa Gregory has said in a statement that the office was "cooperating fully with the investigation of the Virginia State Police."
"Separately, we are conducting our own independent review of this incident," the statement said.
Otieno's family, which has roots in Kenya, has said he was a selfless person who cared about fairness. He was also a hip-hop artist who could write songs in five minutes, his relatives said.