WEST LIVINGSTON, Texas – Rodney Reed seemed remarkably calm for a man possibly days away from execution.
Sitting in a visiting-area cell behind a thick pane of glass, Reed told NBC News that he was doing "as well as to be expected."
"One day at a time," Reed said into a telephone receiver, at the Allan B. Polunsky Unit, a prison in West Livingston, Texas. "I'm thinking about family, thinking about my freedom, thinking about my life."
Reed, 51, was convicted of raping and killing 20-year-old Stacey Stites in April 1996. Her body was found by the side of a remote road in a small town in Central Texas. She was driving to an early morning work shift at a grocery store some 30 miles from home. Stites' family says she was working extra shifts to help pay for her upcoming wedding to Jimmy Fennell, a police officer.
For about a year, Stites' murder went unsolved. Reed was arrested and charged when investigators linked him to semen found in the victim's body. Reed had been under investigation for another alleged sexual assault. When confronted with the DNA match, Reed says he froze and told investigators he did not know Stites.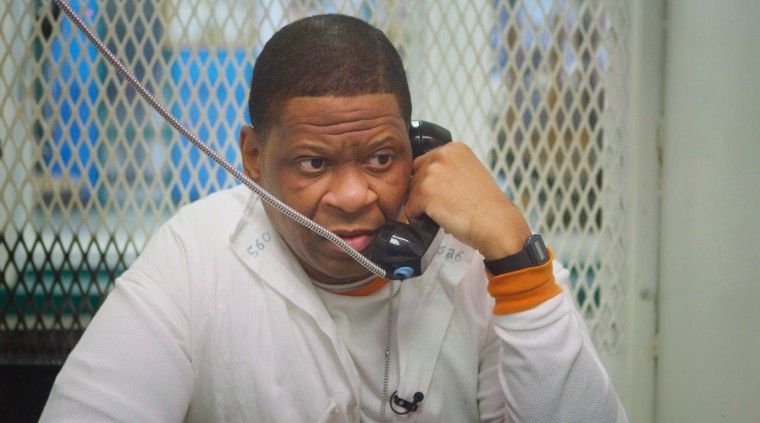 "It was the worst mistake I ever could have made, " he said. "I denied everything. I did not want to be incriminated, implicated or anything in relation to her death."
Reed later claimed that he and Stites had had a consensual intimate relationship, and that he had been with her the day before she was found dead. During his trial, prosecutors dismissed that as a lie. But Reed claims he saw Stites a couple of times a week but had to keep their relationship discreet because he is black and she was white.
"I knew she was seeing a cop," he said. "And we're in the South. There's still a lot of racism going on."
Reed did not testify at his trial and his defense team did not call witnesses to back up what he says happened. But Reed's new lawyers with The Innocence Project have contacted several residents who they say back up Reed's claim that he and Stites were in a relationship.
"This is what the state's case was premised on, which is that a young black man like Rodney Reed would not be dating Stacey Stites. And every bit of evidence shows, in fact, that that is what took place," said Bryce Benjet, Reed's attorney with the Innocence Project of New York.
"We shouldn't be getting this close to an execution in a case like this," Benjet said.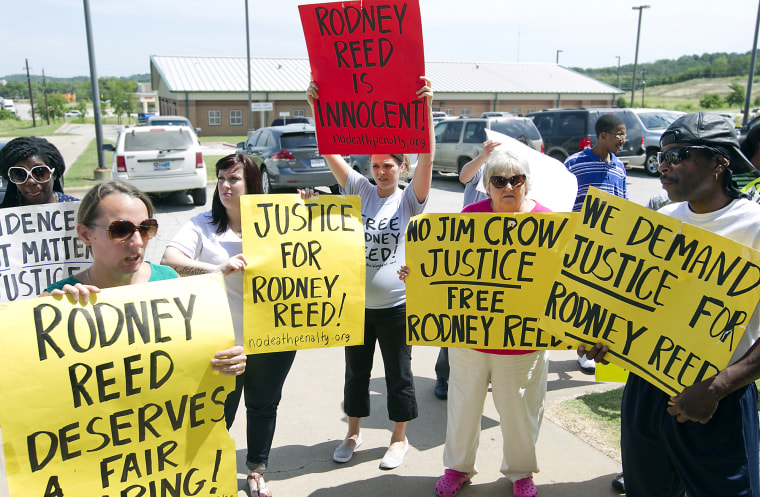 The case has been receiving national attention after celebrities including Kim Kardashian West, Rihanna and Meek Mill called on Texas Gov. Greg Abbott to stop the execution.
Reed is not only maintaining his innocence, he claims that Fennell, Stites' then-fiance, is the real killer.
"He wasn't for her. She kept telling me that," Reed said.
Stites' family insists that none of that is true, and that she and Fennell were happy and weeks away from getting married.
With the clocking ticking down to Reed's execution, scheduled for Nov. 20, his defenders have produced statements from several new witnesses that Reed claims implicate Fennell. Those witnesses claim they overheard various threatening and racist statements from Fennell, suggesting he suspected Stites was having an affair with a black man.
When asked why those witnesses, who apparently waited 20 years to come forward, should be believed, Reed said: "Why would they come forward unless it's all about the truth? People have consciences."
Reed's legal team also has a new affidavit from an inmate who claims Fennell confessed to killing Stites. Fennel had served 10 years in prison after pleading guilty to charges of kidnapping and improper sexual activity with a person in custody. The case involved a woman from a domestic disturbance call he responded to when he was an officer with the Georgetown Police, according to The Austin Chronicle.
"He joins the list of incredible witnesses. But he is probably the least credible," Robert Phillips, Fennell's attorney, said of the inmate. "I joke the next one's going to be Mother Theresa appearing via epiphany. I keep waiting for the pope to be on the list."
In a statement, Stites' sister, Crystal Hefley, insisted that Reed raped and murdered Stites, adding: "We pray for the end to a nightmare we have had to relive over and over for 23 years."
Reed and his lawyers also have tried to get the courts to consider new analysis of forensic evidence from the crime scene. They want as many as 40 items tested with modern DNA techniques, including the murder weapon, a belt that investigators say the killer used to strangle Stites. Texas courts have said no, ruling the evidence has been too contaminated this many years later.
Reed and his defense team insist the evidence will show Stites was killed at a time when Fennell has said they were at their home together.
Reed now has appeals pending all the way up the U.S. Supreme Court.
"More than 20 judges of various ideological backgrounds have reviewed this case and found no reversible error and no credible evidence that someone other than Mr. Reed might have been disposed toward committing this heinous crime," the Texas attorney general's office said in a statement.
David R. Dow of the University of Houston Law Center says that in Texas, which executes more inmates than any other state, the odds are not in Reed's favor. "Once somebody is convicted and sentenced to death the likelihood that person is going to get some type of relief … is less than 3 percent in Texas," Dow said.
The odds are especially tough for African American men like Reed.
"If you're black and you have a white victim, you are four-and-a-half times more likely to be sentenced to death in Texas," Dow said.
Benjet stressed the gravity of getting it right in cases involving capital punishment.
"If we're going to have a death penalty, if we're going to have harsh punishments in the criminal justice system, we need to make sure we get it right," Benjet said.
Reed, who said he has seen many inmates walk to their executions during his nearly 22 years on death row, said he was hesitantly hopeful that "something good has got to happen."
"I don't feel beaten down. I mean, I'm cautiously optimistic that something good has got to happen," he said. "I mean, I'm a believer. You know? I'm a believer."