Tim Crews, publisher and editor of The Sacramento Valley Mirror, has fielded his share of death threats in the 27 years since he opened the newspaper. In April 2017, an unidentified reader left ahangman's noose at the door of his office in Willows, California — an implied threat that may be linked to a local murder investigation the paper was covering at the time.
The gesture was extreme enough to catch the attention of the international advocacy group Reporters Without Borders, but not enough to intimidate the 74-year-old journalist.
"If you go to jail in Glenn County, if you're arrested, your name goes in the paper," Crews told NBC News on Friday. "We report every police call. We report every accident.
"We're the paper of record here," he continued. "But not everyone wants to be in the paper of record."
So Crews says he was saddened, but not surprised, to have to write a Page 1 editorial about the mass shooting that left five journalists dead Thursday in Annapolis, Maryland, for the Saturday edition of his 2,960-circulation broadsheet.
"The only protection against a similar attack is me," Crews said of his newsroom, which houses a staff of four. "I have a .357, a 12-gauge shotgun, and a dog with good ears in my office."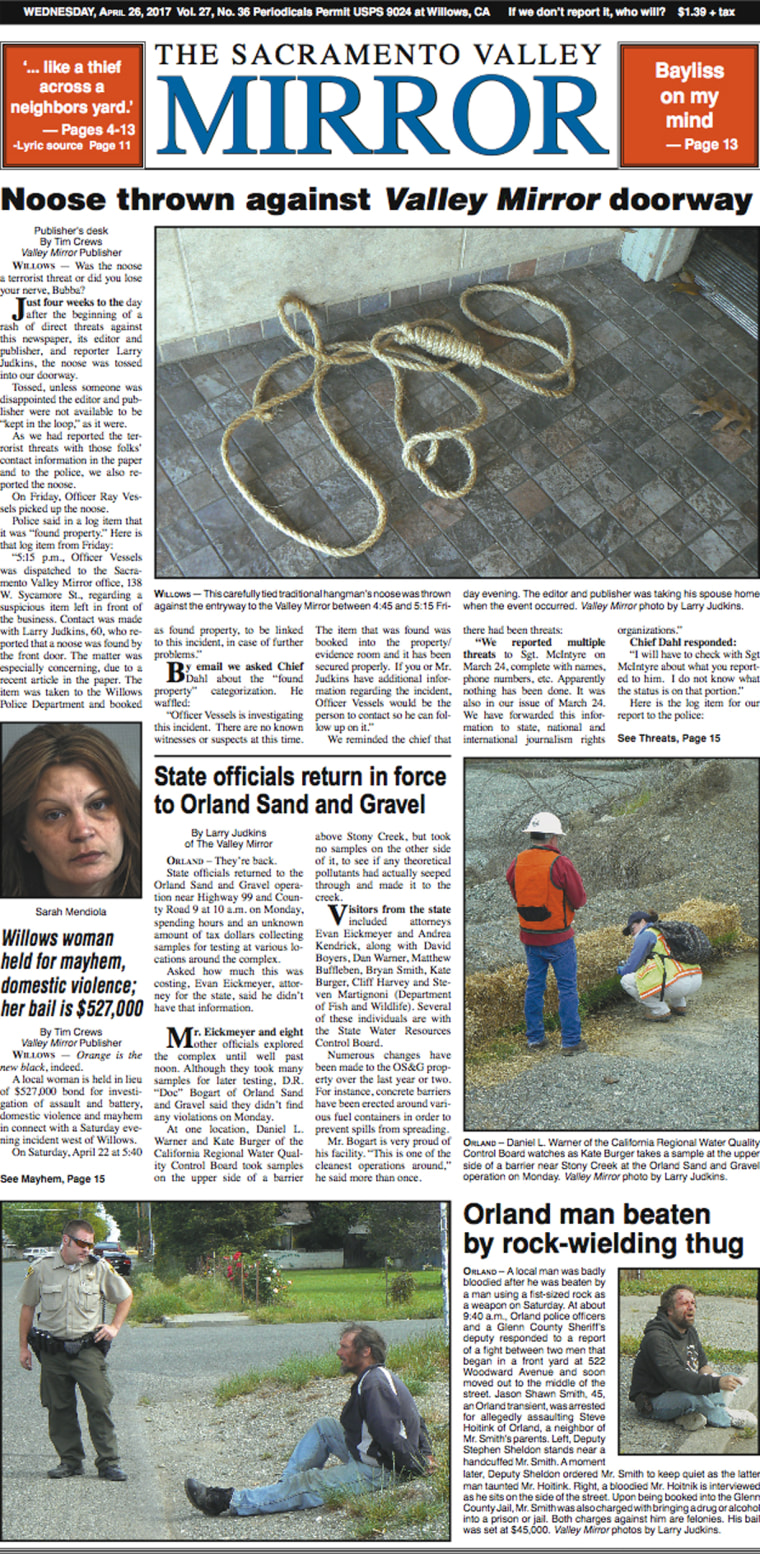 While national political reporters can get deluged with a high volume of vitriolic threats on social media, local journalists are more vulnerable to actual violence, particularly when they cover demonstrations, according to the Committee to Protect Journalists.
"Most of the violence committed against journalists are not against the Washington press corps, they are against journalists working in the local communities," said Joel Simon, executive director of the Committee to Protect Journalists. "If someone has a beef with you, and you're a local reporter, it can get ugly in a hurry, because you're accessible."
The suspected gunman in the Capital Gazette spree, Jarrod Ramos, seems to fit that profile. Authorities have said the 38-year-old nursed a grudge over a 2011 column that reported on his guilty plea to harassing a former high school classmate after reconnecting online.
In the aftermath of the shooting, journalists took to social media to mourn the loss of Gerald Fischman, Robert Hiassen, John McNamara, Rebecca Smith and Wendi Winters, and to swap their own stories of death threats they received:
Some, like Crews, pointed a finger at President Donald Trump for calling reporters "enemies of the people" at his rallies or in his tweets.
"The rhetoric that comes from the White House emboldens people," said Crews. "When you get the chief executive get up there and say, 'Journalists are enemies of the people,' there are enough unhinged people that will take that to heart."
Simon, though, is quick to caution that there's no data showing any connection between Trump's treatment of the media and any increase in danger to reporters, and that to suggest one is "dangerous."
Whatever helped foment murder in the gunman's mind, journalists have endured the potential for violence for a long time.
Before Thursday's massacre, the most recent murders of journalists were the 2015 on-air shooting of Virginia TV reporter Alison Parker and cameraman Adam Ward as they covered a local event, and the 2007 execution of Oakland Post editor in chief Chauncey Bailey over his paper's coverage of a local bakery. Of the 45 assaults on journalists in 2017 recorded by the U.S. Press Freedom Tracker, 43 took place while the reporters were covering a local demonstration, event or crime scene.
Outside major media hubs, local newspaper reporters are often the most visible representatives of the profession. They are also the most accessible to the public, said Simon.
"Security is expensive and its anathema to the profession," said Simon. "Journalists can't report from behind barricades."
Amy Maestas, a senior editor at the The Durango Herald, said the events in Annapolis, 2,000 miles from her Colorado mountain town, couldn't help but resonate with the 7,000-circulation paper's 16 staffers. Especially since the front door to their offices is right off the town's main street and leads directly to the newsroom.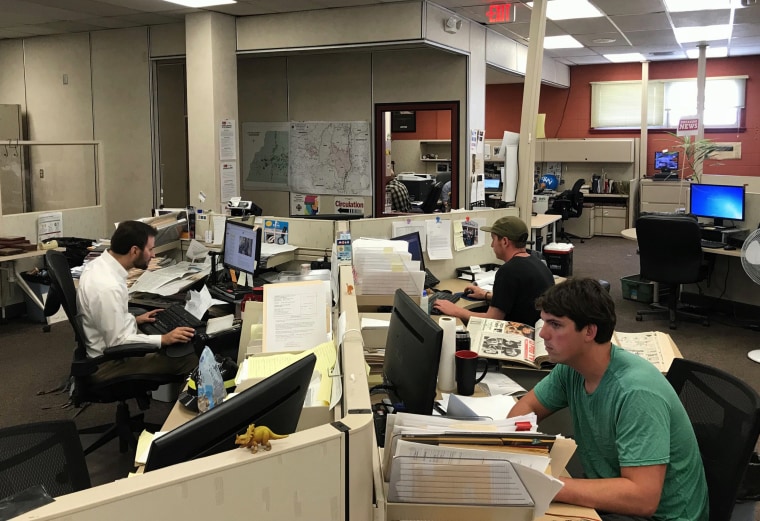 "People started thinking, 'What if this happened here?' " Maestas said on Friday. "We looked for what exit would we would run for, what desks would we dive under."
Maestas said she's already had to call police three times this year to walk her from the office to her car because of threats.
"It's on our minds, but it's not going to change the way we do our jobs," she said.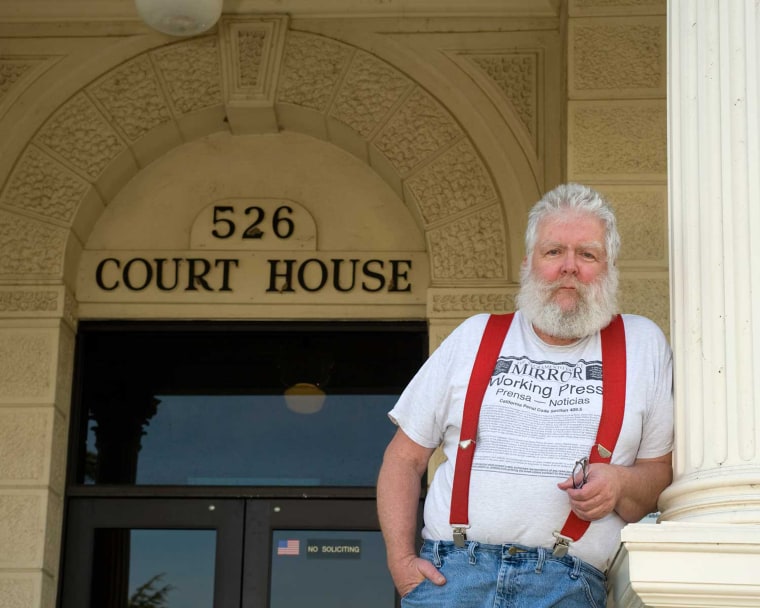 But for Anna Galledos, now 26, a disturbing experience during her internship at the now-defunct Oakland Tribune helped convince her to switch from street reporting to a desk job.
Galledos had been excited to cover the Occupy Oakland protests in the summer of 2012 and post her dispatches on social media — until an anonymous demonstrator started messaging threats to her privately. She ignored them until they started to get very specific, referencing what she was wearing on a given day and where she conducted interviews.
"Just to get to that level of granularity was frightening," said Galledos, who is now a digital producer at The Tennessean.
Her editor took her off the Occupy Oakland story and put her onto a courthouse beat as a precaution for the rest of the internship.
"If you're out there by yourself, it can be very frightening," said Galledos. "Part of you is entirely focused on the events that are going on in front of you and interviewing as many people as possible. But at the same time at the back of your head, you're wondering: Is there a person watching me who wants to do me harm?
"The experience definitely made me look at my career and say did I really want to put myself out there that much."
It's essential that news organizations take threats seriously and involve police when there is a hint of a credible danger, said Simon. "Our data suggest that journalists are often threatened before attacked," he said. "Every newsroom should come up with a protocol."
Often journalists are cynical enough to treat death threats with a sort of gallows humor, however, or even as a rite of passage.
As an intern at the San Gabriel Valley Newspaper Group, a suburban Los Angeles chain, Michael Dean Clark experienced that up close in 1996 when he received a letter from a disgruntled reader.
"I was like, 'I don't know what to do with this,' " recalled Clark, now a 42-year-old professor of creative writing at Azusa Pacific University in Southern California. "This reporter turned to me and said, 'You're not a real reporter until you get a death threat. Means you're doing your job right.' "
He guesses that he was doing his job right when he received one of his own two years later, by which time he was a full-fledged reporter at the newspaper group.
A anonymous reader had taken exception to a story Clark wrote about a black car dealership owner who claimed that he was being racially harassed by the outlet's previous white owner. The reader told him "writers like me kept people from getting past our racial history, and if he saw me he'd make me part of history," said Clark. "I remember reading that and turning to the same reporter to tell him I got my death threat."
"He said it only counts when the person comes into the office, and then everybody laughed," said Clark. "But I remember at the time feeling very shaken."