A third body was found in the wreckage of an Maryland apartment building Friday, and police warned that the death toll could rise in the explosion and fire that devastated two buildings late Wednesday.
A third body was found Friday afternoon as fire officials and investigators worked the scene of the deadly blast and fire in the Washington, D.C. suburb of Silver Spring, Montgomery Police said. Other people are missing, but authorities have not determined an exact number.
"Our investigation leads us to the conclusion that a number of people are still within the remains of the buildings," Montgomery County Assistant Police Chief Russ Hamill told reporters. He earlier said that no one still inside the building is expected to be alive.
Fire officials on Thursday had initially said five to seven people were unaccounted for. Hamill said some people previously thought missing were located, but he said Friday authorities an exact number had not been finalized.
The blast erupted late Wednesday just before midnight, and a fire raged for two hours. Residents told NBC Washington they smelled gas in recent weeks, and some said they didn't feel their complaints were taken seriously.
"I've been smelling gas for weeks. I called 911, they came and told us it smelled like incense," Resident Adrian Boya told the station. "That's pretty sad. It's like they didn't take us seriously."
Montgomery County Executive Ike Leggett said that a call about gas was made on July 25, but officials were still gathering information whether other complaints were made.
The federal Bureau of Alcohol, Tobacco, Firearms and Explosives are assisting with the investigation, and sent arson and bomb investigators to the scene.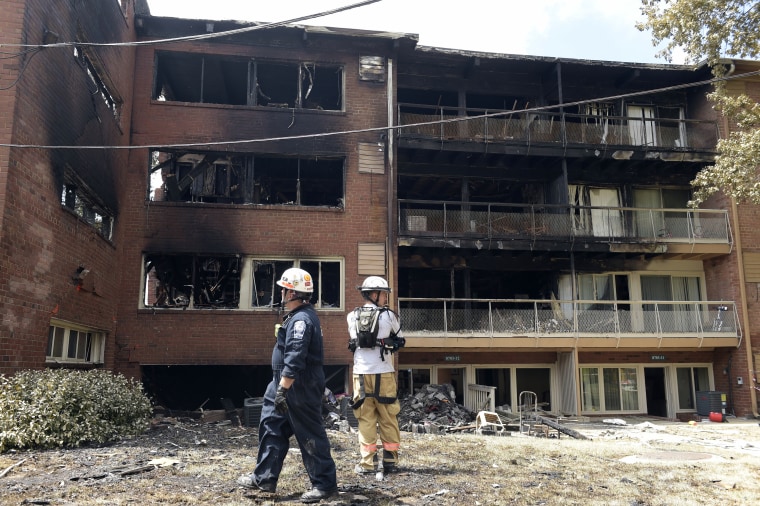 Thirty-one people were injured and taken to hospitals. Three firefighters were also hurt. All of those hospitalized after the blast and fire have been identified, Hamill said. The three bodies that were recovered have not yet been identified.
Fire personnel were working Friday to secure and stabilize parts of the damaged building so searchers and investigators can safely enter.
"It's a collapse hazard, which is a dangerous situation for the personnel," acting county fire chief David Steckel said.
Hamill urged family and friends of missing residents to call police. He said investigators have accounted for 110 residents of the buildings. "Our investigators will continue with this endeavor until we can account for everyone that was within the buildings," Hamill said.