Searchers in areas devastated by the deadliest wildfire in California found two more bodies Wednesday, bringing the number of known dead to 83, but the list of those believed to be unaccounted for dropped by several hundred, the sheriff said Wednesday.
The remains of two people were found in structures in the towns of Paradise and Magalia in Butte County in the aftermath of the Camp Fire, which raged through the wooded area after igniting Nov. 8, Butte County Sheriff-Coroner Kory L. Honea said.
Searchers will not take the day off for Thanksgiving on Thursday, but some crews could be held back if mudslides threaten the burn area, where rain was falling Wednesday night, Honea said.
"But I can assure you that we are going to continue to push forward because this is important work that we're doing," Honea said.
The National Weather Service said flash flood watches were in effect through Friday morning, and 6 inches of rain could fall on burn areas through Saturday when the rain's expected to end.
Honea said rain makes the process of sifting through the ash and debris more difficult, but the searchers and anthropologists working in the burn areas "have a high degree of certainty that if it's out there, they're going to find it."
The number of people who might be unaccounted for in the aftermath of the Camp Fire was 563 Wednesday, down from 870 the previous day.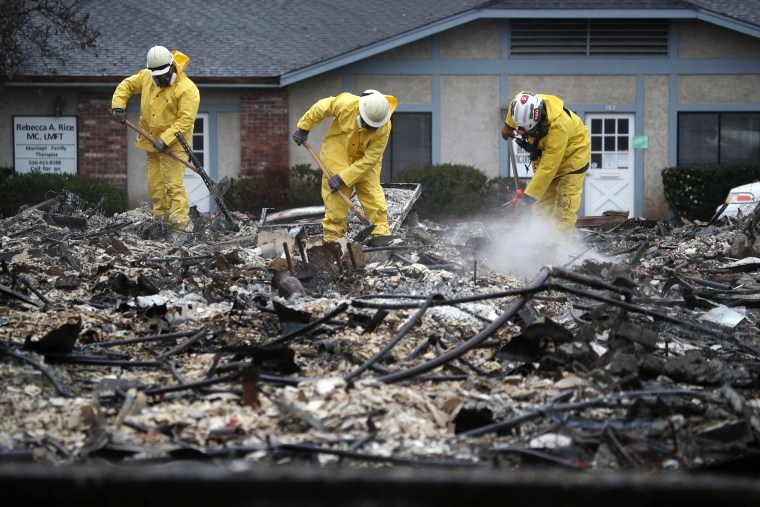 While the number of unaccounted for is fluid, Honea said "I'm encouraged by the fact that we're continuing to locate and account for more and more people."
The Camp Fire broke out near the community of Pulga on the morning of Nov. 8 and has burned more than 153,000 acres, or an area roughly the size of Chicago, according to the California Department of Forestry and Fire Protection, also known as Cal Fire.
The most destructive and deadly wildfire in recorded state history has destroyed more than 13,500 homes and over 500 commercial structures, along with other buildings.
The fire devastated Paradise, population 26,000, west of Pulga, burning down an estimated 80 to 90 percent of the homes in the city, officials have said.
Officials said they are working to open up areas of Paradise in the coming days so residents can check on their homes. The Camp Fire was 85 percent contained as of Wednesday, according to Cal Fire.
Cindy De Lano, who fled her home in Magalia, north of Paradise, when the fire broke out, described this week hearing what sounded like metal sheds blowing in the high winds — but which was actually propane tanks exploding "like bombs."
"It was really scary when I looked at the rear-view mirror, and these flames were billowing bright orange-red, and black smoke up and 150 feet or so up into the atmosphere," De Lano said. "It was like, 'Oh, my God.'"
"You know, we're lucky. We're lucky we're alive," she said on Tuesday.
In Southern California, firefighters battling another fire near Los Angeles that has claimed three lives and has burned nearly 97,000 acres and destroyed more than 1,600 homes and other structures reached 100 percent containment by Wednesday evening, the Los Angeles County Fire Department said on Twitter.
The Woolsey Fire broke out the afternoon of Nov. 8, according to Cal Fire. The causes of both the Camp and Woolsey fires are still under investigation.