A 17-month-old girl was among the 22 injured in a shooting rampage around Odessa, Texas, as the death toll increased to seven victims Sunday. The gunman was killed in a shootout with police.
The little girl, Anderson Davis, suffered shrapnel in her right chest and has a hole through her bottom lip and tongue after being shot in the face, according to her family. Eric Finley, marketing director of Texas' UMC Health System, said Anderson was in satisfactory condition at a hospital in Lubbock.
"We praise God for walking beside us during this time and our prayers go out to all of the families that are walking this same walk," Anderson's parents said in a statement. "We hurt so badly for the families whose loved ones didn't survive this tragedy.
Anderson's parents, Kelby and Garret Davis, said they look forward to reuniting her at home with her twin brother soon.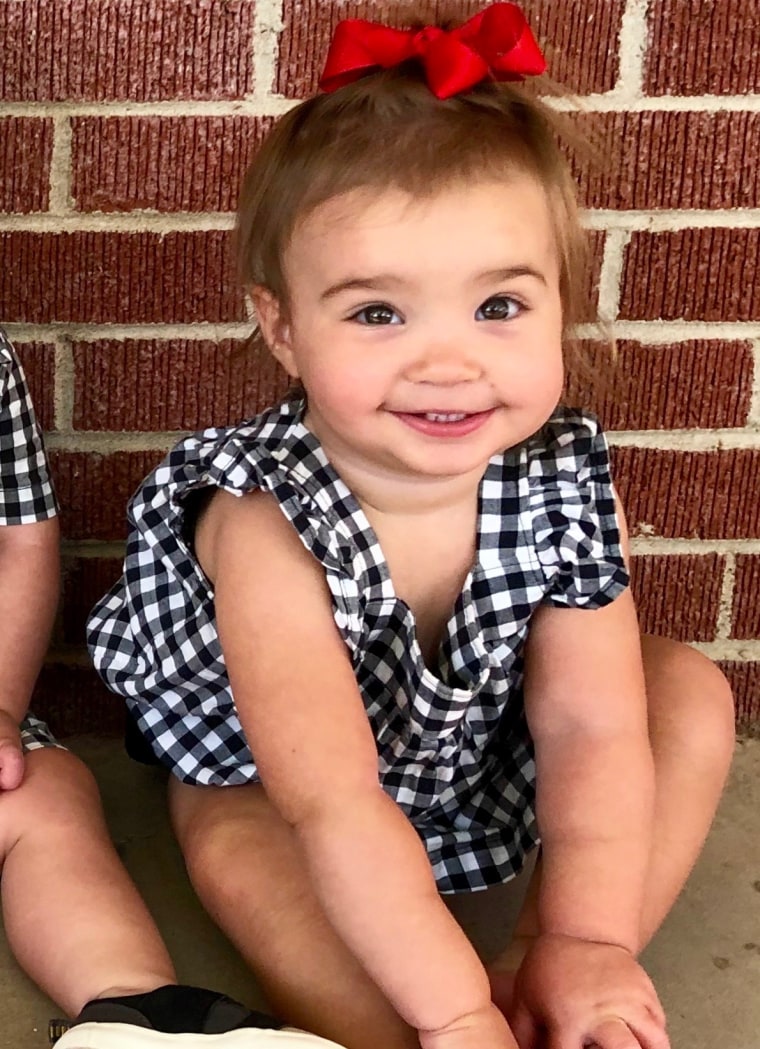 The rampage began after the suspect, in a gold Honda, was the subject of a 3:17 p.m. traffic stop between Midland and Odessa, officials said Saturday. The gunman shot the trooper who initially stopped him and continued west to Odessa, where he shot multiple others, according to Odessa Police Chief Michael Gerke.
The gunman at some point abandoned his vehicle, stole a U.S. Postal Service van and was eventually killed in a shootout with police near a Cinergy movie theater.
"You'll notice that I'm not naming this subject and there's a reason for that. I refuse to," Gerke said Sunday at a news conference. "I'm not going to give him any notoriety for what he did."
Gerke added the identity would eventually be released, but not at such a public forum.
Three law enforcement sources familiar with the Midland-Odessa mass shooting investigation tell NBC News that the identity of the shooting suspect is Seth Ator, 36. Law enforcement sources also said the shooter had recently been fired from his job.
There is no known motive at this point in the investigation, officials said Sunday, but they added this did not seem to be an act of either domestic or international terror.
Officials described the suspect as a white male in his mid-30s who appeared to have a criminal history. Gerke said there were no active warrants for him at the time of the attack.
A state trooper, an Odessa police officer and a Midland police officer were injured but in stable condition, the Texas Department of Public Safety said Saturday.
Police have not released the identities of the victims but said they range in age from 15 to 57.
An Odessa High School student was among the seven who were killed, the Ector County Independent School District confirmed Sunday.
A senior law enforcement official briefed on the case and a spokesperson for the Texas Department of Public Safety said the shooter had a rifle that may have been a .223 AR-15 style weapon. Police confirmed Sunday that the shooter had an "AR-style" weapon.
Officials were also trying to determine whether the suspect had other weapons on him during the shooting or at his home.
A witness, Shauna Sexton, told MSNBC's Alex Witt that the shooter fired repeatedly at her car while she, her husband and their two-year-old grandson were running errands.
While pulling away from a traffic light, Sexton, who was behind the wheel, heard three shots that she thought might have been a car backfiring. She glanced over her left shoulder and saw a man pointing a "very large gun" at her window.
"I didn't really understand the situation," she said. "I thought it was just somebody that I maybe made mad."
She said the shooter appeared "crazed." His hair was disheveled, she said, and seemed "amped up."
Sexton punched her horn, she said, and when the cars in front of her moved, she floored the gas. That's when she heard three more shots, she said. Each of them missed her car.
A roughly one-mile chase followed, Sexton said, with the shooter pulling up beside her car.
"When I saw him do that in the mirror, I sped, I floored it hard," she recalled. "I was a danger to society at that moment."
At a traffic light, Sexton hung a quick right into a neighborhood, a place she thought he might avoid if this was road rage.
"But it turns out that he stayed at that light," she said. "And then my next thought that went through my head was, just all the people that were there and I couldn't warn them. I couldn't tell them."
FBI Special Agent In Charge Christopher Combs said that 130 FBI personnel were supporting Odessa police along with agents from other federal branches.
"The FBI is here now as we are almost every other week supporting our state and local partners on an active shooter," Combs said. "We are now at every two weeks, almost every two weeks, an active shooter in this country."
Texas Gov. Greg Abbott said Sunday that he was heartbroken for the state, which also recently lost more than 20 people after a suspected shooter opened fire in a Wal-Mart in El Paso on Aug 3.
"I'm tired of the dying of the people of the state of Texas," Abbott said. "Too many Texans are in mourning, too many Texans have lost their lives. The status quo in Texas is unacceptable and action is needed."
Pushed on whether Texas gun laws are too relaxed, Abbott responded that he was meeting "daily" with victims, community members and legislators to offer "new and different" solutions. The governor did answer whether he believed AR-style weapons should be banned when asked directly.
"We are going to look at every issue, there is no issue that we will not look at," Abbot said. "And we are going to be working with legislators to see what the best solutions are for Texas."
The attack, the second mass shooting in Texas this month, prompted a round of calls for stricter gun laws from some hopefuls running for the Democratic nomination for president.
U.S. Sen. Kamala Harris, D-Calif., said on Twitter, "America is sick of this. We need to act."
Former Congressman Beto O'Rourke of El Paso, Texas, where 22 people were killed in an Aug. 3 attack at a Walmart, tweeted, "More information is forthcoming, but here's what we know: We need to end this epidemic."
U.S. Sen Elizabeth Warren, D-Mass., said on Twitter that the violence makes her "heartsick." "We've already lost far too many to gun violence-Congress must act now," she said.
President Donald Trump was briefed on the attacks and had been monitoring the situation, White House communications officials said.
"Great job by Texas Law Enforcement and First Responders in handling the terrible shooting tragedy yesterday. Thank you also to the FBI, @GregAbbott_TX and all others," Trump tweeted Sunday morning. "A very tough and sad situation!"
Trump was set to depart for Poland over the weekend but remained in the U.S. to oversee the response to Hurricane Dorian, which strengthened to a Category 5 as it threatens the eastern seaboard.