The death toll in eastern Tennessee's devastating wildfire climbed to 13 on Friday as county officials disputed claims that no evacuation order was sent to mobile devices as the flames approached homes.
An evacuation alert was blasted out to area phones at around 9 p.m. Monday, John Mathews, director of the Sevier County Emergency Management Agency, said at a news conference Friday.
Mathews said officials are "unsatisfied" after some people have said they failed to receive a warning and also complained they were only told to evacuate hours after the inferno grew.
More than 14,000 people were forced to evacuate as the fires scorched more than 17,000 acres, mostly in the Great Smoky Mountains National Park. Nearly 1,000 structures have been destroyed and 3,000 customers were without power as of Friday evening, Tennessee officials said at a press conference.
Tennessee Emergency Management Agency spokesman Dean Flener told NBC News that the National Weather Service did issue an alert on behalf of the county to evacuate the town of Gatlinburg at around 9:04 p.m. ET. The message was issued via the Integrated Public Alert and Warning System, and also went out on TV and radio.
But Flener said people in an area where a cell tower was damaged by the fires likely wouldn't have received the message.
Sevier County Mayor Larry Waters said officials would evaluate their response but would not get into "Monday morning quarterbacking right now."
Main roads were expected to be open by Wednesday and power to be fully restored by next week, officials added on Friday.
Related: Memphis Couple Missing After Tennessee Wildfire Among 11 Dead
At a news conference Thursday, Gatlinburg Fire Chief Greg Miller said the fire spread quickly and was driven by intense winds that blew embers from the national park into nearby towns.
"We had trees going down everywhere, power lines, all those power lines were just like lighting a match because of the extreme drought conditions. So we went from nothing to over 20-plus structure fires in a matter of minutes," Miller said.
Local officials, bowing to pressure from frustrated property owners, began allowing people back into most parts of Gatlinburg on Friday morning.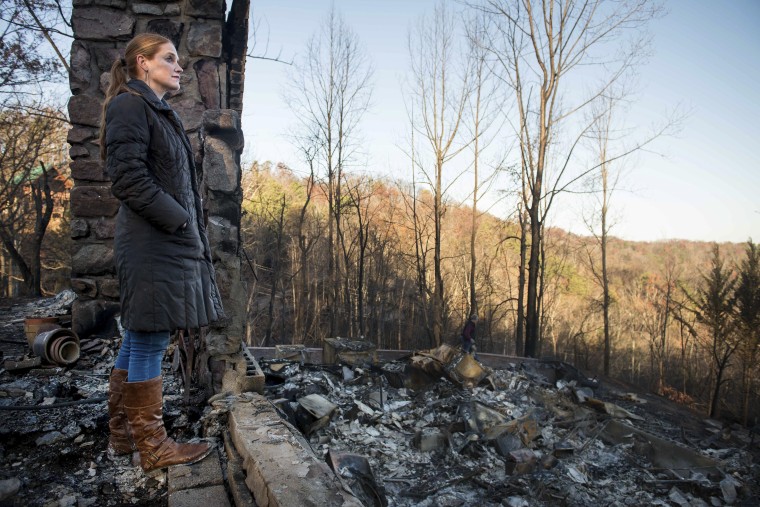 Authorities have also been tasked with identifying victims who perished in the rubble. They include a Memphis couple, Jon and Janet Summers, who were separated from their three adult sons during the wildfires. Two of the three remained hospitalized, while a third was discharged Thursday night, reported NBC affiliate WBIR.
Other fatalities include an elderly couple from Canada, Jon and Janet Tegler, and May Vance, who was vacationing in Gatlinburg and died of a heart attack after she was exposed to smoke. The identities of the other victims have not been released.
In communities near Gatlinburg, there were signs of normalcy. In Pigeon Forge, which saw structures heavily damaged, the Dollywood amusement park was spared and reopened Friday.
Dolly Parton, the founder of the popular attraction and a Sevier County native, has pledged $1,000 a month to help families who lost their homes.