At least eight people died as flames consumed a marina full of house and recreational boats in far northeast Alabama early Monday, authorities said.
The blaze destroyed 35 vessels at Jackson County Park, along the Tennessee River, in Scottsboro, Alabama, about 100 miles northeast of Birmingham and 40 miles east of Huntsville, officials said.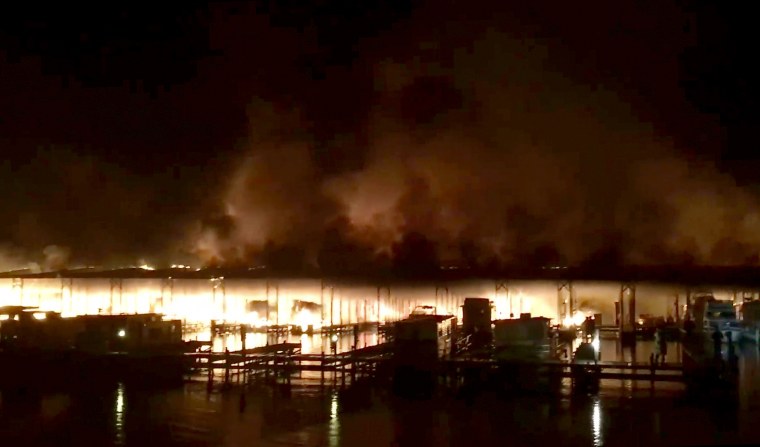 "At this point, we can confirm eight fatalities," Scottsboro Fire Chief Gene Necklaus told reporters just before noon Monday.
Scottsboro firefighters and Jackson County sheriff's deputies responded to the blaze, which was reported about 12:40 a.m., officials said.
First responders said they struggled to pin down an exact number of missing people because houseboat residents are frequently in and out of their boats.
Firefighters and sheriff's deputies have made the search for victims a priority, Necklaus said.
"This is not going to be over today. We're going to be out there for a while. I'd estimate three to four days, possibly longer," the fire chief said.
"Our primary objective remains to check every boat, every vessel, everything we can check to ensure we've accounted for all the victims."
Download the NBC News app for breaking news
Debbie Ashley, 61, a resident of Gadsden, Georgia, was camping nearby when she was jarred awake by what she thought were gunshots.
But then she looked outside, spotted the fire and drove to the scene to take footage of the blaze.
"I opened the door, and I could see it glowing over the hills," she told NBC News. "I got my dog and drove down there."
Seven boaters were treated at a local hospital, most for hypothermia having jumped into the water to escape flames, officials said. It was about 43 degrees in Scottsboro when the fire began.
"Multiple boats sunk, some of them at the dock, some of them floated away from their moorings ... and sunk in the lake," Necklaus said.
The park on the Tennessee River includes hiking trails, cabin rentals, spots for recreational campers, docks and KC's BBQ, a restaurant that's been turned into a command post for first responders.
"This is a mecca for bass fishing and people come here from far and wide," said former Jackson County Emergency Management Director Mike Ashburn, volunteering with his old agency Monday.