The decision Tuesday not to bring federal charges against the New York City police officer who placed Eric Garner, an unarmed black man, in an apparent chokehold before he died highlights the ongoing turmoil and unusual divide at the Department of Justice.
While Attorney General William Barr made the final determination not to charge the officer, siding with federal prosecutors in Brooklyn, lawyers with the department's Civil Rights Division believed that charges could have been pursued, two officials told NBC News.
A lack of charges in the 2014 case, which seemed to languish in the hands of various Justice Department leaders, led to protests Tuesday night and plans for further demonstrations on Wednesday — the fifth anniversary of Garner's death.
Barbara McQuade, a former U.S. attorney for the Eastern District of Michigan who was appointed by President Barack Obama, echoed that it is generally rare although not impossible for different conclusions to be drawn within the DOJ. But the Garner case, which hinged on prosecutors being able to prove that New York Police Department Officer Daniel Pantaleo acted willfully when he used more force than necessary, is complex, she added.
"These cases can be somewhat subjective because you just draw inferences about what is in an officer's mind based on all of the facts, but the law strongly favors the police," McQuade, who is currently a law professor at the University of Michigan, said, adding that "under DOJ policy, charges should be filed only if a conviction can probably be obtained and sustained on appeal."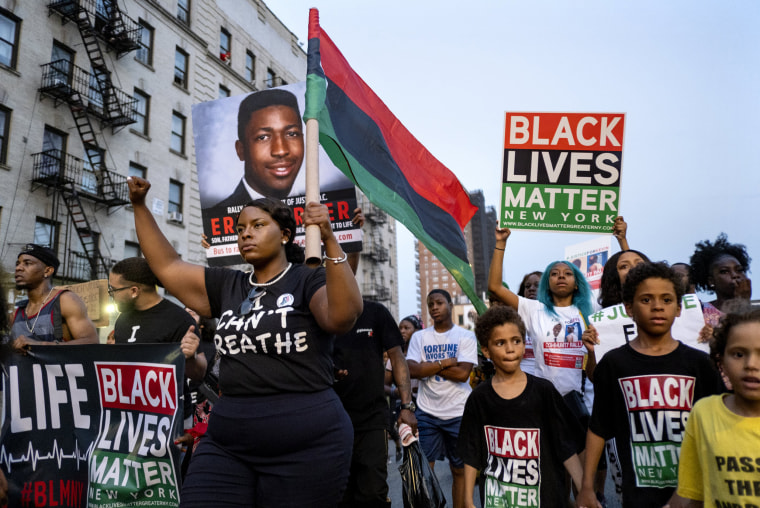 "Because these cases involve such difficult questions of intent, reasonable minds can disagree about whether to file charges," she added.
During a news conference Tuesday, Richard Donoghue, the U.S. attorney for the Eastern District of New York, said there was simply not enough evidence to charge Pantaleo with civil rights violations beyond a reasonable doubt — despite Garner's takedown on a Staten Island sidewalk being captured on cellphone video.
Garner, a 43-year-old father of six, was under arrest on July 17, 2014, for allegedly selling loose, untaxed cigarettes. Pantaleo grabbed Garner in a move that looked like a chokehold, which is prohibited by the NYPD. The officer, however, has maintained that he used a department-approved maneuver known as the "seatbelt."
"As has been widely reported, Mr. Garner stated, 'I can't breathe,' but I would point out that he made this statement only after he fell on to the sidewalk and after Officer Pantaleo released his grip from Mr. Garner's neck," Donoghue told reporters. "Significantly, Officer Pantaleo was not engaged in a chokehold on Mr. Garner when he said he could not breathe. And neither Officer Pantaleo nor any other officer applied a chokehold to Mr. Garner after he first said he could not breathe."
Garner suffered an asthma attack and went into cardiac arrest while he was being restrained, the city's medical examiner said, ruling his death a homicide caused by a chokehold that was a "significant initial factor."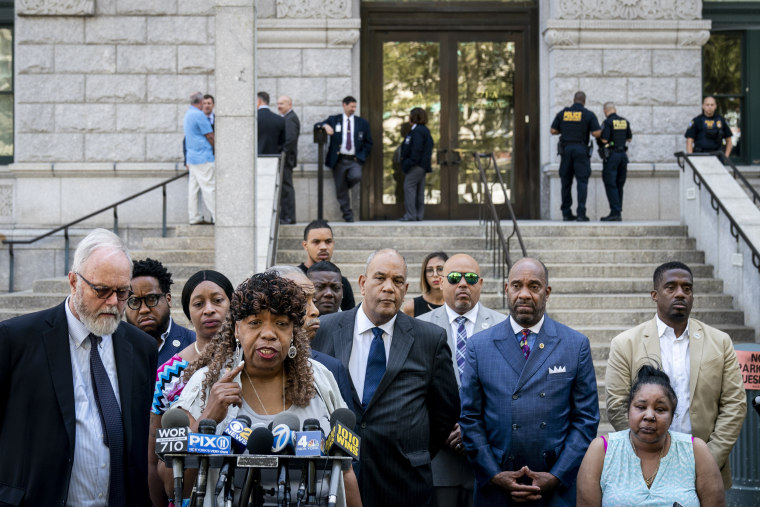 About five months after Garner's death — which led to national protests and helped to galvanize the Black Lives Matter movement — then-Attorney General Eric Holder pledged an "expeditious investigation."
Loretta Lynch, the U.S. attorney in Brooklyn who would succeed Holder, also said the DOJ would review the case "as expeditiously as possible."
But the DOJ — under the direction of Holder and Lynch, and subsequently, Jeff Sessions as well as three acting attorneys general — failed to make a decision on charges. Time was also running out: The department — now led by Barr — was forced to announce a decision by this week because the five-year statute of limitations on the civil rights investigation was set to run out.
Donoghue on Tuesday declined to comment on the internal deliberations at the department over the years, but noted a "tremendous amount of discussion" was long-lasting because of the changing administrations.
"The delay was entirely inappropriate and unacceptable," he said, adding, "I think there have been probably five A.G.'s who've considered this case."
McQuade said that while other attorneys general may have disagreed with Barr and concluded that charges were warranted, none of his predecessors were confident enough to file charges when they had the chance.
Randolph McLaughlin, a civil rights lawyer and Pace Law School professor, said he found it "highly unusual" that Donoghue and Barr would come to a different conclusion than the Civil Rights Division.
But, he added, the Trump administration has made it clear that it won't hold police departments accountable for civil rights violations as vigorously as Obama's Justice Department had.
"This administration has put its thumb on the scale for police departments across the country," McLaughlin said. "Where there's a chance that a police officer acted inappropriately, this Justice Department has turned a blind eye in their favor."
Pantaleo, meanwhile, could still lose his job depending on the outcome of his departmental trial over charges of reckless use of a chokehold and intentional restriction of breathing. In 2014, a Staten Island grand jury declined to indict him on criminal charges.