Chants of "C.S.A." (Confederate States of America) drowned out attempted "U.S.A." chants, "Make America Great Again" hats were worn, Coors Light cans were popped open and demonstrators brought shields, armor and helmets to a protest Sunday afternoon at Lee Circle in New Orleans.
Lee Circle, a roundabout close to downtown, is home to a statue of Confederate general Robert E. Lee — who never stepped foot in New Orleans. The city is planning to take the statue down and replace it, along with three other Confederate statues that Mayor Mitch Landrieu has condemned as symbols of white supremacy and racism.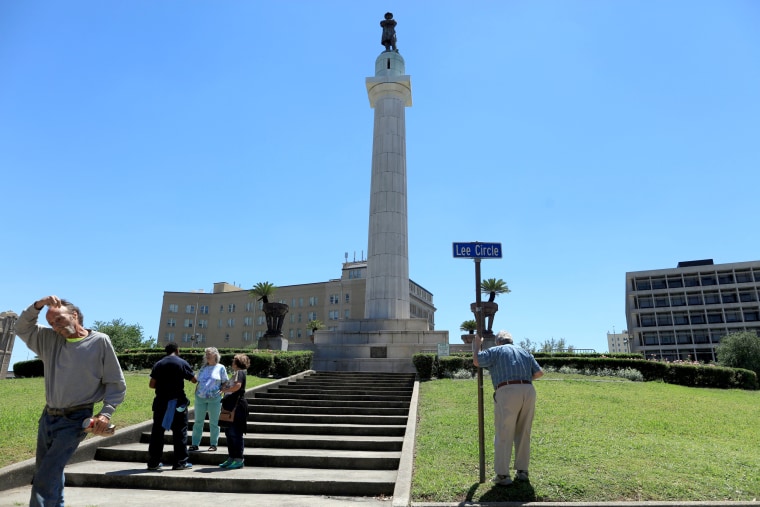 On one side of a police line stood those in support of the Lee statue waving Confederate battle flags or Southern nationalist flags. The other half of the circle consisted of anti-fascists or members of a "Take 'Em Down" second-line parade that supported the mayor's decision.
Police prepared for the protests, knowing that both sides would be out in force on the same Sunday as the last day of Jazz Fest — a nationally popular music festival — and the 299th anniversary of the city's founding. Dozens of law enforcement officers stood ready at Lee Circle after the city received threats of violence against the contractors who had been hired to take the statues down.
Although a few fights broke out during the protest, New Orleans police reported that it remained predominantly peaceful.
Nevertheless, three people had been arrested by the afternoon, possibly after a man in a suit of armor fought another man in a Joy Division shirt earlier in the day.
"These statues are an aberration in terms of what New Orleans has been and what New Orleans wants to be," Landrieu told MSNBC last week.
Landrieu has said most New Orleanians support removing the statues, but there is a vocal group that has expressed its unhappiness.
Frank Stewart Jr., a white businessman who has long fought on behalf of the monuments and a member of the privately funded Monument Task Committee, took out a two-page ad in The Advocate newspaper to air his grievances.
"Everyone involved needs to put down their personal prejudices and let the magnificent memorials of real history remain as a permanent reminder to all — that the consequences of conflict and the results of positive evolution of life and mankind should not be forgotten," Stewart wrote.