Harvey Weinstein's defense team on Monday attempted to undercut the emotional testimony from an aspiring actress by sharing emails she sent him after he allegedly raped her in which they appeared to have a good relationship, even asking the Hollywood studio boss to meet her mother.
Lead defense attorney Donna Rotunno added that Jessica Mann, 34, benefited from being in Weinstein's orbit, and that she used him for her own self-interest and failed to produce any emails in which she wrote negatively of him to someone else.
"You manipulated Harvey Weinstein every single time, is that right?" Rotunno asked.
"I guess it was how I protected myself," Mann responded.
Mann, who testified she first met Weinstein at a Hollywood Hills party in 2012 or 2013, said she did have sex with him, but felt pressured to do so and there would be "some negotiation" beforehand.
"I tried to not have sex and there would be a back and forth about it, and at a certain point, I would give in or he would masturbate," she said on the witness stand in a New York courtroom, where Weinstein's long-awaited criminal trial opened last month.
Mann is one of two women who have alleged the once-mighty movie producer sexually assaulted them — part of a broader case against Weinstein, 67, who has pleaded not guilty to charges in his criminal trial and has denied all allegations of nonconsensual sex. Many of the accusations stem from alleged incidents dating back decades and are no longer subject to prosecution, although prosecutors have called on some of the women to testify to underscore an alleged pattern of predatory behavior.
After first taking the stand Friday, Mann cried while describing how she was in a New York hotel room in 2013 with Weinstein when he injected his penis with a drug that apparently induced an erection. She said he told her to get on the bed and then performed oral sex on her, and that she had to fake an orgasm in order to "get out of" the situation.
Mann acknowledged that she still had "compassion" for Weinstein when he couldn't perform sexually and that "I thought he was deformed and intersex."
"He does not have testicles and it appears like he has a vagina," she said.
She described another alleged rape at The Peninsula hotel in Los Angeles in which he learned she was dating someone, became enraged and then ripped her pants and got on top of her to force sex. She said he also convinced her to engage in threesomes, one of which she said left her emotionally shaken.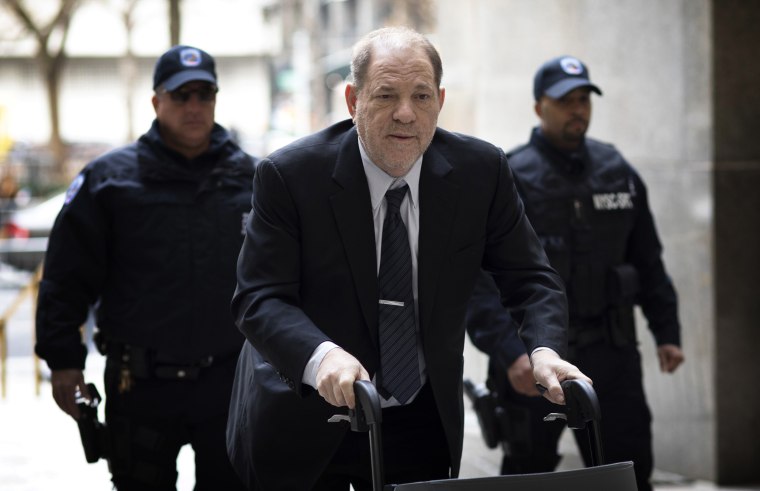 The prosecution has asked for the other woman, actress Emanuela Postacchini, to be allowed to testify in order to corroborate Mann's claims.
On Monday, Rotunno highlighted for the jury how Mann was still willing to accept help from Weinstein, who connected her with a job with French celebrity hairstylist Frédéric Fekkai. She also said Mann got to attend Academy Award parties in 2013 and 2015 and was invited to movie premieres, including for 2013's "Mandela: Long Walk to Freedom," which starred Idris Elba and was produced by Weinstein's company.
Rotunno pressed Mann that despite the rape that allegedly occurred, she never confided in her mother about it, according to emails, and that Mann also told Weinstein in July 2014 that her mother was in town and wanted to meet him.
Rotunno emphasized that it was Mann who reached out to Weinstein and she told him he could "see how good my genes are."
Mann reached out to Weinstein on multiple occasions, Rotunno said, submitting into evidence letters that showed Mann asking to spend more time together and for his "kind support" that "helps me believe in myself."
Mann agreed that she shared a certain dynamic with Weinstein that was different from her being his girlfriend and believed he was "very smart," but he would also flip out on her.
"That's when this monster would come out," Mann said.
She later began crying uncontrollably on the stand when she read a letter that she wrote to her then-boyfriend in 2014 describing her relationship with Weinstein and her religious upbringing; the moment brought the court to a standstill.
Mann was unable to stop crying, so the judge ended the day early. She will be back on the stand Tuesday morning.
A sex crimes expert who earlier testified in the trial said it is common for victims of sexual assault to stay in contact with their attackers.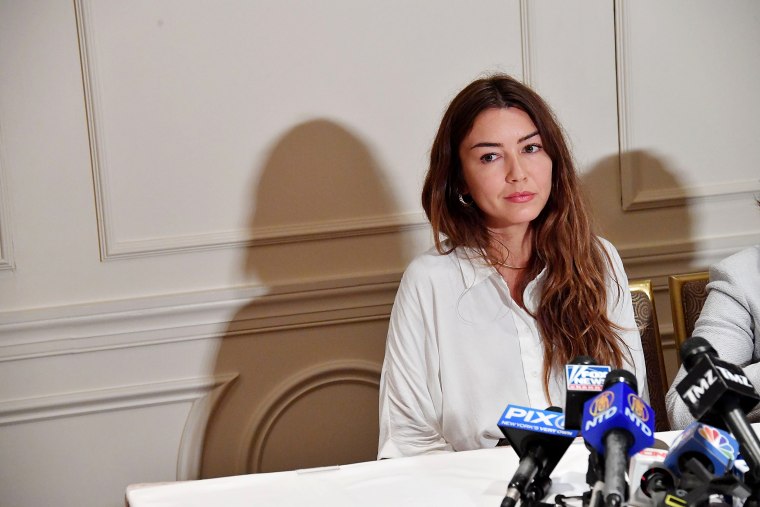 The other alleged victim in Weinstein's criminal trial, Mimi Haley, testified on Jan. 27 that he held her down in his Manhattan apartment in 2006 and sexually assaulted her. Haley, a former "Project Runway" production assistant and employee of Weinstein's production company, said she never went to the police at the time because she was on a tourist visa and also feared Weinstein's influence in the entertainment industry.
Weinstein, known for producing hits such as "Good Will Hunting" and "Shakespeare in Love," also faces a sex crimes case in Los Angeles, where he is charged with raping one woman and sexually assaulting another in separate incidents on two consecutive days in 2013. He has not formally entered a plea in the cases in California.