Defense Secretary Ash Carter said Wednesday he "should have known better" than to use his personal email for work-related matters.
His remarks follow a report in the New York Times which said Carter used personal email to conduct some work matters during his first months at the Pentagon — a violation of Defense Department rules — and even after Hillary Clinton came under fire for doing the same while secretary of state.
Carter said the "mistake" was entirely his, telling reporters in Iraq that he had used an iPhone to send administrative emails and stopped doing so a few months ago.
"Someone in my position should have known better," he said. "I did not do the right thing."
Pentagon spokesman Peter Cook said in an earlier statement Wednesday that Carter rarely uses email for government business to begin with and that the personal email account was for corresponding "primarily with friends and family."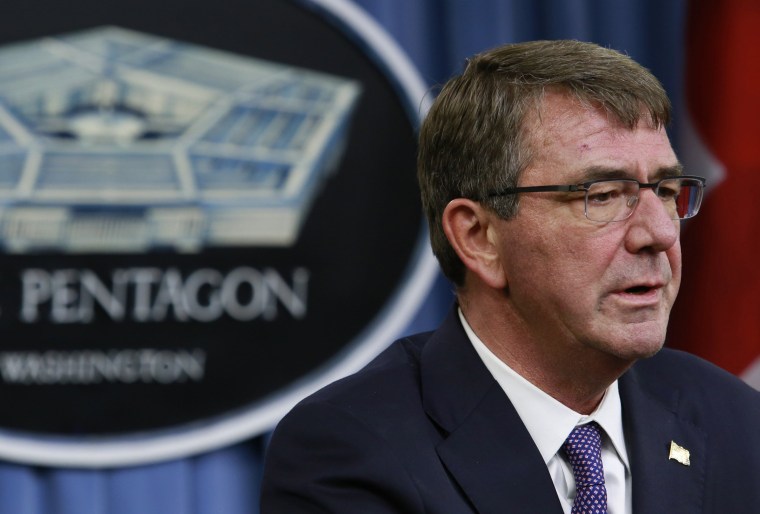 "Any email related to work received on this personal account, such as an invitation to speak at an event or an administrative issue, is copied or forwarded to his official account so it can be preserved as a federal record as appropriate," the spokesman said. "After reviewing his email practices earlier this year, the Secretary believes that his previous, occasional use of personal email for work-related business, even for routine administrative issues and backed up to his official account, was a mistake."
Cook did not address any violation of Defense Department rules but stressed that Carter did not use either his personal or official account for classified material.
"He takes his responsibilities with regard to classified material very seriously," the spokesman added.
Sen. John McCain criticized Carter for using his personal account, saying that the Senate Armed Services Committee has requested copies of the emails and will conduct a review to ensure no sensitive information was compromised.
"With all the public attention surrounding the improper use of personal email by other Administration officials, it is hard to believe that Secretary Carter would exercise the same error in judgment," McCain, chairman of the Armed Services Committee, said in a statement.
The New York Times said it filed a Freedom of Information Request and was given 72 work-related emails Carter sent or received from his personal email account. Carter and his aides discussed a "variety of matters" in the emails, according to the newspaper, including how to pay for a hotel bill.
Carter took up the post of defense secretary in February — a month before the Clinton email controversy exploded.
Clinton's use of private, nongovernmental email account during her time as secretary of state has dogged the current presidential candidate's campaign. President Barack Obama recently called it a mistake but said the issue had been "ginned up" by the campaign season.