NEW ORLEANS — A jury convicted Cardell Hayes of a lesser count of manslaughter Sunday night in the shooting death of onetime New Orleans Saints football star Will Smith.
Hayes, 29, also was found guilty of attempted manslaughter for wounding Smith's wife, Racquel, in the shootings after a traffic incident on April 9. He had been charged with second-degree murder in Smith's death and second-degree attempted murder in the shooting of Racquel Smith.
"Racquel's heart is full of gratitude for the entire staff of the New Orleans District Attorney's Office and the members of the police department who worked tirelessly on this case," Lauren Renschler, a spokeswoman for Smith's family said in a statement.
Renschler said Racquel Smith would not publicly address the facts of the case until after Hayes' sentencing.
Defense attorney John Fuller had argued earlier in the day that Hayes fired in self-defense and was the victim of a rushed investigation by police reacting to the death of a beloved football star.
"This young man tried his best, trying to avoid doing what he had to do," Fuller shouted during a thundering closing argument. He reminded jurors not to be "star-struck" by the "parade" of Smith's famous former teammates who attended the week-long trial.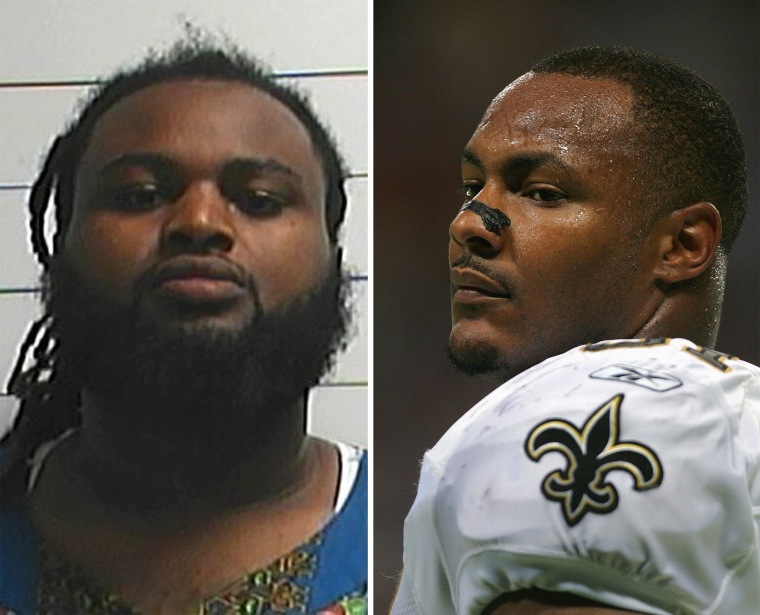 But prosecutors said Smith was "executed" as his wounded wife lay nearby during the chaos that followed the traffic accident.
Saints coach Sean Payton, quarterback Drew Brees, and former running back Deuce McAllister were among those who attended to show support for Smith's widow — a witness and daily front-row spectator. Former Saints safety Steve Gleason, battling Lou Gehrig's disease, watched closing arguments Sunday from his wheelchair in the courtroom's middle aisle.
Related: 'Stand Your Ground' Tested in Trial Over NFL Star's Death
Racquel Smith was hit first when gunshots rang out on the night of April 9, a bullet tearing through her leg, Assistant Orleans Parish District Attorney Jason Napoli told the jury as he recounted the crime in his closing argument.
"She then listened as the love of her life, the father of her children, was executed," Napoli said, noting that Hayes pumped eight .45-caliber bullets into Smith — one in the side, seven in the back.
Napoli dismissed defense claims that a drunken Smith was the aggressor and that Hayes was defending himself in accordance with Louisiana's "stand your ground" law.
That law doesn't apply, Napoli said, because Hayes was the aggressor and was engaged in a criminal act, having armed himself after he purposely rammed his Hummer into Smith's Mercedes SUV.
Hayes took the stand Saturday, insisting that he only fired after Smith struck him several times and grabbed a gun from his damaged Mercedes — and after he heard what sounded like a gunshot.
"I knew for a fact that I was going to get shot," Hayes told the jury.
No other witness said Smith was armed. Prosecutors said the loaded gun remained untouched inside Smith's damaged car.
Fuller told jurors that Hayes was the victim of an incomplete investigation. He said police failed to take a DNA sample from a cup found on the crime scene. (Hayes said Smith had thown a drink cup at him at the beginning of their confrontation).
Related: Suspect in Fatal Shooting of Ex-NFLer Joe McKnight Charged With Manslaughter
Fuller also said investigators failed to obtain video from a bar and two restaurants that Smith had visited prior to the shooting, video that might have helped in gauging Smith's temperament that night.
A pathologist's report showed Smith was legally drunk after spending time at the city's annual French Quarter Festival. He was driving with a group of friends traveling in several cars when his SUV appeared to lightly bump Hayes' Hummer — a bump captured on surveillance videos. Smith then drove off, with Hayes in pursuit.
Hayes vehemently denied that he intentionally rammed Smith's vehicle several blocks later. He told the jury that he was trying to dial 911 and didn't realize how close they were as he tried to report a hit-and-run.
Hayes is a former semi-professional football player who said he's an admirer of Smith. He said he didn't realize the man he killed was Smith until hours after the shooting, while he was in police custody.