Delta Air Lines domestic planes were taking to the skies again early Monday but a nationwide ground stop due to a "systems outage" caused departure delays and at least 150 cancellations overnight, the airline said.
Delta's website and mobile app as well as airport information screens and computers at the airline's reservation desks were still down as of midnight ET, barring travelers from obtaining information about their flight statuses.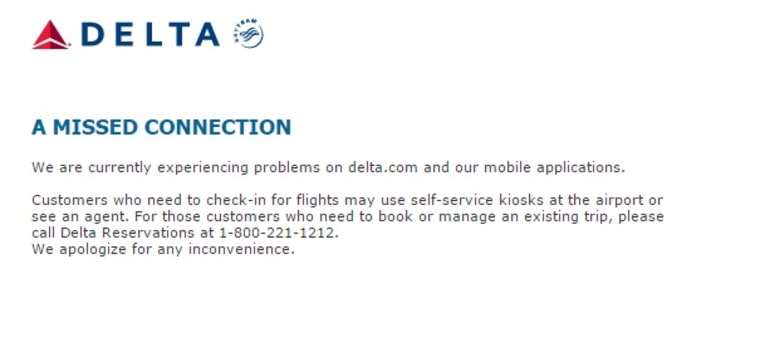 "I want to apologize to all of our customers who have been impacted by this frustrating situation," Delta CEO Ed Bastian said in a statement. "This type of disruption is not acceptable to the Delta family who prides itself on reliability and customer service.
"I also want to thank our employees who are working tirelessly to accommodate our customers," he added.
More cancellations were expected because of the outage, the airline said in a statement, especially at Delta hub airports like Atlanta, Memphis and Minneapolis-St. Paul.
Delta said in the statement that it would not fly unaccompanied minors through noon ET on Monday.
International flights and flights in the air Sunday night were not affected by the stoppage, the airline said in a statement at 8 p.m. ET.
Jeremy Webb told NBC News his flight from Los Angeles International Airport to Maui, Hawaii, was held on the tarmac for an hour and a half.
Delta said it was issuing waivers for travel scheduled on Jan. 29 and 30.