A passenger was allegedly removed off a Delta flight from Atlanta to Milwaukee, Wisconsin, after he used a restroom as the plane taxied for takeoff, according to the man involved and a series of videos posted to YouTube and a blogpost from the passenger who filmed them.
Kima Hamilton told NBC News he had an urgent need to use the bathroom after everyone had boarded Delta Flight 2035 on April 18, and after hearing his plane was third in line to take off he approached the flight attendant and asked to use the restroom.
She said if he did the plane would lose its spot in line to take off, so Hamilton went back to is seat.
But after continuing to wait on the tarmac, Hamilton said he could no longer wait and went and used the restroom.
Hamilton said that shortly after he returned to his seat, he heard "an announcement that we are returning to the gate to remove a passenger."
"I'm still baffled that how we got there that fast," he told NBC News.
Fellow passenger Krista Rosolino in a blog entry said that Hamilton was in the restroom for "less than a minute," and returned to his seat when it was announced the plane was returning to the gate to have a passenger removed.
"Everyone was shocked — what could have happened?" Rosolino wrote. "[Hamilton] quickly spoke up and apologized, saying he thought it was him, and he explained to those of us nearby what had happened."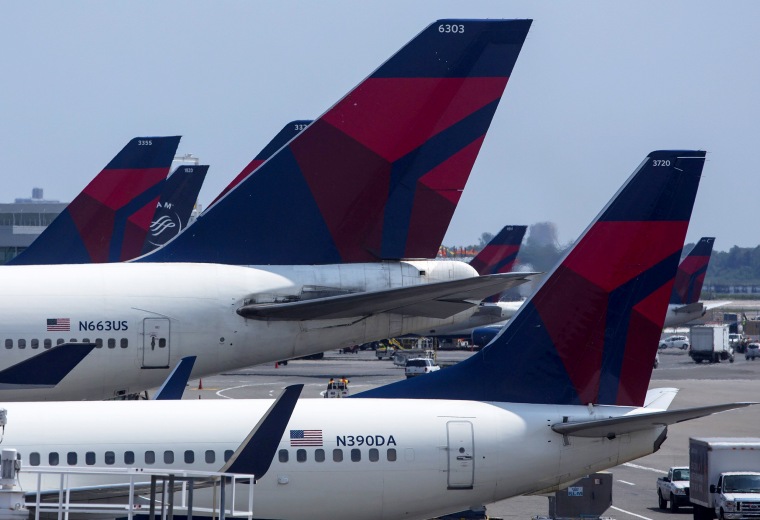 Rosolino told NBC News because of the recent news of passengers being pulled off flights, as soon as it was announced the plane was returning to the gate, everyone became concerned.
When the flight arrived back at the gate, a Delta employee boarded and told Hamilton to get his things and follow him off the aircraft. That's when Rosolino began filming.
The first video posted to YouTube shows the employee repeatedly asking Hamilton to follow him off the plane, as Hamilton calmly asks the man to clarify why he's being removed.
The employee tells Hamilton several times he will explain the situation after he steps off the plane, but Hamilton refuses to leave without being told why.
"Mr. Hamilton was never confrontational. He was very polite. He only asked for clarification throughout," Michael Rosolino, Krista Rosolino's husband told WMJ4.
In the second video, which is more than nine minutes long, another airline employee boards the plane to speak with Hamilton.
Hamilton explains that he had an extreme need to urinate, and the employee explains to Hamilton why using the restroom caused the plane to "lose its spot" in line for takeoff. The employee said the plane cannot move when a passenger is out of their seat because they could possibly be injured.
"Because we had to come back [to the gate], that's why we said we wanted to have a conversation with you about the situation," the employee told Hamilton.
The employee begins to ask Hamilton to leave the aircraft again to "discuss the scenario." But Hamilton, still calm but appearing frustrated, asks what else there is to discuss.
"In that environment I'm at their mercy," Hamilton told NBC affiliate TMJ4 earlier Thursday. "I'm a paying customer, but I have no say. Being in the body I'm in, as a black man, I'm already so aware of people and situations around me. I knew something weird was happening. The blessing in that moment is that there were other people there who were able to see it, and call it for what it was."
Related: United CEO Oscar Munoz Blames David Dao Incident on 'System Failure'
The Delta employee told Hamilton during the video he had never experienced an issue with a passenger using the bathroom before.
Delta said in a statement Thursday afternoon that their flight crews are "extensively trained to ensure the safety and security of all customers.
"It is imperative that passengers comply with crew instructions during all phases of flight, especially at the critical points of takeoff and landing," the company added in the statement.
"Mr. Hamilton offered to get off the plane and the passengers around him said, 'No. We're getting off with you,'" Krista Rosolino told NBC News.
Eventually, everyone got off the plane and TSA and FBI agents were waiting at the terminal to speak with Hamilton, he said.
Once off the plane, Hamilton was refunded half the price for his ticket and repurchased a ticket more than three times the price on Southwest Airlines, according to TMJ4. Delta was unable to get his luggage off their flight, and Hamilton was asked to pick it up in Milwaukee.
Hamilton told NBC News he hoped the incident would encourage a conversation about airport culture, and that he hoped Delta would reach out to him.
"I would like the dignity of a conversation," he said.