Two Democratic senators could be gearing up for an ideological rematch on the best ways to curb sexual assaults in the U.S. military.
Sen. Kirsten Gillibrand of New York said Tuesday she will reintroduce a bill that would remove the decision of whether to prosecute military sexual assaults from the military chain of command — a legislative effort which failed to move forward in 2014 after being opposed by the Pentagon.
Pushing the bill again may put Gillibrand at odds with Sen. Claire McCaskill of Missouri, who argues that reforming the military from within is the best path to change. She says the Pentagon has made strides in stemming sexual assault in part due to legislation she sponsored that was passed that same year.
But Gillibrand argues that a new report conducted by her office shows that despite attempts at reform, a "troubling command culture" in the military still seems to favor closing cases over pursuing justice.
Gillibrand's officeexamined files from 329 sexual assault cases that occurred in 2014 at U.S. bases and found that 22 percent of the cases went to trial and only about 10 percent of all cases resulted in a sexual assault conviction, with another 5 percent resulting in a crime other than sexual assault.
Related: Documents Raise Questions About Pentagon's Sexual Assault Prosecutions
"It's clear that nothing has changed despite the military's claim that things have gotten better," Gillibrand, the top Democrat on the Senate Armed Services personnel subcommittee, said at a news conference on Tuesday.
McCaskill's office takes issues with the findings in the Gillibrand report.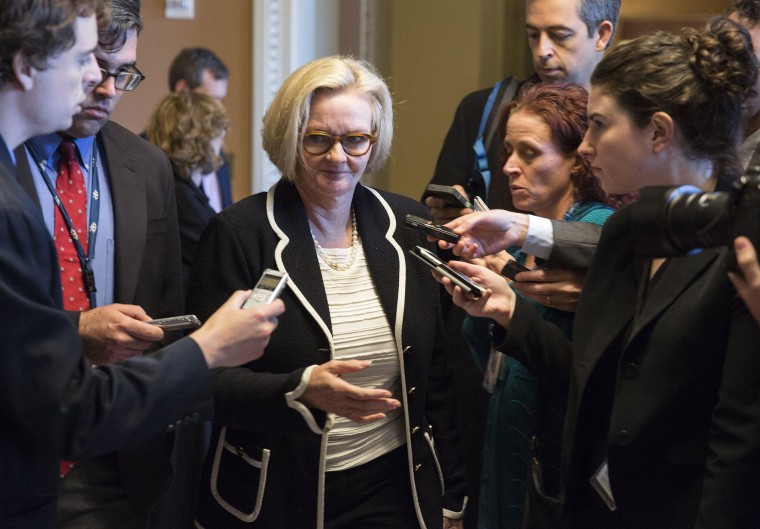 "Not one of the cases examined in this report was handled in the newly reformed military justice system — so while this is an interesting examination of the previous system, it's largely irrelevant to this year's debate," said John LaBombard, a McCaskill spokesman.
The Pentagon feels that its own numbers show "concrete progress" with a decrease in the numbers of survivors of sexual assaults and an increase in reports among those who were assaulted. Their statistics also show an increase in the numbers of those participating in the military justice system — up from 15 percent in previous years to 21 percent in fiscal year 2015.
Such changes "indicate confidence that the military justice system will appropriately handle the case and suggest that members feel the chain of command supports sexual assault reporters and fosters a climate of dignity and respect," Eric Pahon, a Pentagon spokesman told NBC News in a statement.
Gillibrand's reintroduction of her measure as part of the National Defense Authorization Act could strike nerves on Capitol Hill and at the Pentagon.
Her original 2013 measure was defeated the next year on a procedural motion and was notable in that it followed a months-long split on the matter between the New York lawmaker and McCaskill.
"I've made an attempt to talk to all senators who voted against the bill last time," Gillibrand told reporters on Tuesday. "I think many of the senators we've spoken to are deeply concerned about the attempt to mislead Congress. The military continues to say, 'we got this, we got this ….That's not what the evidence tells us."
Gillibrand singled out documents obtained by Protect Our Defenders, a group formed to combat sexual assault in the military, that raise new questions about Pentagon claims that it is more aggressive than civilian authorities in prosecuting military sexual assault cases. The documents were first reported by the Associated Press and confirmed by NBC News.
Related: Reports of Sexual Assault in Military Increase Again
"Whether it's the recent Associated Press report that found DoD officials misled Congress about military sexual assault cases, the DoD's own SAPRO report that showed zero progress has been made toward fixing the problem in the last six years, or the new data we analyzed from these 329 cases; the facts continue to show that the reforms Congress has passed to date aren't enough, and it's time to instead put decision making power into the hands of non-biased, professionally trained, military prosecutors," Gillibrand said in a statement.
Read: Letter to President on Military Sexual Assaults
But, a number of lawmakers and senior U.S. military leaders say strides have been made toward curbing sex crimes and punishing offenders. Congress has ordered numerous changes to the military justice system, they say, giving victims the confidence to step forward and report offenses.
Despite differences in approach, both Gillibrand and McCaskill are fighting for the same goal: advocating for the victims of military sexual assault and ensuring that they are not retaliated against.
McCaskil has also drafted measure with Sen. Joni Ernst, R-Iowa, aimed at reducing retaliation against those who step forward to report military sexual assault.
Like Gillibrand's proposal, theirs will be offered as part of the National Defense Authorization Act.
"We've worked hard to empower survivors to come out of the shadows and report these crimes, but we've got to do a better job of stamping out the stubborn rates of retaliation, whether professional or social, they still face," McCaskill said in a statement this month. "I'm looking forward to working with my colleagues to get this commonsense proposal across the finish line."