Civil rights icon and Georgia Rep. John Lewis declared victory Thursday as he and the other Democrats who staged a revolt in the House of Representatives over gun policy reform suspended their nearly 26-hour sit-in in the Capitol.
While they failed to get the Republicans to vote on two controversial gun control bills, Lewis said they got the point across to the American people.
"By sitting in, we're really standing up for the rest of America," Lewis said a little after 1 p.m. "It's not a struggle that lasts for one day, one week, one month, one year."
Related: 'Spirit of History': House Democrats Hold Sit-In on Gun Control
Eventually, Lewis said, those who favor gun policy reforms will win.
"We're going to win," he said. "We're going to win big."
The defiant Democrats blended civil rights era nonviolent resistance with modern social media to amplify their cause and used their cell phones to get their message out even after the Republicans cut off the TV cameras recording the unfolding drama on the chamber floor.
When they emerged onto the Capitol steps, the Democrats were greeted with cheers.
"Thank you for all you support," Lewis said. "Don't give up, don't give in. Keep the faith. Keep your eyes on the prize."
Then the assembled Democrats locked arms and started singing "We Shall Overcome."
Related: Civil Rights Icon Rep. John Lewis No Stranger to Sit-Ins
It was a deeply symbolic moment. The song was often sung during the Civil Rights Movement of the 1960s during nonviolent protests against segregation.
Lewis is the only living member of the "Big Six" leaders of the civil rights movement and was one of the orchestrators of the 1963 March on Washington during which Martin Luther King, Jr. gave his famous "I Have a Dream" speech." While at the Student Nonviolent Coordinating Committee, Lewis helped organize the grassroots black voter registration efforts in the segregated South.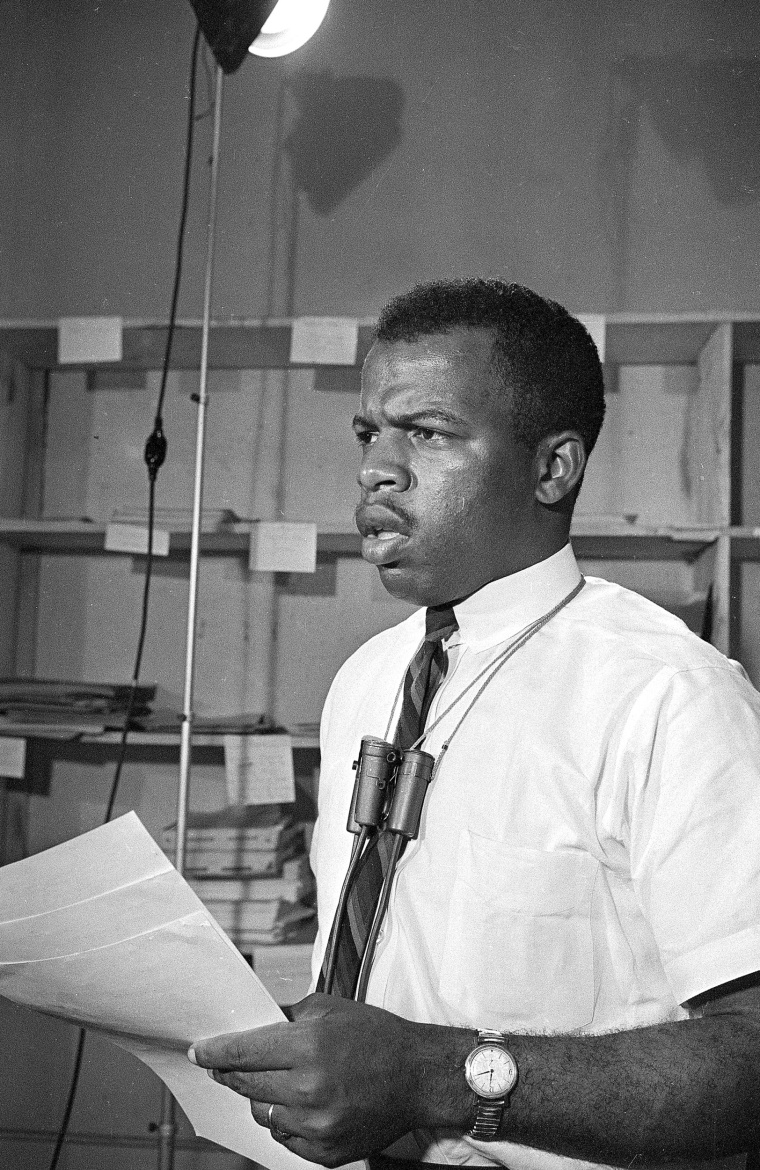 The Democrats ended their sit-in about an hour after House Speaker Paul Ryan, a Wisconsin Republican, slammed them for staging what he called "a publicity stunt, a fund-raising stunt."
Related: No End to Gun Control Sit-In as Republicans Head Home
Ryan said he has no intention of bringing up for a vote proposed bills that would bar suspected terrorists on no-fly lists from buying guns and impose universal background checks when Congress reconvenes on July 5.
"It has"already failed in committee," he said.
The revolt in the House came after several gun control bills proposed in the wake of the shooting at a gay nightclub in Orlando that killed 49 people failed to pass.
The House Democrats took over the floor of Congress at 11:24 a.m. ET Wednesday, demanding Republican leadership schedule votes on the gun control bills. They were soon joined by several Democratic Senators and fortified by deliveries of care packages, pizza and blankets.
While the GOP leadership ordered that C-SPAN's cameras be turned off, Rep. Scott Peters, D-California, used the video streaming app, Periscope, to get footage of what was happening out to the world. C-Span broadcasted Peters' video feed.
When Ryan reconvened the session around 10 p.m. Wednesday for a vote on a matter unrelated to the gun issue, he was greeted by determined Democrats chanting, "No bill, no break!"
Ryan and the Republicans held a number of procedural votes and then adjourned at 3:13 a.m. But the Democrats would not budge and continued to occupy the well of House chamber.
The House is now on recess and will reconvene in early July.
Shortly after the Democrats ended their sit-in, colleagues in the Senate blocked an effort to table a bipartisan proposal by Sen. Susan Collins, R-Maine, on allowing the Justice Department to prevent people suspected of terrorist ties on the federal "No Fly List" and the "Selectee List" from buying guns while under investigation.
In the meantime, the Democrats have vowed that, in spirit, they will not be moved.
"When we come back here we're going to push, pull, stand up," Lewis said. "And, if necessary, sit down."
House Minority Leader Nancy Pelosi said the massacre-weary American public expects more from Congress than "moments of silence.'
"Moments of silence aren't a substitute for the actions needed on gun violence," she said.